Deda Elementi Trenta 2 gravel wheelset review - light and snappy but a little too firm to be called comfy
A performance-orientated set of carbon hoops with solid all-road and gravel riding credentials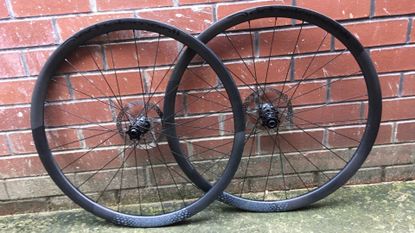 (Image credit: Luke Friend)
There's plenty to like about the Deda Trenta 2 wheels. Light, responsive and stiff, they're a good match for performance-orientated gravel riders or those looking for an all-road upgrade that will work well with today's high-volume road tires - and the build quality is high, too. However, if your riding is a little more laid back, or you're routinely tackling rugged terrain, then you may desire something that yields a little more comfort.
Reasons to buy
+

Light - under 1,500g for the set

+

Quality build

+

Responsive and fast rolling
Reasons to avoid
-

Not quite as comfortable over harsher surfaces

-

Alloy nipples
You can trust Cycling Weekly. Our team of experts put in hard miles testing cycling tech and will always share honest, unbiased advice to help you choose. Find out more about how we test.
With the continued rise of the gravel bike and the benefits of running wider tires on road bikes moving from trend to accepted wisdom, there's been a confluence of sorts when it comes to wheel design.
The result is a group of gravel wheelsets that draw on both road and off road influences, created to work with tires that range from 28mm to 50mm in width and across a range of surfaces from road to gravel and plenty in between. Deda Element'is Trenta 2 is one such example.
Call them gravel or all-road, the 700c Trenta 2s are a lightweight carbon offering from an Italian brand that's well-regarded for its use of the material.
Deda Trenta 2: construction
The Trenta 2 hooked rims are constructed from high-modulus unidirectional 3K carbon fiber, which the brand says makes them both strong and durable. It's likely to make them pretty stiff too.
This updated model has seen the internal rim width increase to 23mm to help get the most out of the wider tires they're designed to roll with, while the hooked construction ensures plenty of possible tire options, including riding standard clinchers with tubes should you wish (I tried this and they were a cinch to fit).
The 32mm rim depth is relatively shallow compared to say the hookless Zipp 303S, but out-and-out aerodynamics aren't the headliner here. Rather it's a rim that's designed to wear a number of hats, hopefully without compromise.
Pick the wheels up though and it's their weight, or lack of it, that is worthy of the front page, even if it's just a sidebar. Deda has a claimed weight of 1445 grams for the set, which is pretty light by gravel or all-road standards. You might think that there are more pressing requirements for a wheel that's likely to take a hammering but given the popularity of gravel racing as well as cycling's long running fascination with anything lightweight, and it will be relevant to many potential customers I'm sure.
The spoke count is 24 front and rear, using a straight pull bladed variety laced in a two-cross pattern. The 6061 machined alloy hubs use a four-pawl freehub and Enduro's ABEC 5 steel bearings, the latter being of renowned quality and likely to roll smoothly for some time.
Unsurprisingly we also see the center lock disc and 12x100mm, 12x142mm thru-axle standards used here, although both 15mm thru-axle and QR adaptors are available for purchase too.
The ride
Creating a wheel that can handle a range of tire widths and with it a multitude of riding surfaces is not an easy feat, certainly if you're trying to minimize compromise. The Trenta 2s need to roll along with speed on smoother surfaces, accelerating quickly when required. Ideally they'll also deliver comfort over rough terrain, smoothing out the ride while at the same time taking the hits that are part and parcel of any gravel wheel's life.
Fortunately they do both, although not in equal measure.
The Trenta 2s are right at home on the road. Even shod with 40mm wide gravel tires they feel light and responsive, picking up speed quickly and then maintaining it. They're pretty stiff too, which is particularly noticeable during quick accelerations. After a number of miles riding on both B-roads, country lanes and bike paths its all-road credentials were becoming clear. Equally, it was easy to imagine the wheels as a smart choice for gravel racers, where rolling speed is of obvious importance.
Heading off-road onto wooded trails and these characteristics become both a blessing and, occasionally, something of a curse. The stiffness and speed was evident through the turns and on the short, steep climbs. However, hitting exposed tree roots and larger rocks was less fun, and despite the plush 40mm tires, these rougher surfaces translated to a more unforgiving ride.
I sense there is some subjectivity here, though. If you enjoy riding at full tilt, then the stiff build will likely deliver the performance you're after, with the slight harshness I perceived fading into insignificance. But, if like me, you're far more likely to be cruising along and favour comfort over speed, then you may find yourself wishing for a little more compliance - or a wider tire perhaps?
Equally, the freehub seemed to deliver varying performance based on the terrain. On the road or on smoother off-road surfaces I didn't have to pay it any mind. It was a little noisier than I'd prefer but it engaged without issue. On the trails though the 4-pawl mechanism was a tad slow; nothing too alarming but still noticeable particularly when navigating more technical climbs in lower gear ratios.
I'd recently been riding a set of Cormia's all-road Essentia 40 wheels, which shared the same 10-degree engagement angle but used a ratchet mechanism rather than the pawl set-up favoured by the Trenta 2s. There was a small but discernible difference between the two, with the Corima's being less gappy and also a little quieter too.
Without riding the wheels for many months it's difficult to speak to their durability but during my test period they've more than stood up to the task. As expected, the bearings are still rolling smoothly and the rims show no damage despite ringing out a few ungodly noises over rockier terrain. The choice of alloy nipples did cause a raise of the eyebrows. Given the choice I'd always opt for the non-corrosive brass variety but this is again an issue that would take hold over a longer period of time.
Value
Deda's Trenta 2 wheels cost £1,205 /$1465 for the set, which makes them competitively priced in an ever-growing segment of the market.
For comparison the Corima Essentia 40 wheels, designed with a similar all-road application in mind, are a little heavier and have deeper width rims and retail for €1490.00, which translates to £1279 / $1570.
The Zipp 303S too are designed to work across tire widths and differing terrain and retail at $1,327 / £1,031 a set. Again, compared to the Trenta 2s they are both heavier - 1530 grams for the pair - and deeper.
Specs
Size: 700c
Profile: 32mm
Rim width: 29mm
Rim width Internal: 23mm
Axle front: Thru axle 12 x 100mm
Axle rear: Thru axle 12 x 142mm
Weight : 1445g per pair
Spoke count: 24 (front and rear)
Thank you for reading 20 articles this month* Join now for unlimited access
Enjoy your first month for just £1 / $1 / €1
*Read 5 free articles per month without a subscription
Join now for unlimited access
Try first month for just £1 / $1 / €1