Scribe Élan Wide+ 32-D Wheelset review
Super responsive on steep climbs and accelerations on the flat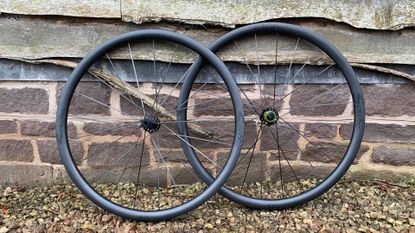 (Image credit: Andy Turner)
The Scribe Elan+ 32Ds make an exceptional set of wheels - especially considering their price. Carbon spokes and high quality rims combine for a lightweight wheelset which still manages to betray no detectable flex - fast accelerations are this wheel's forte. Despite the relatively shallow depth, the external rim width is in line with the general trend for greater width, coming in at 30mm. Compatibility with different axle standards is great and so is the warranty support.
Reasons to buy
+

Super stiff

+

Accelerates rapidly

+

Very little road buzz

+

Competitive price
Reasons to avoid
-

Not as rapid on the flats due to lower rim width

-

Hub noise (for some!)
You can trust Cycling Weekly. Our team of experts put in hard miles testing cycling tech and will always share honest, unbiased advice to help you choose. Find out more about how we test.
Get The Leadout Newsletter
The latest race content, interviews, features, reviews and expert buying guides, direct to your inbox!
Thank you for signing up to The Pick. You will receive a verification email shortly.
There was a problem. Please refresh the page and try again.
Scribe is a relatively young brand from Northern Ireland, having started up in 2019 with the aim of offering premium quality wheels at far competitive prices and with a strong focus on customer support and aftercare.
Although the prices of bikes, shoes and accessories seemingly keep on rising, there has been increasing competition when it comes to the best carbon wheels. Although still an expensive investment, there are many more options around the $1,000 / £1,000 mark than there once were and their performance has continued to improve.
We put Scribe Élan Wide+ 32-D wheelset to the test to see how they stack up in this crowded market.
Scribe Élan Wide+ 32-D: construction
Starting with the rims, the Scribe Elan+ 32-D uses a mix of high filament (12k/18k) Toray T700/800 carbon fibres with an 'optimised glass transition resin', said to optimise for both stiffness and weight.
This theme continues in the use of carbon fibre straight-pull spokes (21 front 24 rear) to further decrease weight while increasing the stiffness of both the spokes and the wheels (due to a higher tension being used). The carbon spokes are also supposed to help dampen road buzz.
With rim tape - but without valves - the wheels came in at 1,356 grams.
The wheels can come with freehubs for Shimano/SRAM HG11, Sram XDR, or Campagnolo cassettes. Both centre lock and 6-bolt disc brakes can be used and there are adaptors for 15mm front axles. The overall system weight limit is 125kg for bike and rider combined.
The hub uses Scribe's own single ratchet drive system with a 36t engagement system as standard. A 54t upgrade is available which promises quicker engagement and quieter hub noise. The hub uses a leaf spring as the only moving part to aid the longevity and ease of servicing.
Finally, there is a stainless steel insert on the cassette body to help prevent the cassette eating into the hub over time.
The standard bearings are Endurance Bearings with contact seals externally and non-contact seals internally - they are designed to be fast and usable in all conditions.
There is also the option for choose the 'Race Bearings' which use oil rather than grease as well as non-contact internal and external bearings. This means in foul weather the bearings are exposed to the elements and increased wear, but in good conditions the wheels spin faster and experience less friction.
The rims of the wheels themselves have a 21mm internal diameter, 30mm external with a 32mm depth for tip the balance slightly more in favour of low weight and stiffness whilst still offering some aero gains.
The rims were designed optimised with wind tunnel testing, the results of which will be published later this year. The goal was to design the fastest wheels possible from 50mm up, as well as shallower section wheels such as the 32-Ds here.
The rim shape used was actually found to be fastest in the wind tunnel with the 25mm tyres - but with 28mm the rolling resistance gains outweighing the small aero penalty, Scribe advises 28mm tyres be fitted.
The ride
Setting up the wheels was fairly easy. I fitted a pair of 25mm Continental GP5000 Tubeless tyres - which proved to be far harder to get the first side of the bead fitted than the second. Grippy gloves were required!
Even without sealant, the tyres inflated easily enough with a floor pump and maintained pressure in the initial setup. Rim tape was already installed and I fitted Shimano rotors along with an Ultegra 11 speed cassette.
From the moment I put pressure on the pedals, the wheels would rapidly accelerate - spinning up to speed from a standard start or simply rolling slowly was just an absolute joy.
Whereas with deeper section and heavier wheelsets you have that feeling of inertia to overcome, with the Élan Wide+ 32-D that was greatly reduced and gave a much more 'direct' feeling to the ride. I imagine with the race bearings and 54t ratchet, these would be incredible for criteriums with twisty corners!
Handling confidence was high and I felt no flex in the rims when banking over hard in the corners. Due to the fairly shallow depth, even the gustiest days were not able to catch the wheels or make them feel unstable.
They are quite loud, probably the loudest freehub I've used, which is something worth noting - whether you're a fan of that or very much not. The wheels did also feel surprisingly comfortable over rougher road surfaces. This may really be the carbon spokes reducing buzz, as the tyres I used were the same as I've used with other test wheels recently.
When cruising along, the Élan Wide+ 32-D proved pretty good at hold their speed. Naturally they aren't as rapid as some deeper wheelsets I've used when going fast on the flats - but this is to be expected. Scribe does have a 40, 50 and 60mm option for those wanting more aero focus, without much of a weight penalty either - and so worth considering for those who ride on flatter terrain.
The Élan Wide+ 32-D wheels, however, still accelerate impressively fast even when already at speed. For some fast sprints, they felt so stiff and planted it was a joy to use. Going from 45kph to 60kph on my vanity sprint segment felt notably easy.
Where these wheels shine most, though, is the accelerations on the climbs. I did a lumpy route with a group of riders who have overtaken me in fitness this last year and, despite being both taller and heavier, I still put in a much more competitive showing than I had any right to expect. Seated or out of the saddle accelerations were a lot of fun and my climbing prowess was most flattered.
Carbon spokes aren't standard so getting hold of a pair could be difficult in a pinch. However, Scribe offers these free for replacement in the event that one does fail. Hunt previously included a couple of replacements in the box with their carbon spoked wheels, but have since stopped providing those.
Scribe does offer a three year warranty with all wheels and for carbon wheels there is a bearing replacement warranty where you get a new set of bearings in year two and three of your warranty. Crash replacement is also available with a discounted price on a new set. You can also trade in an old pair of Scribe wheels to get a discount on a new pair.
I have also seen concerns over the weight limit of 125kg for bikepacking. I would likely fall over this weight limit with bike and luggage weight taken into account. But I also see these wheels as more road performance wheels, whereas for bikepacking with a high likelihood of some gravel riding, I would probably go for more heavy duty rims anyway. The hub buzz is also loud, but in all honesty not something that I noticed once riding.
Value and conclusion
At £1,190 the Scribe Elan+ 32-Ds are what I would call a high end budget carbon wheelset. There are offerings from Hunt, Prime, Vel, and even Zipp's cheaper 303s wheelset ($1,346 / £1,090) all around this price pint. Scribe does have cheaper options in their Inception and Core range, which are characterised by being heavier and not quite as stiff.
In terms of the direct competition, Hunt has, for example, the 32 Aerodynamicist UD Carbon Spoke Disc Wheelset, which is similarly priced at $1,549 / £1,199 but lighter at 1,213g. That said, Hunt's wheels are only 25mm wide (the Elan+ 32-D is 30mm), so potentially there would be an aero penalty when used with wider tyres.
Also, Hunt's spoke count is 18F / 20R compared to 21F / 24R for Scribe. Both wheels have the same rated weight limit of 125kg, but those extra couple of spokes on the Scribes probably do play a role in just how stiff the wheels felt.
The Prime Primavera 44 ($959.99 / £899.99) don't have the carbon spokes and as a result are significantly heavier - confirmed as such when we weighed them. That said, the price does come in a little lower.
Having tested the Primes, I can say that the additional weight on them is noticeable when going up steep climbs and accelerating on hills and the flats. At 44mm deep, the Primes are probably similar for sprinting, with less acceleration but more top speed, and do roll better on the flats. They also both offer 54t ratchet and bearing upgrades. If weight is your primary concern along with out and out stiffness, I think the Scribes win. For aero performance, that's a lot closer and hard to differentiate if the rim depth was the same.
Value wise, that puts the Scribe Elan in a decent value range I would say. Similar in price and spec to Hunts carbon spoked wheels, and more expensive but lighter than the offering from Prime. However the Scribe wheels are much cheaper than premium wheelsets from big brands, but from what I can feel no performance losses - making these a much better investment than say a £2k+ set of wheels. I honestly can't imagine the need to spend that much when wheelsets like this exist.
A supremely stiff set of wheels that are a competitive weight. Performance is on par if not better than many more expensive options. At 32mm deep they lack flat speed performance compared to deeper models, but acceleration at both high and low speeds, on the flats or uphill is exceptional! Bearing and ratchet upgrades for summer racing is also ideal to eke out further performance from the wheels while still being able to use them year round. A great set of warranty supports and multiple spares and adjusters included with the wheels really helps make these a great full package with good long term support.
Thank you for reading 20 articles this month* Join now for unlimited access
Enjoy your first month for just £1 / $1 / €1
*Read 5 free articles per month without a subscription
Join now for unlimited access
Try first month for just £1 / $1 / €1
Get The Leadout Newsletter
The latest race content, interviews, features, reviews and expert buying guides, direct to your inbox!
Andy is a Sport & Exercise Scientist, fully qualified and experienced cycling coach, personal trainer and gym instructor. He spent 3 years on the road riding for a UCI cycling team and 7 years as a BC Elite rider.
After graduating in 2020 with first-class honours in his Sport & Exercise Sciences BSc, he continued to pursue his interest in research in the field of sport science alongside setting up his coaching business, ATP Performance, and working for USA-based firm, Wahoo Sports Science. He balanced this with racing at international level, competing in prestigious events such as the Tour of Britain and the Volta a Portugal.