Thorn Raven Adventure review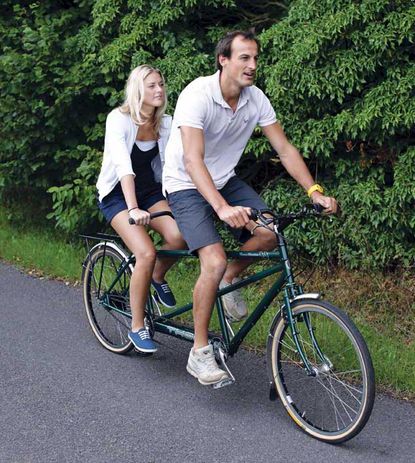 You can trust Cycling Weekly. Our team of experts put in hard miles testing cycling tech and will always share honest, unbiased advice to help you choose. Find out more about how we test.
13th October 2010 Words: Nick Rearden Photos: Simon Keitch

Better than sex? The Thorn Raven Adventure tandem might not offer quite the smiles-per-hour of everyone's favourite activity, but it will certainly go further and longer.
The same Trek T200 touring tandem has lived in my garage for over 12 years, providing a welcome alternative for Sunday rides when my wife feels like cycling or the children, as they've grown, have enjoyed whizzing along at 'daddy speed' before they were tall enough to provide some solo 'teenager speed' competition of their own.
The big pleasure has been the ability to ride along and hold a conversation — none of that 'Left!' 'What?' shouting — while enjoying a workout that leaves both partners with a warm glow of satisfaction.
Lovely as the Trek is, however, it's a machine that demands a certain amount of commitment, leaving aside that it cost £3,000 when new. For a start, the relationship of handlebars and saddle is designed for riding in the distinctive arse-up 'roadie' style and the pedals require cycling shoes that click in for 'maximum biomechanical efficiency' as Shimano would have it. All very sportive but suppose we feel like a more leisurely ride? Not really an option.
Which is where the Thorn Raven Adventure tandem comes in. With its swoopy handlebars and suspicious lack of visible gears, I must say my initial impression was concern that it lacked serious intent — holiday hire tandems often have similar bars designed to wobble along sur la plage.
How wrong was I? A close inspection, several rides and 24 pages of explanation later (the Thorn website details exactly why every braze-on, dropout and wheel size is designed to be just so) I was well on the way to conversion.
For a start and despite wearing civvies and deck shoes, the Thorn feels as tight and responsive as you'd want and with never a squeak or rattle. The frame, built from heat-treated cromo steel in the 'direct lateral' style — although there is an option called Discovery for taller and heavily-laden riders in the even stiffer Double Marathon design — feels light and nimble as far as a bike with a 67in wheelbase is ever going to.
And those handlebars, while precluding the kind of close traffic manoeuvres that you're not likely to try on a tandem anyway, are just the right width and bend to provide comfort and leverage.
The 14-speed Rohloff internal-gear rear hub is as much a pleasure to use here as on any number of German luxury touring and commuter bikes. Rohloff hasn't gathered much momentum in this country partly because the combined hub and gear unit alone costs the thick end of £1,000 but mostly because the style of bike the Germans like to use for touring and commuting hasn't taken root here yet.
But it's only a matter of time, especially now Shimano has announced a new 11-speed version of its own excellent eight-speed Alfine rear hub. It's bound to expand the market at more accessible prices and meanwhile the cognoscenti like the tandem fanatics at Thorn already know the engineering of Rohloff hubs is simply staggering. Consider, for example, that all the internal gubbins are running in an oil bath.
What I hadn't experienced so far is what Rohloff calls the optional 'gear-box', a little removable unit that connects the gear control cables to the hub by means of a big knurled screw, so that the rear wheel can be quickly dropped out to repair punctures.
Nor had I a chance hitherto to experience just how low the gear ratios in a Rohloff hub can go. Tandems don't favour an out-of-the-saddle style of attacking climbs, so nice low gears you can use to pedal your way up hills are the only alternative.
Fourteen useable and evenly-spaced gears running on one chainring and one sprocket mean there is no front derailleur gear to be constantly trimming and both the drive and connecting chains run down the same, right-hand side. So much cleaner and simpler.
So, better than sex? Any bicycle that enables this much fun has got to be close.
Alternative
Dawes Galaxy Twin £1,850
The Galaxy Twin is the flagship of Dawes's range of four tandems and as the 'Twin' name suggests it is a two-seater version of its popular tourer. As such, it is closer to the traditional norm with 700c wheels and touring-range derailleur gears, but that isn't going to dissuade Thorn that its 26in wheels and Rohloff gears aren't the better choice.
Clearly, many conservative types and a larger number of Dawes dealers than Thorn can deploy with its single mail order outlet aren't going to be convinced. Thorn seems up to the job of trying, though.
The Tandem Club: get yourself in the club
Did we mention that riding a tandem can be more fun than pretty much anything else we can think of? Initially, it might be an idea to try renting a tandem to see how you get on. Like certain other activities for couples, compatibility can be an issue and if one of you isn't prepared to adopt the role of stoker and accept that the steering, braking and gear changing is all going on at the pilot's end, it could all go pear-shaped.
There's a full list of tandem hirers on the Tandem Club website and if you do get the bug — and you probably will — then you're in the best place for advice on pretty much every aspect of tandem riding. It only costs £10 to join.
Thank you for reading 20 articles this month* Join now for unlimited access
Enjoy your first month for just £1 / $1 / €1
*Read 5 free articles per month without a subscription
Join now for unlimited access
Try first month for just £1 / $1 / €1