Giant Surge Pro shoe review
Giant's flagship shoe, which has an innovative carbon-beam sole and is worn by the Sunweb team in the WorldTour, gets a full makeover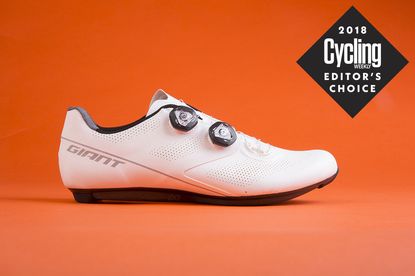 Giant is one of the industry's original thinkers, willing to go out on a limb rather than follow the herd, and with the Surge Pro it has done exactly that with great results. The innovative ExoBeam system paired with the hightly supportive ExoWrap upper makes for a shoe that feels super connected, very fast and kind to the joints too – and as you'd expect of a WorldTour-level shoe they're also very light. Although they can be broken in with a little persistence, it's important to try them on to get the most out of the considerable amount of performance on offer.
Reasons to buy
+

Sole design actually works

+

Upper very supportive

+

Lightweight

+

Great looks
Reasons to avoid
-

White version discolours unevenly
The Giant Surge Pro is the Taiwanese company's new top shoe, just launched to the public after having been worn by the Sunweb team this season.
We were impressed by Giant's innovative approach to getting the best performance possible out of a cycling shoe while keeping it comfortable and working efficiently yet sympathetically with the knee and ankle joints.
And of course, since you can still judge a cyclist by his or her shoes, they've got to look good – and the Surge Pros certainly do, ticking the final box for a place on Editor's Choice 2018.
The new Surge Pro continues to use Giant's independently developed and highly innovative ExoBeam system that featured in the original Surge, launched in 2015, whereby the heel and forefoot are connected by a beam of carbon rather than the usual flat midsole. This is designed to allow a small amount of independent '3D' movement for the lower leg and heel in the journey around the pedal stroke (eversion and inversion), reducing strain on the knee and ankle joints, while maintaining stiffness longitudinally.
To make up for the lack of midsole the Surge Pro has what Giant calls ExoWrap, in which a wide, Boa-tensioned strap pulls the upper together from a point very low under the arch supplying support from above rather than below.
Another benefit of the Exobeam system is its low weight: a beam is lighter than a full sole – and the overall shoe is competitively light.
While the concept is the same, Giant has tidied up the shoe's aesthetics: the older version looked slightly fussy with an extra Velcro strap, multiple panels, flashes of fluoro, a blue colour way and bold branding. The Surge Pro is much cleaner looking, available in plain white or plain black with a single Giant logo on the outside of each heel.
The upper is made from a PU synthetic leather with a pattern of tiny perforations for venting. The forefoot section is suppler and smooth while the more rigid sides and heel have a matt surface. The tongue is made from a much softer padded mesh.
>>> Best cycling shoes 2018: a buyer's guide
Our size 44s came up small compared to other brands' 44s, and they're on the narrow side, despite Giant only offering the HV (high volume) version in the UK. However, after a couple of hundred miles the upper 'gave' very nicely and the Surges now supply a snug fit that's perfect for short-distance time trials, chaingangs and clubruns but if I was doing LEJOG (no plans, Michael Broadwith will be relieved to hear) I would go up a half size: the Surge Pros come in half sizes between 41.5 and 45.5.
The two Boa dials are the pop-up type that can be adjusted both ways on the fly, and ratcheted up the Surge Pro encloses the foot evenly with no pressure points at all.
Giant Surge Pro: ride
The Surge Pros are incredibly stiff and that's the overwhelming initial impression. It's not quite as easy to detect the ExoBeam system working as you might expect, especially given Giant's marketing, but for me the proof that something good is happening is that in the month or so I've been wearing the Giant Surge Pro my left-knee niggle that is always waiting to pounce if a saddle or shoe isn't quite set up correctly has stayed away despite me having ridden three or four different bikes in that time.
The stack height feels reassuringly low, giving a very connected feel with the pedals and the feet stay firmly in place with no heel lift noticeable – there's a 'sharkskin' one-way fabric inside the heel cup to help with this.
The venting perforations are adequate in hot conditions, but you can tell just by looking that the Giant Surge Pro is not going to be the most vented shoe out there – the knitted types from Giro and Fizik will be cooler – but it depends what you want them for and where you plan to ride. I'd say for the UK they're exactly right.
Since cycling shoe manufacturers have abandoned heat-mouldable footbeds, you have to break them in the old way, and indeed the Surges felt better the more I wore them. I even gave up an old favourite 'lucky' pair of super-light, super-low-profile Bontrager RXXXLs to wear the Surge Pros in a 25-mile time trial (with no oversocks, preferring to show off than to save watts) and did a five-year best time with my feet feeling way more comfortable than any other part of my body.
If there are any cons, our sample pair looked impossibly pristine, a gleaming Persil-white when box fresh, but one of the downsides of the different materials used in the upper is that they pick up dirt at different rates. After a few hundred miles the forefoot is as white as ever thanks to it wiping clean easily while the sides/heel section with the matt-surfaced PU leather is beginning to go prematurely grey, especially underneath where it's not protected by a sole, while the soft, mesh bit of the tongue is an even less sexy shade of grey. Sadly this is the generally the price you pay if you after pro-looking white kit, but Giant does also offer the Surge Pro in black if you can't bear the heartbreak.
Value
£275 is a lot of money to spend on a pair of shoes but the Giant Surge Pro is cheaper than the flagship shoes from Fizik, Bont, Shimano, Giro and Northwave. For the amount of R&D that has gone into the Surge Pro not to mention the technical materials used in its construction it seems like a fair price.
Thank you for reading 10 articles this month* Join now for unlimited access
Enjoy your first month for just £1 / $1 / €1
*Read 5 free articles per month without a subscription
Join now for unlimited access
Try first month for just £1 / $1 / €1
Simon Smythe is a hugely experienced cycling tech writer, who has been writing for Cycling Weekly since 2003. Until recently he was our senior tech writer. In his cycling career Simon has mostly focused on time trialling with a national medal, a few open wins and his club's 30-mile record in his palmares. These days he spends most of his time testing road bikes, or on a tandem doing the school run with his younger son.