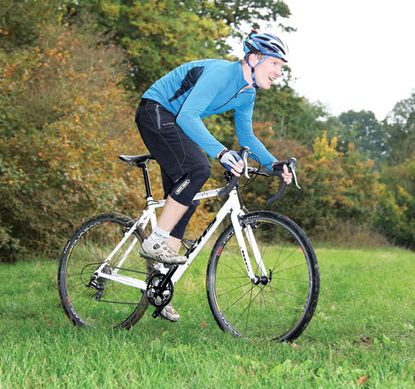 Why you can trust Cycling Weekly Our expert reviewers spend hours testing and comparing products and services so you can choose the best for you. Find out more about how we test.
11th November 2010 Words: Jamie Darlow Photos: Chris Catchpole
Longing to escape tarmac for a while but don't want to sacrifice the sprightly ride of a road bike? KHS's CX200 is a quality cyclo-cross machine that won't break the bank.
At work these days I now sit hunched over the screen, staring at computer mapping programs, trying to work ever more complex commutes to the office. Sometimes those routes involve intricately linking sections of bridleway, sometimes sections of national trail; always though, they involve getting hopelessly lost on the ride, but having enormous fun.
Riding a cyclo-cross bike has brought about a significant change in me, where my work life is now about the journey rather than the destination, and a cross bike has opened doors to trails like no other form of transport. I'm hooked — swapping juggernauts on the A23 for horses and riders on the North Downs Way. What's not to like?
Bang for your buck
KHS's CX200 is easy to like. For starters, at £900 it's probably the best value cross bike you can buy — scan your eyes down the spec sheet, pausing briefly at the cromoly steel fork and Shimano 105 rear derailleur and you'll see what I mean. It's also surprisingly lightweight — at 10.7kg it beats the pants off a mountain bike.
KHS can build its bikes cheaply because it doesn't use dealers, meaning if you want one you just fill out the online form, cutting out the middle man. That does come with some drawbacks, however — you can't pop into a bike shop and sit on one to decide before you buy and you have to work out the sizing yourself. Once ordered, you can send it back for £20 though. So assuming you know what you want from a bike, the KHS is top value.
Off-road riding
While the frame is double-butted aluminium alloy to keep the weight down, KHS has specced a cromoly steel fork on the front end, and the hardened steel works well to take some of the buzz out of the trail. At the grand price point it's more usual to have a carbon fork doing this trail-calming job but I liked the added security and durability of steel — it's less likely to scratch up too. There are also drillings for a rack or guards meaning you could tour with the bike or use it as a winter commuter.
Remember how I said the weight beats the pants off a mountain bike? The ride scared the pants off me, too, at first anyway — the head angle is steep for an all-rounder, at 71°, making the bike feel lively.
This takes a bit of getting used to when you've been riding mountain bikes all your life, but it starts to make sense after a while — snappy steering works when you're carving out turns off-road, plus it's nothing you can't handle if you're riding bridleways and basic trails and finally when you pull back onto the road it feels like a regular road bike. I don't think I'll be taking it down any serious mountain bike runs though.
Braking power is laid on by Tektro Oryx alloy cantis and they do a pretty good job. Just don't expect the bike to have as much stopping power as a disc brake-equipped mountain bike or road bike with tarmac under its wheels — the combination of loose terrain, skinny tyres and lightweight brakes means you need to go carefully on steep descents.
Getting on the drops was the safest way to rattle down really fast descents, but make sure you switch from the hoods before the descent begins, as it's tough to do when the bike's bucking like a maniac.
That's all par for the course, though; the whole point of a cross bike is it's light and fast. The Kenda tyres are also a pretty decent choice for slippy, off-road riding, as they're plenty grippy enough with a wide footprint and larger lugs than you usually find on a cross bike. The durometer (tyre hardness measuring machine) reads 60tpi, though, so they roll well.
And boy is it quick. My usual road ride to work takes one hour 40, but off road I can cover the same distance in a little over two hours — why the hell have I been doing all those commutes, dawdling about on the road ride?
There are some very nice touches to the KHS that make it feel like it's really been designed to ride off road. Rather than routing all the cabling on the down tube, right in the way of the flying crud, the rear mech and back brake cables run along the side of the top tube and down the seatpost — other manufacturers tend to run it down the crud route or cable internally, the latter making replacing cables sometimes tricky and the frame itself more expensive.
Hit the road
Back on the tarmac, the bike feels very comfortable and relaxed, but this is mostly due to the extra give in the off-road tyres as the bike itself is stiff and responsive. Those tyres make the bike a comfortable ride over potholes and wet drain covers that seem to multiply in winter, meaning the KHS will be my commuter choice if we have a big freeze again this winter.
Thank you for reading 10 articles this month* Join now for unlimited access
Enjoy your first month for just £1 / $1 / €1
*Read 5 free articles per month without a subscription
Join now for unlimited access
Try first month for just £1 / $1 / €1