Honey Stinger Organic Energy Gel review
One of the new breed of 'all-natural' energy gels, the Honey Stinger Organic Energy Gel delivers a great sugar hit in a more traditional energy gel experience.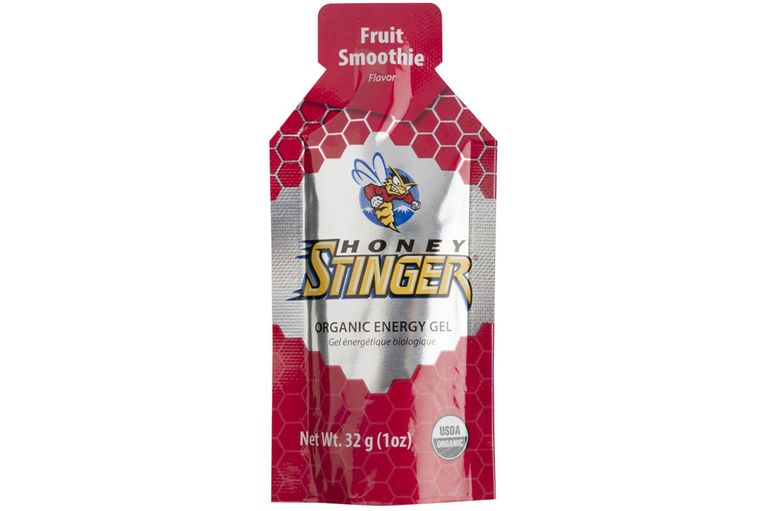 A compact energy gel that packs plenty of energy into a small package, although the taste was a little too sweet and sticky for our liking
For
+

Compact

+

Good for a quick sugar hit

+

Great value
Honey Stinger pride themselves in the fact that they only use natural ingredients in their products, something that they've continued with in their small but powerful gels. The Honey Stinger Organic Energy gel comes in three varieties: vanilla, acai and pomegranate, and fruit smoothie.
>>>10 tips to get your food and drink dialled
We sampled one of the fruit smoothie-flavoured gel, which was perhaps a little closer in both taste and general feel to a traditional energy gel, such as the than we'd like. The texture thick and sticky, and the flavour fruity and sweet – not to the point of being unpleasant after only one, but we're not sure we could stomach multiple servings, particularly during long and hot summer rides.
The effect on your energy levels is also what you'd expect from a typical energy gel. The 23g of carbohydrate (13g of which is sugar) comes from the combined forces of tapioca syrup and, as you would expect from Honey Stinger, honey. With both having a relatively high glycaemic index (GI), this means the sugar is absorbed into the bloodstream over a short space of time, giving an instant energy boost.
>>>Sir Chris Hoy: good nutrition is crucial to performance
The Honey Stinger gel doesn't make any claims to aid hydration as well as deliver energy. However, the 0.16g of salt is roughly equivalent to the amount found in the likes of the MuleBar Kicks gel, so should be at least a small step to preventing dehydration.
One thing we know with energy gels is that bigger is not always better, and here the Honey Stinger gel certainly has the upper hand over bulkier products such as the CNP Hydro gel. At only 32g the slim packaging of the Honey Stinger makes it very easy to fit in a jersey pocket.
At £27 for a box of 24 gels, the Honey Stinger is great value. It's not quite on the level of the 55p per gel that Wiggle offer for their own-brand gels, but it's certainly not bad.
For more details head over to the Honey Stinger website.