PowerBar PowerGel review
PowerBar supply the BMC team with their sports nutrition needs, but how do their PowerGels taste?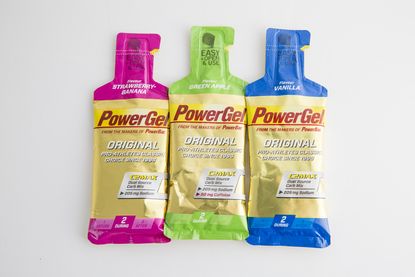 Some may find the texture too thick and sickly, but there is a wind range of flavours and PowerBar also offer Hydro Gels.
Reasons to buy
+

A convenient source of carbohydrate and sugar
Reasons to avoid
-

Might be too sickly for some

-

Expensive
Why you can trust Cycling Weekly Our expert reviewers spend hours testing and comparing products and services so you can choose the best for you. Find out more about how we test.
Whilst they contain a similar amount or carbohydrate to High 5 (opens in new tab) or SiS gels (opens in new tab) we have reviewed, the PowerGels contain a higher proportion of 'which sugars.' We found these gels to be noticeably sweeter than other gels on the market, with some testers finding them a little too sickly. Fear not though, if gels of this type are not to your taste, PowerBar also make Hyrdo gels (opens in new tab), which are designed to be consumed without the need for additional water.
>>> For a PowerBar nutrition guide, click here
PowerBar suggest you consume one gel with a minimum of 150 ml of water. Post-consumption, we found that the sweet taste resulted in us reaching for our water anyway. The sickly texture was thirst inducing.
>>> To learn how caffeine can make you faster, click here (opens in new tab)
There are plenty are flavours to choose from with us enjoying the strawberry and banana the most – it reminded us of our favourite Calpol!. The green apple and blackcurrant flavours both feature 50 mg of caffeine, roughly the equivalent of a single espresso, ideal to pick you up before a long climb or the end of a race.
Talking of which, opening the gels is easily achieved without mess or fuss, and the compact packaging allows plenty of them to be stuffed into a jersey pocket.
For more information, head over to PowerBar (opens in new tab).
Thank you for reading 10 articles this month* Join now for unlimited access
Enjoy your first month for just £1 / $1 / €1
*Read 5 free articles per month without a subscription
Join now for unlimited access
Try first month for just £1 / $1 / €1
Oliver Bridgewood - no, Doctor Oliver Bridgewood - is a PhD Chemist who discovered a love of cycling. He enjoys racing time trials, hill climbs, road races and criteriums. During his time at Cycling Weekly, he worked predominantly within the tech team, also utilising his science background to produce insightful fitness articles, before moving to an entirely video-focused role heading up the Cycling Weekly YouTube channel, where his feature-length documentary 'Project 49' was his crowning glory.