High Five Banana Energy Gel review
On rides over ninety minutes, taking on some fuel is important, unless you wish to risk 'bonking'. The High Five Banana Energy Gel aims to provide a quick and convenient source of glucose.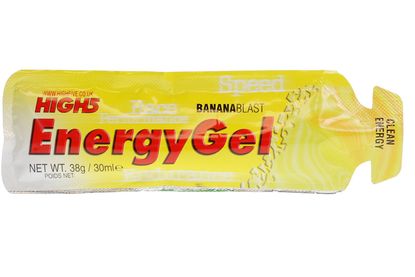 These gels are amongst the nicest we have tried. The consistency is good and the taste isn't too sickly. For a convenient source of carbs they are useful, but like many sports nutrition products they are expensive.
Reasons to buy
+

Nice taste

+

Good consistency

+
Reasons to avoid
-

Expensive

-

What do you do with your sticky wrapper?
As a rough guideline, you should aim to consume ~60g of carbohydrates per hour whilst cycling. Failure to keep your blood sugar levels topped up can result in the infamous 'bonk'. To this end one High Five Banana Energy Gel contains 23g of carbohydrate with High Five recommending you take 3 an hour.
>>> Results are in: drink coffee, ride faster
They are certainly a convenient source of carbs/sugar but how do they taste? We are big fans of the banana flavour and would recommend it to anyone who likes bananas! They are not as sickly sweet as some other gels we have used, have a nice consistency and are pretty palatable. High Five have produced a video to explain the product further.
https://www.youtube.com/watch?v=7zKDw7xx9No&list=PL58zboXBjpgo8PswNyboW0bWHgZPJzNYE
>>> Nutrition for cycling: 10 tips to get your food and drink dialled
For the food conscious, it is worth noting that they contain no artificial sweeteners, flavours or colourings. Despite the recommendation of three an hour, we preferred to have one an hour and get the rest of our hourly carbs from an energy drink and bar. We would still argue that £1 is expensive for what is essentially some flavoured syrup, but they are competitively priced relative to other gels on the market. If you are new to energy gels, this product would be a great one to try out and comes highly recommended.
For more information, head over to High 5.
Thank you for reading 10 articles this month* Join now for unlimited access
Enjoy your first month for just £1 / $1 / €1
*Read 5 free articles per month without a subscription
Join now for unlimited access
Try first month for just £1 / $1 / €1
Oliver Bridgewood - no, Doctor Oliver Bridgewood - is a PhD Chemist who discovered a love of cycling. He enjoys racing time trials, hill climbs, road races and criteriums. During his time at Cycling Weekly, he worked predominantly within the tech team, also utilising his science background to produce insightful fitness articles, before moving to an entirely video-focused role heading up the Cycling Weekly YouTube channel, where his feature-length documentary 'Project 49' was his crowning glory.