Bianchi Pista Steel review
A beautiful frame that'll have hipsters drooling and will suit short commutes fine but is it a case of form over function?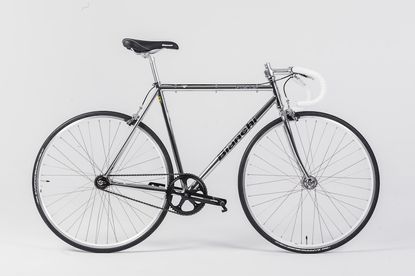 It's a drop-dead gorgeous frame which will no doubt appeal to those who want some commuter chic. Scratch beneath the glamorous surface though and it's perhaps more form than function.
Reasons to buy
+

Brilliantly good looking

+

Good for nipping about in style

+
Reasons to avoid
-

Heavy

-

Under-specced for the price
Why you can trust Cycling Weekly Our expert reviewers spend hours testing and comparing products and services so you can choose the best for you. Find out more about how we test.
Take one look at the Bianchi Pista Steel and it's enough to make your eyes bulge. A polished steel beauty that oozes class, looking every part the city slicker's bike. It's a sleek, boxy old fashioned frame with a traditional steerer and a short rear end that'll have hipsters drooling.
Of course, it's all designed to evoke memories of a timeless bygone Bianchi era, with its traditional looking bars and singlespeed drivetrain. It certainly looks part of history but on paper it has a modern twist to bring it up-to-date for the rigours of the city commuter. It's a CroMo steel frame with butted tubes TIG welded together and it's comfortable enough for short commutes.
Its boxy design puts you in an upright position, holding on to the bars close to the stem. If you ride single speed this is where you'll want to be anyway as it's where your brakes are positioned.
However, the bike is heavy (the part of cycling history nobody wants) and it's enough to make you think twice about longer commutes – mine tended to max out at just over 5km with one hill.
With the bike being so stripped back, there's not much of a specification list to wax on about. Immediate points go to the saddle, which is as close as i'll ever come to sitting on a sofa while riding. So far so good.
The classic bars and FSA five arm crankset also look the part and suit the bike and its purposes fine. The flip flop hub is also a nice touch for those wanting the security of single speed (how I rode the bike) or those looking to practice their track skills in fixed gear form.
The Bianchi Pista Steel bike comes supplied with a 48t chainring on the front partnered to a 16t sprocket on the rear. It's a combination of gears that has suited my South London commutes just fine, and it'll have you spinning along on the flat painlessly with only moderate grunting involved to get up and over any hills – the big one back to my flat had me up and out the saddle.
Getting out the saddle is a bit unbalancing as on the Bianchi Pista Steel you either have to hold on to the tops or get down on the drops (those old fashioned bars don't have hoods) but you soon adapt.
Watch: Hybrid Bike Buyer's Guide
http://www.youtube.com/watch?v=gN0j7vzkf8A
We ran our test bike with a pair of Shimano's M324 SPD pedals, which on one side are flat and the other SPD. They offer the best of both worlds, with the SPD suitable for those who have a bit of a longer commuter or want to ride it fixed.
The DA-17 rims on Joytech track hubs are heavy, which would be OK if weren't for the fact the Bianchi retails at £845. Paired with the Tektro brakes it starts to paint a picture of an overpriced and underspecced bike.
Of course, this necessarily won't matter to those that know exactly what they want – a great looking, cool bike for short get-about-town trips. For this, it does the job.
Thank you for reading 10 articles this month* Join now for unlimited access
Enjoy your first month for just £1 / $1 / €1
*Read 5 free articles per month without a subscription
Join now for unlimited access
Try first month for just £1 / $1 / €1