Proviz Reflect360 gloves review
Reflective, waterproof and thermal are the Proviz Reflect360 gloves are the epitome of a British winter glove?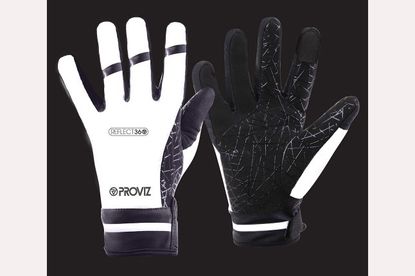 The Proviz Reflect360 gloves are one of the best products I've seen on the bike market in a long time. They totally raise the bar in terms of performance and function, and the form isn't horrific either. I just wish they would offer them in a size extra small too.
Reasons to buy
+

Reflective

+

Waterproof

+

Padded and silicon gripper palm

+

Fleece lined

+

Velcro closure

+

Some touch screen compatibility

+

Thermal down to 0 deg.
Reasons to avoid
-

No nose wipe

-

Sizes come up big

-

No touch screen compatibility on thumb

-
You can trust Cycling Weekly. Our team of experts put in hard miles testing cycling tech and will always share honest, unbiased advice to help you choose. Find out more about how we test.
One of the things I love most in life is a truly practical invention. They don't say necessity is the mother for all invention for nothing after all, not that you should ever sacrifice form over function either. You might therefore conclude I have high expectations when it comes to products landing on my desk, and to be fair I probably have, which is probably why I'm so excited by most things that come out of the Proviz house at the moment, specifically the Proviz Reflect360 gloves.
>>>Best gloves for autumn and winter
Ok so they need to work a little on the form aspect, but as a brand, it is getting there, with the Proviz Reflect360 gloves resembing more bike and less workman, but with yet oh so much practicality about them.
Construction
The back of the hand and thumb outer of the Proviz Reflect360 gloves is made from material containing millions of highly reflective tiny glass beads, which reflect light from vehicle headlights. Underneath this reflective outer layer Proviz have placed a internal waterproof polyurethane layer, made up of a three-layer microporous silicone coating structure called Hipora, made by Korean based Kolon Industries.
According to Proviz, the first layer prevents most water from passing through, the second layer is a honeycomb structure that lets moisture in to then let it expel through the first layer, the third layer is a denser layer to give added protection against water. It believes that together, the three layers give a breathable and very effective material for cycling gloves due to its thin, lightweight and waterproof properties.
On the palm is silicone web grip and padding, which Proviz say is the perfect combination to give you a highly effective and comfortable grip, especially in the wet. The index finger is touchscreen compatible at the tip, while at the wrist is yet another reflective band and a velcro closure. They really reminded me of my 'go to' pair of Castelli CW 4.0 WS Donna gloves which where around about 6 years ago, yet still find their way to the top of my winter kit pile because of the balance of padding, silicone grip and low profile design.
The Proviz Reflect360 gloves are finished off with a soft brushed fleece lining to give them thermal properties too.
The ride
Popping the Proviz Reflect360 gloves on and the immediate noticeable is the size. Admittedly I have pretty small hands, but even the small was about a centimetre too long in the fingers. They were however perfect for my other half who, normally riding a size medium in gloves, promptly wanted to nab them telling me that they were spot on for him as they were a brilliant fit and, I quote, "like how bike gloves should be, not like the well bulky ski gloves".
Fortunately, I was able to get a couple of rides in using them before they disappeared out of my sight and bar the fit for me, I concurred with my other half that the Proviz Reflect360 gloves are indeed how bike gloves should be.
Their low profile, so leave you with a good amount of dexterity. This is especially important to me when on a cold wet ride when thick gloves can limit the level of feedback you get from changing gear or braking, leaving you vulnerable to shifting through the block several sprockets at a time, or grabbing a handful of brake. The first is mostly annoying, but the second is out right dangerous, and the Reflect360 totally prevent this.
The reflective properties are immense. It really is, as the name suggest 360degree visibility - there really is no "sorry mate, I didn't see you indicating" excuses if you're wearing these bad boys to signal - it's akin to holding out a school lollipop stick or a Belisha beacon on each hand, such as their powerful reflective abilities.
The waterproofing is as close as you can get to having your hands tanked on a ride. This does mean that they aren't really that breathable, but if your anything like me with extremities that plummet instantly on a cold day, this wasn't a problem for most of the rides, and even then only when I was really working hard on climbs, and to be honest I'd take damp warm hands over cold wet ones any day of the week.
The padding is perfect. Again, small hands means a constant search of gloves that don't over bulk out the padding, which then impacts on radial grip. The Proviz Reflect360 gloves have just enough to knock off the road buzz, while still allowing full grip on the bars, much like the afore mentioned Casstelli Donna gloves.
The only snagging points are the nose wipe needs to be on the back of the hands for me, rather than the inside of the thumb, constantly forgetting on a long ride did make my nose rather sore after a while. The other isn't really a necessity, but Proviz, please can we have touch screen compatibility on the thumb too? I know it's really meant just for answering calls, but being able to send a message without removing gloves would be a major bonus.
The thermal value really depends on how hot you run of the bike, I'd be happy down to a couple of degrees, others who don't suffer as bad as I do would probably be ok going much lower, and there's always the potential to add a pair of silk liners to get another couple of degrees lower still. Probably not quite all-winter as Provis suggest, but there's less than a, no pun intended, handful of days when you would need something more robust.
Value
The best bit. £39.99. That's less than £40 for waterproof, windproof, fully reflective and warm gloves that will get you through most bike rides from autumn to spring. A billy bargain.
Thank you for reading 20 articles this month* Join now for unlimited access
Enjoy your first month for just £1 / $1 / €1
*Read 5 free articles per month without a subscription
Join now for unlimited access
Try first month for just £1 / $1 / €1