Ventum GS1 bike review: A modern gravel race bike with aerodynamic considerations and generous clearances
As the gravel market continues to fracture into adventure vs race subcategories, the Ventum GS1 skews racey. It may be a thoroughbred, but it's up for whatever you can throw at it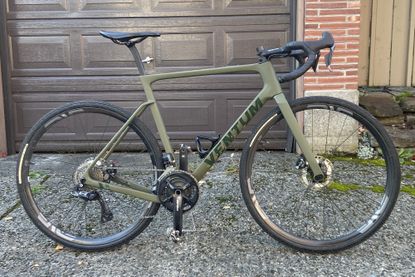 (Image credit: Tyler Boucher)
The GS1 is light, stiff and can handle wide tires for the increasingly technical terrain found in gravel races but the price is on the high side.
Reasons to buy
+

Efficient power transfer

+

Great tire clearance

+

Adjustable rake allows for fine-tuning of handling
Reasons to avoid
-

Expensive

-

Maybe a little too stiff

-

Direct-to-consumer model not for everyone
You can trust Cycling Weekly. Our team of experts put in hard miles testing cycling tech and will always share honest, unbiased advice to help you choose. Find out more about how we test.
Ventum first made a splash in the world of triathlon with an unconventional, but aerodynamic design that eliminates the downtube of a traditional triangle frame. Since then, the company has ventured into the road and gravel bike markets, albeit with more typical frame designs.
The company operates with a direct-to-consumer model, which means that it doesn't sell bicycles at bicycle shops, and instead sells them directly to the end user. In theory, this allows the company to pass along some savings to the end user by eliminating a piece of pie normally eaten up by a brick and mortar bicycle shop or retailer.
In practice, the company ends up needing to fill several of the roles provided by a bike shop, but from afar. This ultimately provides a different experience for the customer than the standard model, though not necessarily a better or worse one. It's all about the execution of those services.
During the ordering process, customers are able to specify several different options for customizing the fit of the bike, including stem length, bar width, and crank length as well as paint color (of 4-5 options, all of which are "Inspired by the Utah desert," and seem like it). Crucially, the customer must know enough about their bike fit to accurately spec these items. The options are also fairly limited and, for those who fall outside the height bell curve, may pose a problem.
The GS1 tested here is the second iteration of Ventum's gravel bike. It is a race-oriented design with significant aerodynamic shaping, a variety of extra mounting options for bags and accessories and modern tire clearance (up to 48 mm tires). Features include a flip chip in the fork to allow for two different rake settings and partially hidden cable routing that enters the headtube in front of the headset for a clean look, but one that doesn't necessitate replacing hydraulic lines when making changes to the cockpit or fit.
My test bike, a size M/L, has the following geometry numbers:
570mm stack
373mm reach
70 mm bb drop
71 degree HTA
72.5 STA
Seat tube angles stay consistent across sizes, while head tube angle angles change as sizes get smaller. The short chainstay length (420 mm) stays the same across the board. These angles are very much in line with current trends of longer top tubes and slacker head tube angles, which translates to straightline-friendly stability, but to the detriment of agility when it comes to sharp cornering. Also notable is the bottom bracket height, which is arguably on the high side for a bike that has the ability to run tires up to 48 mm wide.
Ventum GS1: The build
Shimano GRX Di2 2x drivetrain
Enve G23 wheels
Panaracer Gravelking SK tires, 35 mm
Proprietary Ventum seatpost
Enve stem and G Series bars
Fizik Argo saddle
Wheels Manufacturing T47 BB
Ventum GS1: First Impressions
My test GS1 arrived in a wider-than-typical-for-a-bike-box cardboard shipping sled, with the bike almost completely assembled inside. The box has internal dividers to keep the bike stable inside, and all that was required of me was putting the wheels into the frame, threading in the thru axles and inserting the seatpost. My test bike shipped without spacers between the brake pads, but I assume those are part of the new bike experience. Ventum has a handy guide on their website with excellent visuals that explains how to use the shipping sled and assemble the bike once it arrives.
The seatpost uses a hidden grub screw in place of a standard seatpost clamp, which is not my favorite; it's awkward to reach and difficult to make micro adjustments to saddle height. That said, it is at least hidden in the armpit where the bottom of the toptube and front of the downtube meet, so it's protected from the elements.
Ventum GS1: The Ride
Once I got the bike unpacked, I swapped the provided stem for a longer one, installed my usual saddle and pedals and dialed things in.
The GS1 wants to go fast: it responds very well to accelerations and feels stable and comfortable at speed. On smooth surfaces it feels a lot like a road bike. On rougher surfaces, I found that surface imperfections came directly through the saddle which was uncomfortable at times, though this can be mitigated through tire choice and pressure. The bike has a distinctly racey feeling.
For the amount of aerodynamic-inspired shaping (Ventum doesn't make any specific claims about how it tests in a wind tunnel) in the design of the frame, the bar width is a mismatch. Forty-four centimeters at the hoods (and significantly wider at the drops) is just too wide. Forty-two cm bars are the smallest size on offer, but on a small bike they would be too large as well.
I would be willing to bet a standard frame with round tubes and exposed cables but with narrow bars is a faster setup than an aero bike with hidden cables and wide bars. Something to consider, if speed is your aim.
Despite this, I quite like the shape of Enve's G Series handlebar, especially how well it works with the Shimano GRX hoods. The GS1's front end feels great at speed. Just for fun, I tested the bike out on a cyclocross course and found that, with some adjustments to my cornering technique, I could get it to perform surprisingly well.
Testing out different cornering radii also provided a good opportunity to play with the flip chips in the fork; the fork's design is streamlined enough to make it a quick adjustment with just one screw necessary to switch between the two different positions, however, you are also required to adjust the brake caliper at the same time. I spent significantly more time fiddling with the brakes than with the flip chips; it would be nice if this design was refined further.
The dual offset flip chip allows for 5 milliliters of adjustment fore and aft to fine tune how the bike feels depending on terrain and tire size. I preferred the forward setting (longer wheelbase) with both narrower and wider tires.
With wider tires installed, the GS1 gains quite a bit more comfort as well as some front end stability. The supplied Panaracer Gravelking SK tires were not particularly impressive; they were lethargic on pavement and unpredictable on rougher surfaces. They may be reliable and easy to set up tubeless, but I would recommend swapping to something with a more supple casing and more volume to improve both the ride quality of the bike as well as its capability on rougher terrain.
Shimano's GRX Di2 drivetrain performed flawlessly, with useful gearing ratios and tight jumps that make a difference in a race situation. The Enve wheels are also a good match for this bike, though there are cheaper options available that perform similarly.
Despite initially feeling like the rear end was too stiff, I found myself getting along nicely with the bike on my longer test rides. The only place I ran into issues was on long rutted descents, where it was hard to keep the rear wheel on the ground and traction suffered as a result. There will inevitably be some give and take in terms of balancing stiffness and power transfer, especially with bikes designed for racing.
Ventum GS1: Value and Conclusion
In terms of value, Canyon offers a good comparison point as the best known direct-to-consumer brand. It offers a very similar Shimano GRX Di2 build for its Grail CF SLX model. There are a few differences: the GS1 has the premium Enve cockpit and wheelset, but the Canyon build has very solid, if less flashy components. Canyon's offering retails for significantly less at $4,999, which makes the Ventum ($7,799 as tested; $5,899 with alloy wheels), seem pricey in comparison.
Another gravel race bike with aerodynamic considerations and similar specifications is Cervelo's Aspero, which retails for $6,500 with a GRX Di2 build, also significantly cheaper than the Ventum.
The GS1 is arguably a little more capable than these two offerings, with a longer top tube and slightly slacker front end, as well as a little more tire clearance, but against these two better known brands it's hard to see why the Ventum costs as much as it does.
For a rider who wants a capable, modern racing bike, Ventum's GS1 offers a strong option. It's light, stiff and can handle wide tires for the increasingly technical terrain found in gravel races. The aerodynamic shaping and bag mounts mean the GS1 up for whatever you can throw at it, watts and all. I would be inclined to switch to narrower bars and wider tires than the provided options, but otherwise everything is well-specced. My primary qualm with the bike is the price: at nearly $8k, there are a lot of alternatives available, many of them including the benefits afforded by a brick-and-mortar retailer.
Ventum GS1: Specifications
Image 1 of 8
Price: $7,799 as built (take note: shipping costs an additional $229)
Frameset only: $2,599
Colors: Sage, Moss, Moab, Storm, Minted
Sizes: XS-XL
Weight: 18.55 lbs (M/L frame size)
Website: ventumracing.com
Thank you for reading 20 articles this month* Join now for unlimited access
Enjoy your first month for just £1 / $1 / €1
*Read 5 free articles per month without a subscription
Join now for unlimited access
Try first month for just £1 / $1 / €1