Vitus Substance V-2 Flat Bar Gravel Bike Sora review - redefining the modern hybrid bike
You don't have to have drop bars to have a fast and capable bike for on and off-road riding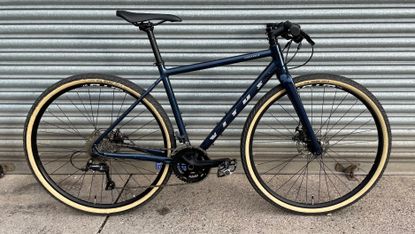 (Image credit: Rachel Sokal)
It's easy to scoff at flat bar gravel bikes. Aren't they just a mountain bike with skinny tires? Or maybe yesteryear's hybrid bike with some modern styling?! Step forward the Vitus Substance V-2 Flat Bar Gravel Sora. This Substance shares the same aluminium frame and carbon fork as the drop bar version but with the flat bar giving a much more stable and comfortable position, making it more accessible to different riders and riding. The flat bar Substance does a great job at turning its hand to anything from long day back-road riding to nipping to the shop. The Shimano Sora gearing and Tektro brakes perform brilliantly and put their drop bar equivalents to shame. So, maybe the haters are right, maybe the Vitus Substance Flat Bar gravel is a modern version of a hybrid bike. But that doesn't make it a bad thing.
Reasons to buy
+

Excellent do-it-all bike

+

Stable and confident feel

+

Great performance from Shimano Sora shifting and TRP mechanical disc brakes

+

Smart looks
Reasons to avoid
-

Vee Rail Sport tires minimum pressure spoil the bike's capabilities

-

Relatively short and high position sacrifices all out speed
You can trust Cycling Weekly. Our team of experts put in hard miles testing cycling tech and will always share honest, unbiased advice to help you choose. Find out more about how we test.
Get The Leadout Newsletter
The latest race content, interviews, features, reviews and expert buying guides, direct to your inbox!
Thank you for signing up to The Pick. You will receive a verification email shortly.
There was a problem. Please refresh the page and try again.
In days gone by there was something called a hybrid bike. It was a really excellent bike that could turn its hand to pretty much everything you could throw at it. It had flat bars, cantilever brakes and mountain bike gearing. It had zippy wheels for a fast ride but with a comfortable position and confident handling. I had one on which I rode everything, all the time, whether it be for three hour road rides, on the commute to work or off-road at the weekend.
Nowadays these bikes benefit from increased comfort and control of wider tires and disc brakes. And we don't call them hybrid bikes anymore, these are now gravel bikes complete with muted colors and drop bars.
But this isn't everyone's fashion choice. Drop bars limit access to those who don't have the confidence or flexibility for a more committed front end, they also make it much harder to use on a day-to-day basis in the traffic or with a loaded rucksack.
Simultaneously the industry has consigned the hybrid bike to an almost derisory term to describe something incredibly heavy and unappealing that you buy from a superstore for $/£200.
Step forward the clunkily named Vitus Substance V-2 Flat Bar Gravel Bike Sora. Can it un-tarnish the name of hybrid riding and wrestle back some all terrain riding from the modern drop bar gravel bike?
Vitus Substance V-2: construction
With its glossy navy paint job and tan wall tires the Vitus Substance has a really classy look about it. The double-butted aluminium tubes and color-coordinated carbon fork give the frame a clean look which maintained by its neat welds. There are mounts and bosses for every eventuality; frame bags, top tube bags, water bottles, fenders and guards.
As is common on bikes at this price point, the components come from a range of big and smaller brands as well as in-house parts. As we've seen on the more affordable end of Vitus' road bikes, the drive train is made up of Prowheel cranks, Sunrace cassette, KMC chain and Shimano Sora mechs and shifters. The 2x9 set up (46/30T rings, 11-34t cassette) gives a good range of gears without any huge jumps in between.
Components such as the Prowheel threaded bottom bracket and ACROS sealed bearing headset, and the semi-integrated cabling result in excellent performance and durability alongside straightforward (and cheaper) future servicing. Wheels are the excellent WTB ST i23 rim on Vitus hubs.
If you're looking at a flat bar gravel bike one thing to pay attention to is the geometry, and how this compares to drop bar versions. It's not only important to consider the frame measurements in the geometry chart itself but also the stem and bars as this is where much of the variation in position lies. In the case of the Substance the frame and geometry is the same across all the bikes so you'll be in a more relaxed, upright position on the flat bar version than if you had drops.
The chainstay length (436mm), headtube angle (71.5 degrees) and wheelbase (1031mm) give the Substance a lot of stability. The Substance has quite a high stack (568mm on our 51cm frame) and shorter reach (382mm) compared with many of its peers, combined with the sit up position of the flat bars you end up with a bike that's incredibly stable and easy to ride.
Vitus Substance V-2: the ride
I really loved the feeling of the Substance; it was comfortable and I felt in control, it could go fast on the open road and tracks whilst being perfectly stable picking my way through town to the shops and even with my child aboard his Shotgun seat the way to nursery. Ever since I've had it to review it's become my everyday go-to bike, the convenience of its hybrid nature winning out over my usual genre-specific choices. There's something really pleasurable about just being able to ride a bike without having to plan because that bit of road will be too rough, you won't be able to carry a loaded bag, it'll be too slow to go all that way…
If I had to pick one thing out about the Vitus it would be its handling. It has such a nice stable feel and is really easy to manoeuvre both at faster speeds on rough single track (which I should probably be riding on an MTB) or at slower speeds through stationary traffic.
Actually I don't think I can pick one thing. I also need to mention how impressed I was with the shifting and brakes on the Substance. At these lower price points the performance of flat bar shifters and mechanical disc brakes is way above equivalent drop bar versions. The Tektro brakes and Shimano Sora levers had plenty of power, were easy to modulate and only needed one finger to operate, something which the drop bar equivalents still aspire to.
The gear shifting was light, easy, quick and true. In the constant electronic revolution of MTB shifting I've forgotten how simple and effective traditional style Shimano flat-bar shifters can be. You have a choice of two levers which you can operate with your thumb and/or first finger in a forward or backward operation. The levers are just where you want them to be without ever having to think about operating them.
On the flipside, the Substance was really let down by its tires. The specced Vee Tire Co. Rail Sport can't be run tubeless and has a minimum inflation of 45 PSI / 3.5 bar. That's quite a lot of pressure in a 40cc tire, which resulted in a teeth-chattery feel even on my local roads, let alone on any rough or gravel trail. Not only wasn't this pleasurable, it also meant a lack of grip and speed on the rougher stuff.
I took the risk of pinch punctures and dropped the pressure below what was recommended and I was pleased I did. Lowering the tires to 40 PSI (which is still much higher than I'd normally run) made a huge difference to the feel of the bike with much more traction and comfort. But it was still a way off being right and, although I managed to avoid any pinch flats, the tires felt really squirmy as there's not much strength in the sidewalls so wasn't a long term approach
It's a shame that Vitus chose to scrimp on the tires. It's even more of a shame given the WTB wheelset are tubeless compatible and even come taped ready for tubeless tires. I swapped over to a tubeless set up with my usual Schwalbe G One tyres which I could run at a much lower pressure. Even though these were narrower (35 vs 40cc) and had a less aggressive tread than the stock Vee Tires the change in comfort and grip completely transformed the ride into something much more comfortable and nimble. Set up was really easy too, I'd go as far as to say it was the easiest tubeless inflation I've ever done.
As a rule I won't review a bike and suggest you need to swap out components, particularly at more affordable end where budget and mechanic experience can be more limited. However, the tires on the Vitus Substance V2 Flat Bar Sora are going to be an exception as you can't get anything close to the best out of this bike on the Vee Rail Sports. You don't necessarily need to go tubeless, just to choose something that can be run at a low enough pressure to get the grip and comfort you need. Just don't be tempted to exceed a 40cc tire on the rear though as chainstay clearance is pretty tight.
Vitus Substance V-2: value and conclusion
At $1,100 / £900 the Flat Bar Substance sits at the lower end of Vitus' range, paired with a drop bar version. There is only the one flat bar Substance though so there's no option for a more affordable or higher spec option. For point of reference, in the drop bar range there's a Microshift option (rather than Shimano Sora) for $200/£150 less or an additional $700/£500 upgrades the Sora to GRX, which makes the Sora build excellent value for money.
Elsewhere there are still relatively few gravel flat bar bikes available. Those that are, like the Trek FX Sport 4 ($/£1,800) and Specialized Diverge E5 EVO $2,600 / £3,000, come in at a much higher price point and so don't make for meaningful comparisons.
Other options include the steel framed Marin Muirwood with 1x gearing for $900/£865 and the aluminium Norco Search XC ($1,600) which benefits from Shimano Deore 1x11 shifting.
The keyboard warriors out there have a lot to say about flat bar gravel bikes, and they're right, they are a modern reincarnation of a traditional hybrid bike with a sprinkle of gravel marketing.
After a couple of months of riding the Substance on pretty much a daily version I feel the same, this is the modern day version of a hybrid bike. But that's not an insult; it's a positive thing. It's a bike that's hugely capable and can do a bit of everything with excellent gearing and brakes. But it's more relaxed position and flat bars makes it much more accessible to many and extends its use from longer back road riding to the commute, family jaunt and nipping to the shops too. Or simply for someone who'd much rather ride with the comfort and confidence of flat bars. Just change the tires before you ride.
Vitus Substance V-2: specs
Sizes: XS (47cm) to XXL (57cm)
Frame: 6061-T6 Double Butted Aluminium,
Forks: Substance Carbon
Bottom Bracket: Prowheel
Chainset: Prowheel 46/30T
Shifters and Derailleurs: Shimano Sora R3000, 2x9 Speed
Cassette: Sunrace M96 9 Speed 11-34T
Chain: KMC X9
Wheelset: WTB ST I23 TCS 2.0 On Vitus Hubs, 700cc
Tires: Vee Tire Co. Rail Sport 700c X 40c
Brakes: Tektro MD-C310 Disc Brake With Shimano Sora Lever, 160mm Rotor
Handlebars: Vitus 6061 Aluminium
Stem: Vitus 6061 Aluminium
Headset: ACROS Aix-Low R3
Grips: Vitus MTB
Saddle: Vitus Steel Rail
Seatpost: Vitus 6061 Aluminium
Thank you for reading 20 articles this month* Join now for unlimited access
Enjoy your first month for just £1 / $1 / €1
*Read 5 free articles per month without a subscription
Join now for unlimited access
Try first month for just £1 / $1 / €1