Vitus Razor Disc Road Bike Claris review - are disc brakes worth it at this price point?
Disc brakes don't necessarily mean braking performance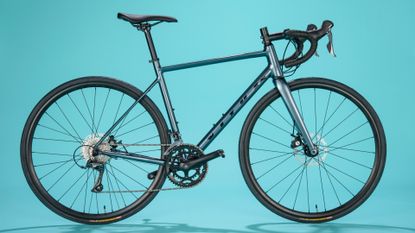 (Image credit: Future)
Even in the close competition amongst its competitive peers, the Vitus Razor Disc Road Bike Claris stands out as one of the few entry-level aluminium road bikes to include disc brakes. It has a balanced geometry and reliable componentry which all makes for nicely poised ride even if it does lack a bit of zip. Sadly the performance of the brakes doesn't live up to the spec sheet. There's very little stopping power from the mechanical disc brakes which combined with the hard-compound tires results in a sketchy ride on descents and cornering.
Reasons to buy
+

Aesthetics

+

Few bikes specced with disc brakes at this price point

+

Shimano Claris 2x8 shifting

+

Reliable drivetrain componentry
Reasons to avoid
-

Poor performance of brakes

-

Poor grip from tires

-

Arm and hand comfort
You can trust Cycling Weekly. Our team of experts put in hard miles testing cycling tech and will always share honest, unbiased advice to help you choose. Find out more about how we test.
Once a French brand, the relaunched version of Vitus has been selling direct-to-consumer for a few years now following its acquisition by Wiggle and Chain Reaction Cycles. In that time there have been massive developments in its range and reputation from producing 'best budget' mountain bikes to winning Enduro World Series races and, on the road side, reappearing in the pro peloton.
The Razor has been Vitus' stalwart entry-level road bike through all of this period of change. It's well-specced and well-priced compared to many other of the best cheap road bikes out there but does the ride match up?
Vitus Razor Disc: construction
The Razor's double-butted aluminium frame has a smart and tidy look to it; straight lines, neat welds and tidy semi-integrated cables. The carbon fork neatly follows the lines and color scheme of the frame. Call me old fashioned, but this is what a bike should look like.
As many bikes at this price point the Razor is designed to give both a stable and nimble ride feel, a 56cm frame has a stack of 598mm and a reach of 391mm, a 73-74 degree seat tube angle and 71.5-73 degree seat tube (depending on frame size). Arguably the most important factor of any bike's geometry is the scope for adjusting the set up to suit your body and riding style without spending lots of money and the length of the fork steerer allows plenty of front height adjustment. As well as the standard, unisex bike there's also a women's version, the Razor Disc Road Bike Claris W. The geometry doesn't actually differ between the two versions, just the range of frame sizes giving a total of seven (women's XXS / 45cm to L / 53cm; unisex XS / 47cm to XXL / 57cm).
The frames are essentially the same across the entire Vitus range (if you're looking at something a little higher end the carbon-framed Zenium shares the Razor's geometry), it's just brake mounts and axles that differ depending on whether your chosen model is specced with disc or rim brakes. On the subject of which, the disc part of the Razor Disc Road Bike Claris comes from Tektro MD-C310 mechanical disc brakes with 160mm rotors front and rear.
The drivetrain pairs Shimano Claris shifters and mechs with a Prowheel Chainset, Sunrace cassette and KMC chain. The chainset and square-tapered bottom bracket may not look the slickest but will likely outlast all the riding that most of us could put into the Razor and, if necessary, servicing is straightforward and so inexpensive.
Wheels, seatpost, saddle, stem, bars and bar tape are a combination of Vitus and non-branded parts. All of the kit is as you'd expect at this price point – like an alloy bar, stem and seat post – and the stem length and bar width are scaled according to frame size. There are two sets of water bottle mounts as well as ones for guards if you're looking to use as a commuter or winter bike.
Vitus Razor Disc: the ride
Straight out the garage the feel of the Razor was nicely unnoticeable, the bike just got on with it. It felt nice and balanced as I negotiated my way through traffic and pleasingly reactive as the traffic lights changed.
Out of town and onto the lanes the Razor and I rolled along and the miles and time ticked happily by. As expected for this weight and price point the Razor took a little time and effort to get up to pace and the bike did lack a sense of nippiness on quick accelerations and out-the-saddle attacks. If I was a hard-and-fast racer this might bother me but, given I'm neither fast nor a racer, I will happily take the stability and control on longer rides.
The drivetrain performed brilliantly; gear changes are fast and light and all the shifts were crisp and true. For generally undulating riding there was good range in the 2x8 gearing (50/34T chainrings and 11-32t cassette). Naturally the eight speed cassette results in big jumps between gears and there were a few occasions where I needed to adjust my cadence to match, but there are equally there was a lot of riding time when I entirely forgot I was running an eight rather than an 11 speed cassette. The only downside to the Claris is that I struggled to cover the relatively large levers with my average female-sized hands.
The Razor had a comfortable feel to it without any significant road buzz. After an hour or so of riding I did struggle with achy hands which I put down to a combination of the bar and tape construction and the fact that my hands were a bit overstretched on the levers; swapping the bar tape for something more cushioned would be a low-cost way to further improve feel and I found changing the stem for one a little shorter improved the fit and comfort for me. At the other end, the Vitus saddle was perfectly average and non-descript; lightly padded, gently curved, mid length and mid width.
Whilst the Razor performed nicely when I was pedalling, as the saying goes, power is nothing without control, and this is where the bike is let down by the performance of brakes and tires.
The Tektro mechanical disc brakes are wholly underwhelming, they were rather more adept at slightly slowing rather than stopping. The fact that I had to really stretch my hands to get fully over the levers didn't help – particularly on descents – as they really need a multi-fingered grip rather than a light feathering to fully activate. Closer investigation flagged a couple of issues which will have contributed to this performance. Firstly, neither calliper was well aligned causing both discs to be pulled across a fair few milimeters, there was also unequal contact from each of the pad pairs. Ensuring pad contact is equal is notoriously tricky on mechanical disc brakes but I'd have expected better alignment of the calliper as a whole. This may be limited to our review bike but always a risk with a direct-to-consumer purchase rather than through a bike shop where accountability is more visible. The other issue the significant friction of the cable which could be felt dragging and vibrating the outer cables as the lever was pulled. It was hard to work out the cause of this but I suspect it is a result of lower quality cables and how they route through the frame.
Personally I'd rather save $150 / £100 and go for the rim-brake version of the Razor as I didn't think the performance of these particular disc brakes warrants the extra spend unless you can ensure they're effectively set up with decent quality cables.
The durable Kenda Kwick Roller Sport tire stood up to the back roads in winter and spring without any punctures despite the seasonal thorny hedge cuttings. This durability does mean the tire is a hard compound giving a noticeable lack of grip on cornering and greasy roads. Combined with the lack of braking control the ride had a very sketchy feel to it on any descents or twists and turns.
Vitus Razor Disc: value and conclusion
There are six models in the Vitus Razor range in which the Disc Road Bike Claris sits in the middle at $1099 / £699. Upgrading to Sora shifting in place of the Claris costs a further $100 / £100 or choosing rim brakes will save $150 / £100. There's also a flat-bar version of the Disc Road Bike Claris which is the same price as the dropbar version we've reviewed here.
The Vitus Razor Disc Road Bike Claris is closely matched to a few aluminium-framed, Claris-geared workhorse road bikes we've ridden lately like the Boardman SLR 8.6 (£650) and Pinnacle Laterite 2 (£575). Unlike these other two the Vitus includes disc brakes so makes it well priced by comparison.
There are lots of things to like about Vitus Razor Disc Road Bike Claris; balance, reliability and pedalling capabilities. Sadly this is all let down by the brakes and tires which result in a lack of control on anything fast and twisty. This shouldn't rule the Razor out entirely but you might want to consider going for the rim brake version and using the change for a tire upgrade, or pay someone a little extra to make sure the disc brakes are probably set up and performing as they should.
Vitus Razor Disc: specs
Frame: 60661-T6 Double Butted Aluminium
Fork: UD Carbon, Tapered Aluminium Steerer
Front and rear derailleur: Shimano Claris R2000 2x8 speed
Chainset: Prowheel Ounce 50/34T
Cassette: Sunrace 11-32T
Chain: KMC HG40
Brakes: Tektro TR160, Front: 160mm, Rear: 160mm
Wheelset: Vitus 700c, 6-Bolt Disc Brake
Tires: Kenda Kwick Roller Sport 700x28c
Weight: 10.6kg for 51cm/medium as tested
Thank you for reading 20 articles this month* Join now for unlimited access
Enjoy your first month for just £1 / $1 / €1
*Read 5 free articles per month without a subscription
Join now for unlimited access
Try first month for just £1 / $1 / €1