Haylou PurFree Lite wireless bone conducting earphones review - how can something this good be this cheap?
Excellent sound quality, great battery performance and an extremely competitive price - the Haylou PurFree Lite ticks all the boxes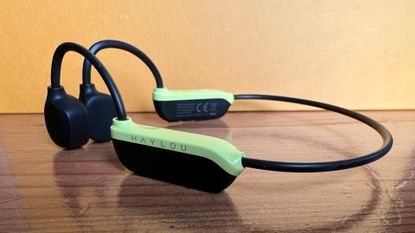 (Image credit: Future)
The Haylou PurFree Lite headphones are probably the best bone conducting headphones on the market right now. The clarity of sound is impressive, they're easy to use and with 15 minute boost charge for an (up to) additional two hours of playback they're winners for me. What has foxed me, and I'm sure will be on the lips of many others, is how can the brand produce something this good for such a low price?
Reasons to buy
+

Clarity of sound

+

Ease of use and helpful battery checking app

+

Comfortable fit even with glasses and helmet on

+

Impressive range

+

Incredibly low price point
Reasons to avoid
-

The vibration feel when not active can be distracting

-

Lower Water-resistance than Haylou PurFree BC01
You can trust Cycling Weekly. Our team of experts put in hard miles testing cycling tech and will always share honest, unbiased advice to help you choose. Find out more about how we test.
When it comes to cycling with sound, I have a mixed feelings. I flip between wanting total immersion on my ride, with no source of audible entertainment, to needing the ability to drown out my own heavy breathing.
So while I find the best headphones for cycling indoors are in-ear models, allowing me to totally dial in to a virtual ride, when it comes to cycling outside, I find bone-conducting headphones offer the best mix of digital sound without loosing external noise and my sense of awareness.
If you are curious as to how bone-conducting headphones work, then be sure to head over to the above mentioned best headphones for cycling page for a detailed look at the science behind the sound.
I really liked the Haylou PurFree BC01, headphones, finding them very decent four out of five stars, so naturally I was excited to have the brand's latest bone conducting option, the Haylou PureFree Lite land on my desk.
Haylou PureFree Lite: Construction
As is clear to see, other than the obvious comparison of the Haylou PureFree BC01, the other headphones on a par with the PurFree Lite are the Shokz Open Run Pro.
Popping the PureFree Lite headphones on the scales however and I made the interesting discovery that they are merely two grams lighter than the original PurFree BC01 version.
I agree that 27 grams is technically lighter than 29 grams, and it does equate to a saving of nearly seven percent, but it does feel a bit of a stretch to add this weight saving to the naming convention.
Questionable marketing aside, the HayLou's are still right up there in the lightweight headphone department.
In a wider context they are only slightly heavier than the Apple Airpods Pro 2 (11g each) and now there's only one gram in it between the Haylou PurFree Lite and the aforementioned Shokz Openrun headphones, which come in at 26 grams.
As with the BC01, a titanium frame and earhook enables the Haylou Lite to naturally be light, but the brand's choice of battery will also play a big role. Understandably, Haylou are reluctant to reveal much when it comes down to exact battery selection, but Haylou say that it's HRC (Haylou Rapid Charge) battery is not only lightweight, but also high performing.
The statistics on the battery provided by the brand say that not only does it provide a 10 hour play time and 300 hours of standby time, but that it also is capable of providing an additional two hours of playtime after just a swift 15 minute charge.
Just as important as the design, weight and battery choice of wireless headphones is the sound quality, measured in terms of clarity and time lag reduction.
Clarity of sound is provided 20mm dynamic driver (the size of the diaphragm that pushes the sound out). This is in the region of 5mm larger than an atypical driver found on a pair of in-ear headphones in order to counter the external position of the headphones, but still between 10 and 30mm smaller than on an over-ear pair.
The Haylou PurFree Lite use the same chipset as the previously reviewed Purfree BC01 bone conducting headphones. This is an important feature to ensure smooth communication, and vital for any on-line racing where in-race tactics are being discussed in over discord.
Another handy 'good to know' about the Haylou PurFree bone conducting headphones in general is that you can connect to two Bluetooth devices at the same time, allowing you to connect to your laptop and phone for calls simultaneously.
Sound quality can be fine-tuned with the Haylou sound app, which enables you to adjust the exact sound settings. The app is also where to go in order to check the headphone battery level.
Between the Haylou PurFree Lite and original PurFree BC01 headphones it's tricky to distinguish the two physically and much of their functionality. The only real differences, is the (claimed) additional two hours of play back time on the Lite as well as change in water resistance properties and charge port.
The newer Lite model has a lesser IP55 water resistance rating over the higher IP67 that the previous Haylou PurFree headphones had.
This drop in water resistance is a knock on from both the construction method change from an integrated one piece design to segmented parts, as well as changing the charge point from a magnetic to a covered USB-c plug-in port.
Checking in with Haylou about the structural design changes and it's an interesting move that enables the brand to bring the headphones to market for a much cheaper price as well as a highly practical modification.
"Changing the USB charge port from magnetic to plug-in on the PurFree Lite headphones is to enhance compatibility" Haylou Marketing Manager Kristi Cheng tells me. "With the new plug-in port, users can conveniently use any standard charging cable, providing flexibility and ease of use," Cheng confirms.
As if to demonstrate the very practical design change, the charge cable has instantly been submersed into my household cable collection, proof that any USB-C connector will indeed charge these the Haylou PurFree Lite headphones.
The other perk of this universal design swap is that it helps to bring the price tag of the PurFree Lite down compared to the PurFree BC01 headphones.
Haylou PurFree Lite: The Ride
What I love most about the all Haylou PurFree bone conducting headphones is the clarity of sound without any noticeable sound bleed to offend others at close range. It really does feel like some kind of sorcery. I defy anyone who dons a pair not to spend the first five minutes of use repeatedly asking "can you hear this" to the person nearest to you.
Once over the magic of sound, and one quick familiarisation of button pressing sequencing for various functionalities - playing, pausing, volume, etc. or answer/ declining calls - I was all set.
I've ridden and ran in the PurFree Lite headphones and found them a brilliant option for either sport, both in terms of staying put, and sound quality. Even teamed with helmet and glasses they still felt barely there.
I even did a range check and found that I got at least 30 meters up the road before the signal reduced, but not bad considering that was with several walls and doors and a flight of stairs.
The buttons are a little fiddly with gloves on, and with thick gloves it's a bit of guess work as to what one you are pressing.
I unknowingly tested the speed of connectivity between the PurFree Lite and my phone due to disbelieving the length of an interval set. Certain that the interval must have finished and the headphone's had failed to signal, I pulled my phone out of my back pocket, only to watch and simultaneously hear the bleep of the interval finish.
While cursing how long the 'on' bit of an interval can feel compared to the 'off' bit, it made me realize that the Haylou PurFree Lite bone conducting headphones was a much better set up than trying to clock watch on either a bike computer, smartwatch or directly on a phone stopwatch. There were no distractions trying to grab a time check, or slacking off as you are just focusing on that waiting for a bleep in your ear.
Having both sets of the Haylou PurFree headphones, I was able to use the Lite back to back with the original PurFree BC01 and identify differences.
Visually, there are little changes, with bigger vibration units (the bit that sits on the jaw bone) and change of outer coating on the Lite version being most obvious. I actually found the TPU (thermoplastic polyurethane) preferable to the silicone wrapped BC01 pair as its a less tacky feeling, meaning that they're easier to wipe over, don't attract as much dust in-between uses and don't seem to get tangled in my hair as much.
On and using, I found I preferred the sound of the Lite over the BC01 but, bizarrely, not always the feel of the sound!
The Haylou PurFree Lite headphones are exceptionally clear. I found I needed to turn to volume up quite a bit on the PurFree BC01 to hear the same quality of music. However, in order to achieve this, the vibrations are increased on the Lite.
When riding, running or moving in general it's not at all noticeable, but for me, these aren't the headphones to be using while working away at my keyboard. It does depend on what I was listen too, classical, yes, drum and bass or an audio book narrated by Brian Blessed, no.
It's not painful, just a bit like to a TENS machine on the jawbones, gently buzzing away in time to anything bassy.
The other PurFree Lite wins for me are the nifty 15 minute speed charge, the ability to visually check on battery level via the app. Both saved my training window when I realized I had forgotten to charge the headphones.
In fact, that's only downside of a long lasting battery is that I'm no longer coming home and automatically popping them on charge between uses, so it does tend to get forgotten.
My biggest worry regarding the differences between the two models was the plug in charge port and segmented construction. Having paid heed to the "don't wear for showering" warning on the set up instructions, and then getting caught in an absolute torrential downpour, I was fearing the worse due to water ingress and the shorting out a circuit. Despite this, the headphones are still in top notch working order.
Haylou PurFree Lite: Value and conclusion
The Haylou PurFree Lite headphones are the perfect example of doing without a premium brand name in order to gain a brilliant pair of headphones for a significantly reduced price of just $36.99 / £27.69.
Comparing them price wise directly with the Shokz OpenRun and they are in the region of $100 / £100 cheaper.
Sound quality wise they are excellent, with no issues in terms of hearing in windy conditions, or the picking up me talking on the mic.
The issue of there being no case to store these in between wears remains the same as the BC01, although the box they come in is more than robust enough, albeit a little large, to double up as protective storage when shoving them in a bag.
Without a doubt, while I really rated the Haylou PurFree BC01 headphones, I do think the Lites have taken my top spot for cycling or running with sound, even if they do make me complete the entire duration of the set interval session.
I am perplexed as to how Haylou has managed to squeeze all this in for the price tag. I understand that the construction changes have made a significant impact on the price, but I am left pondering how can something this good be this cheap?
Haylou PurFree Lite: Specs
Material: Titanium alloy
Weight: 27g
Chipset: Qualcomm QCC3044
Bluetooth: 5.2 Multipoint
Battery life: 10hrs (Claimed)
Charge: USB-C powercable
Waterproof: IP55
Voice assist: Yes
Controls: Button
Thank you for reading 20 articles this month* Join now for unlimited access
Enjoy your first month for just £1 / $1 / €1
*Read 5 free articles per month without a subscription
Join now for unlimited access
Try first month for just £1 / $1 / €1