dhb Aeron Lab Raceline Women's Short Sleeve Jersey 3.0 review
The latest version of dhb's pure race jersey boasts the most technical fabrics to-date but not everyone will find the cut at the shoulders to be optimal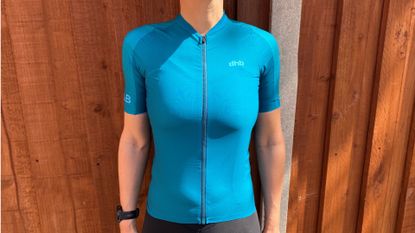 (Image credit: Emma Silversides)
The latest iteration of dhb's Aeron Lab Raceline Jersey boasts technical fabrics and a professional, clean finish. It's pure racing kit with every detail tailored for speed: minimal pockets, raw cut edges, negligible weight and no extras to note (think zipped pockets, reflective detailing, etc). If average speeds, TT's, circuit racing and criteriums are up your street but you're not one for skinsuits, this jersey is worth considering. Our only niggle's the fit at the shoulders: it's a generous cut here which doesn't line-up with dhb's 'second-skin fit' description.
Reasons to buy
+

Wind tunnel tested

+

Comfortable

+

Professionally made
Reasons to avoid
-

Cut at around shoulders not optimal
You can trust Cycling Weekly. Our team of experts put in hard miles testing cycling tech and will always share honest, unbiased advice to help you choose. Find out more about how we test.
If circuit racing, TT's or local chain gangs are your bag, then dhb's Aeron Lab Raceline 3.0 might make it on your wanted jerseys short-list! It's brimming with advanced fabrics and boasts construction designed to make you as streamline as possible.
Wiggle's first dhb Aeron Jersey was launched over six years ago. Back then, the top of the range (90 gram) Speed Jersey would have set you back £55. Fast forward to 2023 and the Aeron Lab Raceline 3.0 Jersey sits at the top of the Wiggle's in-house performance range. The fabrics have inevitably evolved and the cut has undergone several modifications intended to make it offer 'a second-skin fit, body-mapped for optimal comfort' - we take a look at how it stacks up against the best women's cycling jerseys...
dhb Aeron Lab Raceline 3.0: construction
The main fabric is a polyester-elastane combination. The elastane content is significantly lower than many jerseys and this makes a fabric with limited stretch: expect a very different feel to many jerseys. It's not what I'd call cosy against the skin, that said it's by no means itchy or irritating, just rather paper-like.
The shoulder area and sleeves are a 'honeycomb-textured, aerodynamic weave which is designed to disrupt airflow'.
The jersey closes up with a smooth running Vislon zip and has three modest rear pockets.
The finishing enhances the Aeron Lab Raceline's aerodynamics and feather-like weight. It's also remarkably tidy and professional looking. Raw cut sleeves and hem keep weight to a minimum, whilst modest printed grippers here further minimize bulk. Encouragingly, pocket openings and darts are bonded to help support the fabric and add durability.
Image 1 of 3
dhb Aeron Lab Raceline 3.0: the ride
I've donned my fair share of skinsuits and race jerseys in days gone by. In my opinion, the Aeron Lab Raceline 3.0 falls squarely into a 'racing kit' category. It's perfect for anyone dabbling in TT's and circuit racing, who might not be fully on-board with a skinsuit for cycling.
Despite the fabric being rather paper-like, once on, it's comfortable enough. The medium size I tested offers a tight fit which is optimised on the bike; it stretches to hug the body with only one noticeable area of concern: the single panel at the shoulders doesn't conform like the rest of the jersey. Riding at speed, I could sense this loose fabric rippling as air flowed over it. This might not be a problem for others with differing body shapes. That said, I'm not significantly above (or below) average in the upper body/shoulders and, given the specific aerodynamic boasts of the jersey, I found the misfit a little surprising. Reading around, it would appear that previous versions haven't had this oddity.
The neckline itself sits relatively low and snug. The sleeves reach a good way down the upper arm and offer a seamless transition to the skin. In short, when you first pull on the jersey and zip it up, you know you've donned some race specific gear. I'd say it's longer than average at the rear (certainly by comparison to many race-orientated jerseys I've tested), but this will appeal to those who prefer good lower back coverage, and/or waist shorts. Both sleeves and baseline hem stay put when riding; the printed silicon grippers look rather modest but they are effective.
Naturally, the aerodynamic benefits are optimal when you wear the Aeron Lab Raceline 3.0 without a base layer, arm warmers or gilet. However, for versatility purposes, it's good to know that all these can be combined with it if you wanted to.
The recent weather has allowed me do a good chunk of testing in warm conditions and really get a feel for the jersey's capabilities when you're pushing hard under sunny skies. I've never once felt like I was over-heating; the fabric is exceptionally thin and breathable. Indeed, if I did happen to stop, I found myself feeling the chill rather quickly; a paper-like fabric dampened with sweat, combined with a cool wind is never going to be comfortable. The fact that you don't stop mid-race or part way through a TT means that this shouldn't go against the jerseys credentials.
The pockets reinforce the jerseys intended use: despite being deep, the tight fabric means that they won't accommodate much more than a few gels and an energy bar. I could only just get my cased (5.8 inch) smart phone in the central one, stretching the fabric enough to make it a little awkward to extract! Indeed there is a positive here: any contents are cocooned in the fabric so well that they won't be escaping. Just don't expect to be able to load up as you might normally; these pockets aren't intended for capes, pumps or spares.
dhb Aeron Lab Raceline 3.0: value and conclusion
The Aeron Lab Raceline 3.0 has an RRP of $150 / £120, though at the time of writing, it's heavily discounted. Considering the RRP, I'd say you need to be racing pretty frequently to get your money's worth. If you're investing for training use, as well as competition, then this might not be an issue.
For me, the fit at the shoulders is a bit of a let down and I'd personally struggle to justify the expense because of this.
The quality is as good as any I've come across, so I'd be giving it top marks here. Taking that into account, the RRP is in-line with something of similar standards: Castelli's Aero Pro W Jersey is $149.99 / £125.00, CHPT3's Aero Road Jersey also has an RRP of $179.99 / £125.00.
If aerodynamics are important to you, or you simply appreciate technical fabrics designed for speed, the Aeron Lab Raceline 3.0 is worth considering… but I'd strongly advise checking the fit around the shoulders before investing.
dhb Aeron Lab Raceline 3.0: specs
Sizes: 8-16
Colors: Teal
Weight: 86g (size 12)
Thank you for reading 20 articles this month* Join now for unlimited access
Enjoy your first month for just £1 / $1 / €1
*Read 5 free articles per month without a subscription
Join now for unlimited access
Try first month for just £1 / $1 / €1