Le Col Sport Thermal Cargo Bib Shorts review - toasty warm, comfortable and practical
Designed with all-round versatility in mind, these well-thought out, Italian-made bib shorts are ideal for long weekend rides, daily commutes or even taking samples to the vets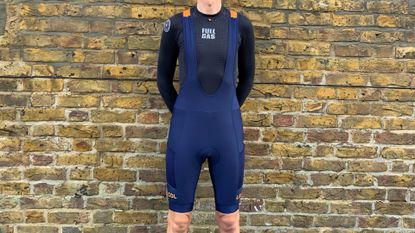 (Image credit: Adam Jones)
For all-round versatility, Le Col has absolutely nailed it. The Sport Thermal Cargo Bib Shorts are perfect for weekend club runs, the daily commute or even nipping out on errands that are just a bit further afield than you'd want to ride in jeans. Cargo capacity aside, the shorts were great as in their more fundamental purpose as, well, cycling shorts. The chamois was comfy and cushioning whilst the fit proved to be excellent.
Reasons to buy
+

Versatility across different ride styles is excellent

+

Thermal qualities really do work

+

Chamois pad and gel insert is very comfy

+

Available in both men's and women's fits

+

Well-designed easy-access pockets securely hold all manner of ride essentials

+

Quality of materials and construction
Reasons to avoid
-

Price may be prohibitive to those on a budget

-

Colour choice is limited
Fresh from the renowned brand founded by former pro, Yanto Barker, Le Col's Sport Thermal Cargo Bib Shorts go above and beyond the features offered by most of the best cycling shorts. There's an integrated thermal lining to keep you warm on cooler days and a pair of mesh cargo pockets for carrying your essentials.
They could be a handy addition to your cycling wardrobe - especially if you're one of life's faffers and over-thinkers. You know the inner monologue before heading out: "Have I got enough gels and snacks? Will one spare tube be enough? Maybe I should take two? I've got a sniffle, better take a handy pack of tissues. Wallet? House keys? Phone? Gilet or rain jacket? Possibly both?" Perhaps it's just me. But I doubt it.
Le Col Sport Thermal Cargo Bib Shorts: construction
Combining insulating and wind-resistant properties with a raised waistline to give extra coverage and protection on chillier days, the key features of the shorts are the easy access mesh side pockets. Capacious and cut in such a way to make reaching and accessing items a doddle while on the move, the elastic mesh holds your essentials firmly in place.
From a much-needed tissue on one of those really cold days that makes your nose run like a tap, to the ever-present mobile phone, keys, gels, inner tubes, gas canisters and even a dog poo sample (in a vial), the pockets add extra on-bike capacity for 'stuff'.
Importantly, the positioning of the pocket on each thigh means that either hand is much closer to your handlebars, rather than rummaging around behind your back while on the move. In traffic and urban settings this proved to be very reassuring.
The triple layer chamois - complete with a gel insert - also makes the shorts an attractive and comfortable all-round option either for those heading out on a long road ride, or gravel enthusiasts looking for much-needed shock absorption whilst hacking over rough terrain.
Le Col offers just two colourways for the Sport Cargo Thermal Bib Shorts, a stylish Navy/Saffron combo or classic Black. Both come with reflective strips on the rear of the legs to aid visibility in low light conditions.
The ride
The four-way Italian stretch fleece on the inside of the shorts is soft and affords comfortable movement during the ride. When teamed with leg-warmers, the shorts worked superbly on particularly cold days (5°C / 41°F). Not only that, in conditions that swiftly changed from 'a light drizzle' to the 'kind of rain that soaks right through you', they maintained their warmth, cosiness and resisted the worst of the moisture.
The immediate fit – straight out of the smart packaging, which instantly reassures you that you've invested in a quality product – was good. However, if you're used to wearing Italian designed and manufactured brands - rather than those simply 'made-in-Italy', or if you're like me tall and very slim - then you may find the initial sensation a little 'roomy'; more like a Belgian label. Beefier riders will feel instantly at home with the fit.
That said, comfort was not an issue and the leg grippers both easily accommodated leg warmers, with the 45mm grippers giving a secure and cosy fit. The broad straps also add to the sense of snug, comfortable security. Having washed them and popped them on for an endurance ride, the fit was unquestionable, remained so and has done since.
Value
At $210.00 / £165.00 they're far from the cheapest in the cargo sector, but then these are thermal and feature a number of neat, practical details (such as the pocket openings and raised waistline).
By comparison, Rapha's Core Cargo Bib Shorts offer incredible versatility by virtue of having four pockets (with two at the rear) and at the relatively modest price of $140.00 / £100.00, you get Rapha's renowned quality.
Likewise, by offering super storage capacity by incorporating twin pockets at the back, as well as two on either thigh, Cuore's Pioneer cargo bibs were rated very highly by our tester. As a premium product, they also carry a price to match at $190 / €185.00.
Thank you for reading 10 articles this month* Join now for unlimited access
Enjoy your first month for just £1 / $1 / €1
*Read 5 free articles per month without a subscription
Join now for unlimited access
Try first month for just £1 / $1 / €1
I first got into cycling by watching Channel 4's coverage of the Tour de France in the mid-80s. Those hour-long updates over three weeks were like a gateway drug to the teenage me, along with poring over the race reports in Cycling Weekly.
I cycled as a student, revelling in the freedom riding a bike gave me, but after moving to London in the early 90s, a string of near misses convinced me to park the bike and follow other interests. After falling off a horse in 2014, I took up cycling again as part of my physical rehab and that was it.
Hooked again. Since then, I've taken part in events like the Roubaix Challenge and DeeJay 100 Gran Fondo in Milan and become a regular competitor in local time trials. A (pro) kit obsessive, I have an entire wardrobe on my landing devoted to clothing, shoes and helmets, while drawers and shelves elsewhere in the house are stuffed with other cycling paraphernalia; sunglasses, sportive medals, a replica cobble and books galore.