Oxford UltraTorch 500 review
Oxford UltraTorch 500 looks to light up the way without breaking the bank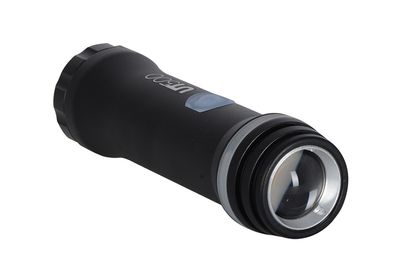 The Ultratorch is a well priced mid-level 'be seen' light and will service your needs for most inner city commutes. Although be mindful that the beam is relatively vague and at full beam won't last longer than 90 minutes.
Reasons to avoid
-

Lumen output

-

No real focused beam
While it may look like an ion cannon in miniature, this is actually the UltraTorch 500lm Headlight from Oxford Products. The UltraTorch is Oxford's mid-level 'be seen' front light, that comes with four modes, a rechargeable battery and a Cree T6 LED.
>>> Best front and rear road bikes lights
At £39.99, the UltraTorch may not be the cheapest light on the market (larger lumen output lights costing more of course), but it's far from the most expensive. For the price you get a sturdy bit of kit, but not a pretty accessory due to its utilitarian design.
The 500lumens put out by the UltraTorch do more than enough to keep you visible on the lit streets and even puts out a decent amount of glow if you happen to find yourself on an unlit detour.
Twinned with a nifty rim of light around the edges of the unit, Oxford has clearly thought about keeping riders seen from all sides. The UltraTorch does feel a sturdy and reliable if a little on the heavy side.
It comes with a flimsy plastic holster that is fitted to the bars with a rubber strap.
When taking some of Britain's more weathered roads, the UltraTorch did not fare too well with potholes and rough surfaces, the light often moving in its plastic unit and offering some unwanted strobe effects from the light ahead.
The battery life varies hugely, depending on the mode – high constant one and a half hours, medium three hours, low six hours and flash 12 hours.
A 90-minute run time for high constant may fall a little short of the mark, particularly if you're commuting in the dark both ways.
However, the UltraTorch has a battery test mode and a red light will alert you when you need a recharge – a handy feature that will give you plenty of warning before you're left in the dark.
It's also micro USB rechargeable – a welcome addition as more and more reusable electrical goods are coming with the micro USB charging ports and cables.
Thank you for reading 5 articles this month* Join now for unlimited access
Enjoy your first month for just £1 / $1 / €1
*Read 5 free articles per month without a subscription
Join now for unlimited access
Try first month for just £1 / $1 / €1