iPump Twist mini pump review
The Twist is a super-lightweight pump, but usability suffers as a result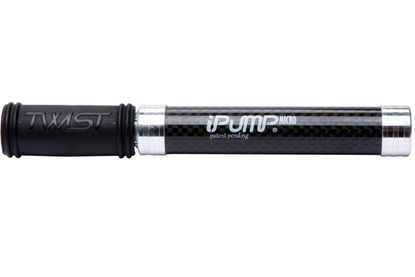 A weight-weenie's dream but with limited usability
Reasons to buy
+

Very small and light

+

Will achieve get-you-home pressures
Reasons to avoid
-

Not very efficient

-

Gets hot in use

-

Expensive

-
The iPump Twist mini pump is tiny and incredibly light at just 25g. The very thin hose, which is Presta-only, is pulled out of the handle and screws onto the valve. The handle can then be twisted at 90 degrees to provide a more comfortable handhold. Both the pump body and piston are made of carbon-fibre, to achieve the astonishingly low weight.
>>> Read more: Mini bike pump buyer's guide
The valve connector was fiddly to screw on and off and it was quite easy to disturb the valve core and lose pressure. With its small volume and short stroke, it was no surprise that this pump achieved the lowest pressure in the test, reaching just over 60psi after 200 strokes. Those strokes were difficult to achieve, due to the force required to squeeze the air into the tyre and the limited hand purchase. The pump body also got quite hot. The manufacturer claims 120psi is achievable – maybe, if you are Popeye with asbestos hands and enjoy standing on the verge for extended periods.
Nevertheless, this pump can achieve a get-you-home pressure, which is not bad considering its weight and size. Its exotic construction and materials also make it the most expensive pump on test, and you'll have to wait for it to be shipped from Japan as at the time of going to press there is no UK distributor.
There's no frame mount, though that's not really a problem when the pump almost disappears into a jersey pocket with little chance of it falling out again.
Thank you for reading 5 articles this month* Join now for unlimited access
Enjoy your first month for just £1 / $1 / €1
*Read 5 free articles per month without a subscription
Join now for unlimited access
Try first month for just £1 / $1 / €1