£1,000 British bikes: Charge Juicer Hi review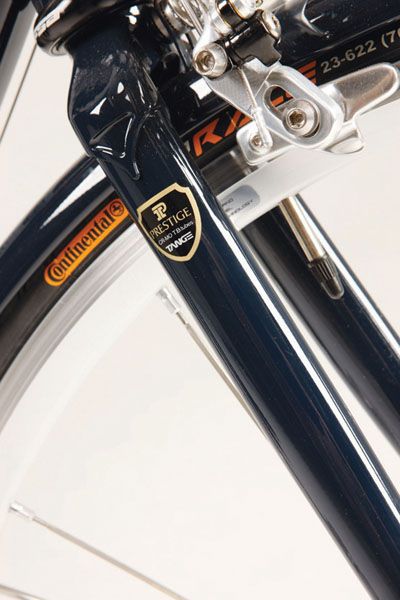 Words: Simon Smythe
When I reviewed this bike for our sister magazine Cycling Weekly in early 2010, I noted that it reminded me of a 1950s police bicycle. Nearly three years on, has the formerly edgy Juicer Hi lost its relevance like Dixon of Dock Green? Is it time for it to make way for a two-wheeled version of the Zephyrs that lurched and revved their way around the fictional 1960s streets of Newtown in Z-Cars?
The latest Juicer Hi is more or less the same as the original version but surprisingly is now £200 cheaper than when it was first introduced. The budget Sugino chainset is an obvious downgrade but Charge has done pretty well to keep pricing on an even keel in a world economy that is all at sea.
The skinny steel frame is made from Tange Prestige butted tubing, actually a decent quality tubeset with a high tensile strength and relatively lightweight too. Although the geometry is traditional, with a horizontal top tube, the tubes are joined by TIG welding, the modern method used by factories set up for mass production.
The fork is also steel, and with its Colnago Precisa-style straight blades is so much more elegant than most of the artless carbon forks that come with even the cheapest road bikes.
The use of steel doesn't end with the frame — the matching mudguards are steel too!
It's great to see some thought put into a bike, and the rear mudguard bolts directly to the underside of the brake bridge and to the chainstay bridge instead of using brackets that can fatigue and snap. However, the front mudguard is too short and although I was lucky to avoid a drenching while I tested this bike, I know for a fact that mudguards which end this high don't keep your feet dry.
Also I have to admit that this Juicer Hi, unlike the previous one, was a little bit noisy at first. There was so much clanking on my first ride that it sounded like the Tin Man. The rear mudguard fixing needed an extra washer to eliminate play and there's still a little tinkling that I can't track down.
Heart of steel
However, unlike Dorothy's camp, silver-sprayed companion, the Juicer definitely has a heart. The ride quality is truly excellent — not just because it has the sought after 'feel of steel' but also because its stiffness v comfort is perfectly balanced. Overall this is the best-handling frame in this test, and only the carbon Ribble is lighter (in its built-up version in this test).
Charge has been a little bit mean with the 105, however — it's just 105 mechs and shifters again, with the Sugino chainset the only square-taper one here. This type relies on superseded technology and the Charge only gets away with it because of its retro-ness. The Tektro brakes are also quite poor. The calipers appear to grip the rims with enough power, but the pad compound doesn't slow them down until you are grabbing a great fistful of lever. They have improved slightly with riding, as they pick up abrasive dirt, but they're not up to 105 standard.
The rest of the equipment is good — FSA stem, bar and seatpost, and Charge's now-classic Spoon saddle, which I've always liked. The Shimano RS20 wheels are great too — silver, profiled aluminium rims and a low (bladed) spoke count with Shimano's innovative straight-pull spoke design.
When I last rode a Juicer it was one of the very harsh winters with snow and ice that we used to get before the whole year went mild and rainy. The Charge was perfect for that, but with its dark blue paint and mudguards I'm finding it's a bit sombre for summertime. My other problem with it is a sartorial one, but a problem nonetheless: what do you wear when you're riding such a traditional-looking bike (granted, with subtly hip graphics)? Lycra doesn't seem right somehow, and unfortunately that's what all 'proper' cyclists wear. And I'm not putting on a police uniform.
So a bit like the Tardis, which in common with this bike is disguised as an item of British police equipment from the mid-20th century, I think the Juicer can't quite make up its mind where it's going. Is it the past or the future? Dixon of Dock Green or Judge Dredd?
Spec
Model: Juicer Hi
Manufacturer: Charge
Price: £999.99
Frame: Tange Prestige double-butted cro-mo
Fork: Tange Prestige
Chainset: Sugino Alpina-2 500D, 50/34
Derailleurs: Shimano 105
Shifters: Shimano 105
Brake calipers: Tektro R730
Wheels: Shimano RS20
Tyres: Continental Ultra Sport 23c
Weight: 10.31kg (23.13lb)
Sizes: XS, S, M, L
Size tested: M
Contact: www.cyclingsportsgroup.co.uk
Ratings
Comfort 19/20
Value 18/20
Handling 19/20
Wow factor 15/20
Build quality 17/20
Overall rating 88%