group test: BeOne Blizzard v Verenti Millook - Verdict review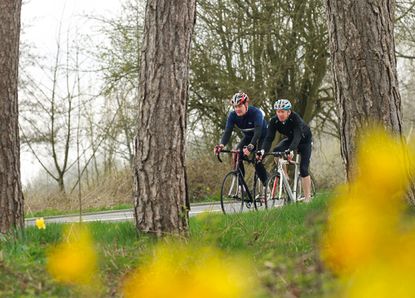 Why you can trust Cycling Weekly Our expert reviewers spend hours testing and comparing products and services so you can choose the best for you. Find out more about how we test.

14th June 2010 Words: Ian Cleverly Photos: Roo Fowler
The Cycling Active Verdict
Chain Reaction Cycle's BeOne Blizzard has a lot going for it. As an overall package, the aluminium frame, Shimano 105 transmission, triple chainset and Easton wheels are hard to fault. We took exception to the outrageous top tube on purely aesthetic grounds, but each to their own. The ride was firm but not overly harsh which, considering the meaty dimensions of the Blizzard's tubes, was a pleasant surprise. But neither was it terribly exciting, thanks in no small part to its weight. The Blizzard needs to go on a diet.
No such problems for the Millook. Carbon fore and aft, aluminium in the middle and excellent components all round add up to a lightweight all-dayer that rewards time spent in the saddle. The gearing issue is common to all compact chainset bikes and a tricky one to overcome — stick it in the big ring and go faster, perhaps?
Apart from that, the Millook was a joy to ride and, at £1,200, is a very good deal.
Verenti Millhook
Swipe to scroll horizontally
| | | | | |
| --- | --- | --- | --- | --- |
| 11/20 | 19/20 | 11/20 | 13/20 | 15/20 |
BeOne Blizzard
Swipe to scroll horizontally
| | | | | |
| --- | --- | --- | --- | --- |
| 11/20 | 19/20 | 11/20 | 13/20 | 15/20 |
Click here to view the intro…
Click here to view the Verenti Millook bike test…
Click here to view the BeOne Blizzard bike test…
Thank you for reading 10 articles this month* Join now for unlimited access
Enjoy your first month for just £1 / $1 / €1
*Read 5 free articles per month without a subscription
Join now for unlimited access
Try first month for just £1 / $1 / €1