Enigma Excel frame and fork review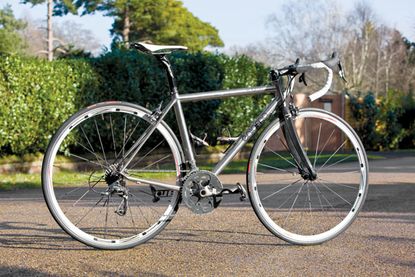 The Excel is not a fast thrills ride but it's a keeper - one to take home to meet the parents, the classy one that everyone will admire from afar. Yes, it's not cheap, but with the properties of the titanium alloy used, it's not like it's going to wear out or date and it's unlikely that you'll grow out of it. In fact, you can look at this as an investment piece - one that will quite possibly outlast you.
Why you can trust Cycling Weekly Our expert reviewers spend hours testing and comparing products and services so you can choose the best for you. Find out more about how we test.
Best known for its 'Made in Britain' custom frame building, this is Enigma's slightly more accessible off-the-peg option.
You do lose the cream teas and bunting romance that goes with the made-on-home-soil claim, but on a practical note you know that being constructed in Taiwan the frame is going to be world class; besides, if you really are that patriotic then Engima will build you one at its UK base - if you're happy to pay a premium for it.
Made from double butted ?6Al-4V titanium alloy, also known as grade five, it's the stuff they make high performance automotive parts from as it combines strength and light weight. This means that Enigma's flagship Excel is five per cent stiffer, 20 per cent stronger and, due to its own closely guarded manufacturing process, 10 per cent lighter than its 3AL-2.5V titanium alloy frames - which is more commonly used in the bike industry. This pushes the price up, £600 to be precise, giving a frame-only price of £1,999.99.
So with a cool two-grand hole in your pocket before you've even started to make it look like a bike, you're probably going to need to stick more affordable componentry on it to get you up and running, as we did by using the Excel to double up as a test bike for the 2013 SRAM Force (watch this space for a full review), and a set of sub-£400 27mm Forza Cirrus alloy clinchers shod with a pair of Challenge Fortes.
It made perfect sense for us to pair it with the Enigma monocoque carbon fork, which by its own admission isn't anything special, but does the job more than adequately. The integrated headset is also pretty standard, but it's worth bearing in mind that when you're CNC'ing your own head tube, you can get the integrated headset fit as close as possible.
Having set the scene, it's now all about the ride. And this got some rides. Testing this over the Christmas break saw it in action in the Peak District, on roads which have since been announced as part of the 2014 Tour de France route. So not exactly a gentle bimble. Its final build weight of 7.7kg for the 51cm top tube sized frame, although not exactly light, didn't feel like a penalty on the climbs and, although it's hard to attribute the feel of a ride to one single element of a bike build, it felt stiff and responsive on the climbs, even with budget wheels.
It wasn't exactly a flashy, pinging race bike, but I certainly didn't feel like I was left wanting more when messing about sprinting for road signs with my riding buddies. Descending the notorious Winnats Pass on damp tarmac and a blowy day is never going to be the easiest test of a bike's descending prowess, but crossing the bottom cattle grid still in the upright position is a good sign that it's doing something right, with geometry to inspire confidence.
This is when it hit me - it felt like my bike. OK, so I have previous with a titanium frame, having rode end-to-end on one, but if anything, this has made me a slightly stricter critic, knowing that there are some great titanium bikes out there. My first pedal on it was a two-hour commute to work, and then other rides between two and four hours and throughout, it performed exceptionally, compliant enough to soak up road buzz, but stiff enough to climb and not feel wallowy in steering or flex under twisting load.
The latter, I've since discovered, is down to the design of the rear stays: they've been strengthened to counteract these forces. However, it does add to my only minor grumble regarding the 'cowled' seat/chainstay junction, meaning the rear quick release has to be positioned at a slightly different closed angle to the inside rear triangle than normal.
Thank you for reading 10 articles this month* Join now for unlimited access
Enjoy your first month for just £1 / $1 / €1
*Read 5 free articles per month without a subscription
Join now for unlimited access
Try first month for just £1 / $1 / €1