BMC Granfondo GF02 105 review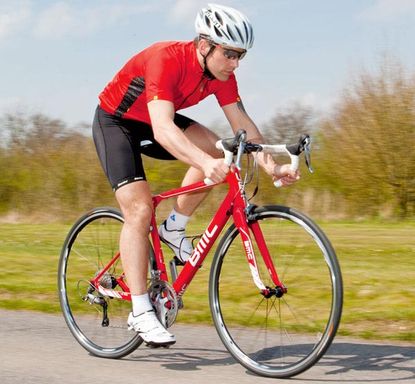 (Image credit: Daniel Gould)
You can trust Cycling Weekly. Our team of experts put in hard miles testing cycling tech and will always share honest, unbiased advice to help you choose. Find out more about how we test.
Words Rob Hoyles | Photos Daniel Gould
Sportive riders can be a demanding bunch. They want the latest technology. They'd rather like their bike to look like it's been pinched from the pro peloton, but they also want all-day comfort. A wide range of gears wouldn't go amiss either, especially for those dead-leg climbs, 70 miles into an event they didn't think would be quite so hilly. And then, of course, there's the price. Affordable but adorned with plenty of brand-name components and a decent groupset too, please.
The solution to at least one of these moon-on-a-stick questions is usually answered by clever carbon lay-ups, designed by engineers who know more about flex than anyone could ever find interesting.
But BMC has chosen a different route with the Granfondo GF02 105. Using an all-aluminium frame, the opportunities to cosset with carbon come only at the immediate contact points where hands and backside meet bicycle. BMC's Tuned Compliance Concept (TCC) is employed in the carbon fork and seatpost to keep road buzz down to a minimum. It has also managed to weave TCC magic into the frame.
While there is no carbon inserted or bonded in the frame, you'd be forgiven for suspecting there is. BMC's trick comes from lessons learned while developing its top-end, Tour de France-winning carbon race bikes, and it's the shaping of the seatstays combined with the carbon fork that works wonders at taking the sting out of even the worst road surface.
Boxing clever
Aside from my usual test protocol of several weary commutes, a handful of Sunday rides and a few evening laps of the Box Hill circuit, it's CA's lunchtime loop that often provides the best test.
Made up of mostly tough, draggy ups and fast, bumpy downs, both climbing stiffness and high-speed stability get thoroughly put to the test. Indeed, on one of the fastest sections, if your bidon stays put and your saddlebag doesn't end up in a hedge, you're doing pretty well.
Initially, I put the BMC's neutral, easy handling down to the damping properties of the voluminous 28mm tyres. High-speed stability over bumps was as good as anything I've ridden, while the wider profile and larger footprint gave me the confidence to carry more and more speed through the corners. Out of curiosity, I fitted 23mm tyres and I'm happy to report that, while the bigger tyres did indeed help to cushion the ride, I'd gladly run the narrower rubber to save effort on the climbs and give a little speed on the flat without ruing any loss of comfort.
On the subject of climbing and comfort, if you have got your heart set on a sportive with lots of climbing, BMC has certainly left you with no excuses to get off and push. Fully equipped with Shimano's excellent fourth-tier 105 groupset, running a compact 50/34 chainset and a colossal 11-32 cassette, the only struggle you should find yourself in is finding a climb steep enough to challenge such an expansive range of ratios. By the same token, the inclusion of 105 brakes — an area where some manufacturers choose to save a few euros — means that, along with the bike's inherent stability, descending is never a nervous affair since there is plenty of stopping power and a high level of feel at the lever.
Modern metal
While many of the big brands regard aluminium as old technology, and therefore only suitable for low-cost entry-level bikes, it seems that BMC has a slightly different outlook. With the recent arrival of electronic groupsets, the Swiss firm has made sure that the GF02 frame is compatible with all the latest systems and, according to its own PR blurb, 'future-proof' — a sure sign that they still consider premium aluminium bikes a viable option.
And 350 metal miles later, I'd say they have a good point. I've ridden quite a few entry-level carbon bikes that have failed to deliver anything like the ride quality that BMC has managed to bestow upon the GF02. And that's before we even mention the absolutely immaculate finish and Swiss attention to detail.
So what's not to like about the Granfondo GF02? The short answer is not much. The only-slightly-longer answer is that I had to swap the saddle for my much-preferred Fizik Arione after suffering the kind of numbness that would worry most gentlemen. I also felt the bike a little short in the top tube, so fitted a longer stem and ran the bars as low as I could. But these changes are totally subjective; when coming up with an objective dislike for this bike, I was left with only the super-comfy white bar tape to moan about for its ability to get amazingly grubby incredibly quickly.
At this price, your options are entry-level carbon or top-end aluminium. It's not an easy decision, and this cracking Swiss bike has just made it even harder. CA's advice: don't dismiss premium metal until you've tried it. BMC certainly hasn't. And you never know, ask nicely and they might even throw in a roll of black bar tape…
Specification
BMC Granfondo GF02 £1,400
Frameset: Triple-butted aluminium with BMC carbon compliance fork
Gears: Shimano 105
Chainset: Shimano 105 compact
Brakes: Shimano 105
Wheels: Shimano R501
Tyres: Continental Ultra Sport (700x28c)
Bars/Stem: Easton EA30 bars, EA70 100mm stem
Saddle: Selle Royal Saba
Seatpost: BMC compliance post
Size range: 48, 51, 54, 56, 58, 61cm
Weight: 9.10kg
Alternative
Trek Domane 4.0 Compact £1,500
If it simply must be carbon, you're not short on options. Trek's entry-level Domane 4.0 ticks plenty of sportive boxes, but takes a hit when it comes to components. While the BMC enjoys a full 105 groupset, the Domane cuts costs by running the lower spec Tiagra groupset and unbranded brakes.
Thank you for reading 20 articles this month* Join now for unlimited access
Enjoy your first month for just £1 / $1 / €1
*Read 5 free articles per month without a subscription
Join now for unlimited access
Try first month for just £1 / $1 / €1