Kinesis Racelight T2 review
The Kinesis Racelight T2 is an aluminium all-rounder that specialises as a winter trainer has been resprayed and up-specced for 2015, but is still priced at a penny under £1,000.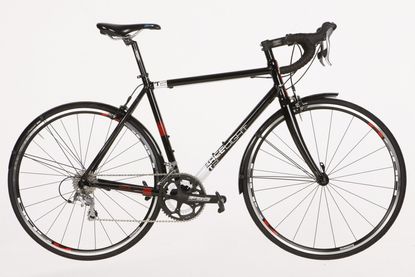 The Kinesis T2 is already a popular winter training bike. Kinesis has a good reputation with UK riders for creating bikes specifically suited to British riding conditions. With this new, improved spec we would expect it to be even more popular. The T2 in this build offers excellent value for money, and the two most important elements — the frame and the gears — are spot on. Better tyres would improve its grip in the wet — which on the WTBs is non-existent — and better mudguards could be adjusted more easily, would ideally have breakaway clips and the rear one would be a little longer as a courtesy to the rider behind. With those simple upgrades — plus binning the frankly weird saddle — this could almost be the perfect winter bike: tough, reliable, fast and cheap enough to not worry about when road conditions turn really nasty.
Reasons to buy
+

Tough, durable alloy frame

+

Light for a winter bike

+

Pleasing traditional look

+

Smooth shifting

+

Ride-to-work scheme friendly price
Reasons to avoid
-

Tyres slippery in the wet

-

Saddle too padded and with a sticky surface

-

Mudguards lack key features
Why you can trust Cycling Weekly Our expert reviewers spend hours testing and comparing products and services so you can choose the best for you. Find out more about how we test.
The frame of the Kinesis Racelight T2 is made from 7005-series double-butted aluminium tubing, a standard type for bikes at this level. Perhaps not so standard is that the tube profiles are round, giving the T2 a pleasingly traditional look. The frame's two concessions to relative modernity are the sloping top tube and the hourglass-shaped seatstays, which are intended to flex a little, adding comfort to what might otherwise be a very stiff frame. Kinesis claims 1.64kg for the size 54, which is not bad.
>>>Winter bikes: do you really need one?
The T2 has the fixtures and fittings of the dedicated winter bike — mudguard eyes front and rear, seatstay rack mounts and clearance for larger tyres. The rear mech hanger is replaceable — always useful for a bike designed to be used in the season where an 'off' is more likely.
Geometry is fairly standard, but the sizing could be confusing as it takes the old-fashioned seat tube centre-top measurement that is redundant with sloping geometry. When you're choosing, look for the effective top tube length in Kinesis's geometry chart and ignore seat tube length.
>>>Bike test: aluminum, steel, carbon, or titanium
Two types are fork are available for the Kinesis Racelight T2: for £934.99 it comes with an aluminium one. We chose the one with carbon blades and an aluminium 1 1/8in steerer.
The black paint with white and deep red graphics looks smart and is nicely finished. In addition there is the choice of white and blue for the frame-only option (£239.99 without fork).
The excellent Shimano Tiagra 4600 (10-speed) groupset covers shifters, derailleurs and cassette. FSA supplies the chainset, seatpost, bar and stem. The long-drop calipers are Tektro.
Considerable thought has gone into the build, and although some might turn up their noses at FSA and Tektro, these components firstly work well — the Tektro calipers considerably better than expected — and secondly create a satisfyingly coherent look. The Shimano items would have been silver, but black matches the rest of the build and is arguably more sensible on a winter bike. Another nice touch is the sleeves fitted to the Jagwire cables to stop them creating little silver channels on the side of the head tube.
The wheels are Shimano R501s, which have cup and cone bearings that can be tinkered with when necessary. These wheels are relatively heavy but tough and reliable for a training bike.
>>>Are wider tyres really faster?
The mudguards just fit over 25c tyres, with only occasional rubbing noises. They would work better with 23s. They don't have breakaway clips either, but in reality how often does something large enough get lodged inside a mudguard so that the breakaway is operated? The Freedom by WTB Racine tyres should be the first upgrade, but more of that later. The T2 is not lacking stiffness. Some of this in the vertical plane is tempered by the 25c tyres and the squidgy Kinesis saddle. It's light for a winter bike at this price, but not light per se, so it wouldn't be accurate to say it's nimble, responsive or exciting. However, it does hoof along very nicely at speed and has exactly the right level of comfort if you like a training bike to feel racy. For putting in winter miles you couldn't ask for more than that.
Although it has a neutral ride in geometry terms, the steering is very direct, perhaps partly down to a head tube angle that's slightly steeper than seat tube.
Fortunately the only criticism of the Kinesis Race T2 is directed at easily replaceable components: the Freedom by WTB Racine tyres, although very resistant to cuts, are very slippery indeed in the wet. They lose traction without warning and did so three times on separate rides, with the third time resulting in a crash.
>>>Buyer's guide to road bike tyres
For more details visit the Kinesis website (opens in new tab).
Thank you for reading 5 articles this month* Join now for unlimited access
Enjoy your first month for just £1 / $1 / €1
*Read 5 free articles per month without a subscription
Join now for unlimited access
Try first month for just £1 / $1 / €1