Moda Vivo road bike review
Moda Vivo road bike is tested by Rob Hoyles and is happy with the £1,499.99 price tag...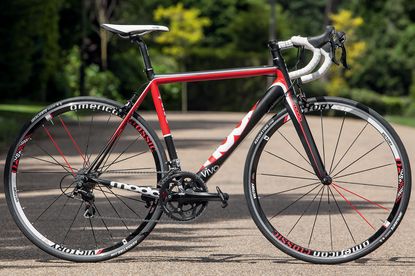 Overall it's hard not to be impressed by the overall performance of the Vivo. It's light, it's well equipped and it rides brilliantly. The ability to spec the bike to your exact requirements over a coffee and a chat with your local Moda dealer is a welcome bonus and taken together with a fast turnaround — thanks to Moda being British — means you're far more likely to end up with a bike that suits your needs, rather than one that either fits the body or the budget but not both. Yep, it would appear that aluminium is most definitely back.
Reasons to buy
+

Quality engineering

+

Lives up to its name
Reasons to avoid
-

Bulbous chainstays have the potential to be a problem

-

Band-on front mech looks clumsy
You can trust Cycling Weekly. Our team of experts put in hard miles testing cycling tech and will always share honest, unbiased advice to help you choose. Find out more about how we test.
Despite both a brand and model name that sound unmistakably Italian, Derbyshire-based Moda takes pride in the fact its bikes are built in the UK and are tested locally, with each new prototype being put through its paces on the roads in and around the Peak District.
Innovation is also a Moda strong point and the Vivo — meaning 'lively' in Italian — replaces the Prima, a composite-framed bike that not only used a carbon fork to save weight and improve comfort, but fused an aluminium frame with carbon seatstays and chainstays, too.
While this mishmash of ingredients worked, the actual task of mixing two materials in such a way was never likely to be either straightforward or cost-effective.
Happily, recent advancements in technology and manufacturing techniques have made aluminium a viable option again — and has allowed Moda to rediscover its origins in the skill of welding tubes.
But now, instead of the need to focus on keeping costs low and quality high, the chance to use higher grades of aluminium tubing means it can produce lightweight bikes that offer a blend of performance and long-distance comfort and aren't just carbon copies of the competition.
In fact, tipping the scales at just 7.6kg, the Vivo is considerably lighter than both the Prima and a number of similarly priced carbon-fibre bikes. Proof, were it needed, that high-end aluminium really is back.
Frameset
Moda has produced its new triple-butted aluminum frame in eight sizes to cater for just about every rider size. All the usual mod cons have found their way onto the frame too, with a PressFit 86 bottom bracket, oversized steerer and internal cabling all finding their way onto the spec sheet.
Provision has also been made to allow the fitment of the latest crop of electronic groupsets, should you wish to upgrade (or indulge in Moda's 'Dream Build' system, but more on that later).
Moda has opted not to smooth the welds over, choosing instead to proudly display its marvellous metalwork. Personally, I'm more than happy to see a skilfully welded seam and the tube junctions throughout the Vivo are reassuringly uniform and neat.
The colourful paintjob might not be to everyone's tastes (indeed, one of my older riding companions compared it to a shell suit) but the matt finish looks great up close and has so far stood up well to some of Surrey's dirtiest lanes and filthiest weather.
Components
Manufacturers are slowly cottoning on to the fact that most cyclists are rarely 100 per cent happy with the bike as it comes out of the box. Aside from the obvious issue of achieving the perfect fit, often it's for no other reason than they rather like the opportunity to personalise their purchase.
While at this price point we were happy with the 'Factory Build' specification made up mostly of Shimano's benchmark 105 groupset and Moda's (surprisingly good) in-house Barelli finishing kit and brake calipers, a 'Dream Build' option allows buyers to upgrade at will by discussing their exact needs with their Moda dealer.
Better still, this flexibility when it comes to spec is not just to satiate the aspirations of the wealthy. If you're building to a budget, or already have kit to swap over from another bike, you can always opt for slightly lower spec parts to bring the cost down. Either way you end up with the same great frame that's pretty much future-proof and carries a lifetime warranty for the original owner.
Wheels
Moda shares the same UK distributor as American Classic wheels and Kenda tyres. By making the best of the buying power brought about by this partnership, Moda is able to fit wheelsets of a higher quality than you might expect on a bike at this price point. Decent Kaliente tyres help to make the best of the light, fast-rolling Victory 30 wheelset that matches the bike well.
The ride
If it were safe to ride blindfolded (it isn't, we've already tried) then it's also safe to bet that more than a few riders could be convinced that the Vivo is made from carbon.
Not only is it light, it lives up to its name by feeling lively and responsive. Moda has managed to do what many thought could only be achieved with carbon, and that's to create a stiff yet comfortable bike.
Handling is fast and direct but not at the cost of stability and much of its agility is doubtless thanks to the quality wheelset and tyres. Braking isn't class-leading but I have to admit to being pleasantly surprised by the handsome Barelli calipers.
Aesthetically they make a welcome break (brake?) from the norm and while not quite as powerful as high-end Shimano stock, they're more than adequate.
There was a downside during the test period, though. For all the Vivo's clever design, the bulbous chainstays could potentially be a problem. I had a few heel strikes whilst riding out of the saddle climbing towards the end of a particularly long ride.
Sure, any semblance of 'form' had long since left my weary legs, and it only happened a couple of times; nevertheless it might be wise to try before you buy, particularly if you've been blessed with big feet.
Thank you for reading 20 articles this month* Join now for unlimited access
Enjoy your first month for just £1 / $1 / €1
*Read 5 free articles per month without a subscription
Join now for unlimited access
Try first month for just £1 / $1 / €1