Planet X EC-130E review
We take a look over the sensibly aero Planet X EC-130E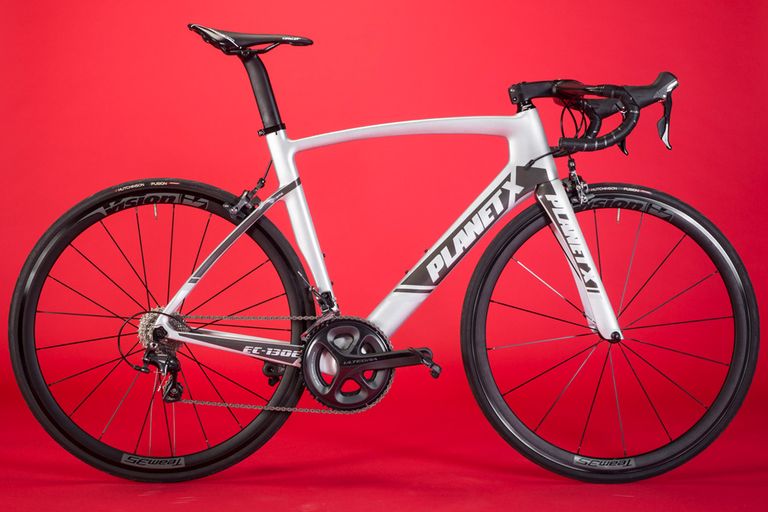 Cycling Weekly Verdict
In a wind tunnel the Planet X EC-130E might not be the most aero aero bike in the world, but it's all the better for it. It's great fun to ride and blisteringly fast, but with the brakes in their normal places and no fussy cable routing, it's great to live with too.
Reasons to buy
+

Exciting ride

+

Sensible brake positioning and cable routing

+

Surprisingly comfortable

+

Looks great
Planet X has not always had the best reputation among UK cyclists, but if there is one bike that should stop people looking down on the Sheffield brand it's the Planet X EC-130E, the winner of our Aero Bike of the Year for 2017.
Buy now: Planet X EC-130E road bike from Planet X for £2,099.99 (other build options available)
Frame
Many bike manufacturers have taken the designs of their aero bikes far too far, forgetting that most of us prefer to ride our bikes rather than spending endless hours on intricate cleaning and maintenance.
>>> Aero bikes: a complete buyer's guide
Thankfully, that's not the case with the Planet X EC-130E. Planet X hasn't been tempted to hide the brakes underneath the bottom bracket and behind the fork so they're nigh-on impossible to clean and maintain, and hasn't gone for excessive internal cable routing that is a struggle even for WorldTour mechanics.
It's this fusion of aerodynamics and practicality that has been a major factor in why this bike has won our award.
Specification
The Planet X EC-130E is available in a range of different builds, with Planet X allowing customers to upgrade wheels, alter saddles, and make sure the bike is built perfectly for them.
>>> Cycling Weekly Bike of the Year 2017
Our test bike came equipped with the excellent Shimano Ultegra groupset and impressive Vision Team 35 wheels, which although on the heavy side, offer stiffness to match the frame when smashing it along on the flat.
Ride
All of that would be for naught if the Planet X EC-130 didn't perform out on the road, but thankfully it does.
Powerful riders will be delighted to feel like every watt of effort is transferred to the back wheel, even when sprinting hard.
Despite the aero tube shapes and seatpost, comfort (not always a strong point on aero bikes) is surprisingly good.That means you don't have to consign this bike to short, sharp blasts, and it'll keep you feeling good even on 100+ mile rides.
Value
Planet X has always been renowned for the exceptional value of its bikes, and the EC130-E is no different. If you're after an aero bike for riding and racing on flat and rolling terrain, then there's no better bike out there for the price