Superavi Eximio-S review
We get to grips with a bespoke titanium frame that stands out from the crowd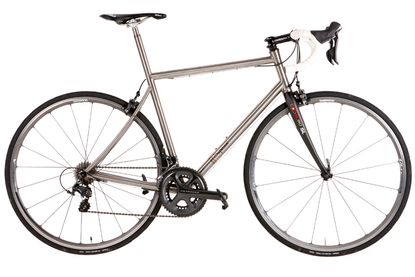 Superavi has created a great-looking, great-riding bike that deserves serious consideration if you're looking for a bespoke titanium frame that stands out from the crowd. You won't find its clever integrated seatpost anywhere else, and it's rare to find such neat welding. Our test bike, built up with Shimano Ultegra, was light, lively and balanced. Overall the impression is of a well designed and high-quality product
Reasons to buy
+

Full custom options

+

Competitive price

+

Unique integrated seatpost

+

Quality finish

+
+
Reasons to avoid
-

Unpainted metal is not everyone's cup of Ti
Why you can trust Cycling Weekly Our expert reviewers spend hours testing and comparing products and services so you can choose the best for you. Find out more about how we test.
Caesar's famous hendiatris 'veni, vidi, vici' doesn't need a fourth verb. By the same token, we have to ask whether Superavi (Latin for 'I overcame') is gratuitous — not to mention presumptuous — in an increasingly crowded UK titanium market.
Superavi's Ralph Farrer, an industrial product designer, says not. He has developed a unique business model that allows him to sell bespoke titanium frames at an extremely competitive price point.
Not only that, but he has come up with a special signature feature that you won't find on any other titanium frame. More about that later.
The price is so right partly because Superavi gets its customers to do some of the work themselves.
Customers take their own body measurements and log them on Superavi's FFIT (frame fit and integration template). From this, a CAD drawing is produced, which, along with the preferred type of brake, headset type, number of bottle-cages, frame finish and other details, is then sent to a factory in the Far East with 20 years' experience. Customers also choose their frame type: race, sportive or commute.
>>> Road bike wheels buyer's guide (videos)
It sounds more automated than it actually is. Although Superavi has sidestepped some of the client interaction that many frame-builders say takes up more time than the building of the frame itself. The FFIT measurements are underpinned by existing data — i.e. the dimensions of the customer's current bike and photographs of the him or her riding it — and the customer then gets to approve the final drawings.
Frame
We tested the Superavi Eximio-S, the sportive-specific version of the Superavi frame, which has a slightly longer wheelbase, shorter reach and taller head tube than the race version. Endurance bikes often lack the sporty lines of pure race bikes, but the Superavi looks lean, mean and pleasingly uncluttered. It's definitely more of a track spike than a pub trainer.
The frame is made from the 3Al-2.5V tubing that the majority of titanium bikes use, but the welding is unusually neat, with the 'fish scales' at the joints pleasingly uniform.
>>> Best £2000 road bikes (videos)
What really makes the Superavi more interesting, and arguably prettier than its Ti counterparts, though, is the integrated seatpost. This is Farrer's own design and he's rightly proud of it. There's no hacksawing and spacers involved in setting saddle height — it works using an expanding wedge system like an old-style quill stem in a fork steerer tube.
The downside is that the bolt is concealed under the saddle, meaning it obviously cannot be adjusted on the fly. Moreover, the seatpost is such a close fit in the seat tube — as it needs to be — that at first we thought it was stuck.
>>> Winter road bike tyres
There's inevitably a slight weight penalty over the standard collar system, but beauty demands sacrifices, and this — along with the slight trickiness of the adjustment process — is really a small one to make, especially as the bike's overall weight is impressively low at 17.2lb.
Specification
Superavi sells its bikes as framesets only, but this demo Eximio-S was built up with a full Shimano Ultegra groupset, including Ultegra wheels and was finished off with a Deda Zero bar and stem and Flite saddle. This was a well-judged build; it not only produced a coherent look but also a low overall weight.
>>> Road bike groupsets: A complete buyer's guide (video)
Riding
Titanium bikes can often be a disappointment, simply because everybody has a — generally similar — preconception about how they should ride. Soft and whippy? Titanium bikes can be too harsh or overly flexible just like any other type of bike, so when one comes along that rides like a Ti bike 'ought' to ride, it's a great feeling.
>>> Cycling GPS units: buyer's guide
The Superavi leaps up hills and tears down them, soaking up vibration like titanium should. Dropouts reinforced with cowling plates also bolster rear-end stiffness.
Descending was a particular highlight; some sportive bikes with taller head tubes don't go downhill so well because rider weight is not far enough over the front wheel, but Superavi has got it right. The quality Easton fork that the front end is designed around must take some of the credit, too.
Value
To get a UK-made frame from one of the two companies that make them here would set you back nearly twice the price of a Superavi.
Farrer does not apologise for the fact that his frames are made in the Far East — quite the opposite in fact; he says that's where the expertise is. And Superavi's self-measuring system lowers the price yet further.
For a fully bespoke titanium frame with superb build quality, Superavi offers excellent value.
Thank you for reading 10 articles this month* Join now for unlimited access
Enjoy your first month for just £1 / $1 / €1
*Read 5 free articles per month without a subscription
Join now for unlimited access
Try first month for just £1 / $1 / €1
Simon Smythe is Cycling Weekly's senior tech writer and has been in various roles at CW since 2003. His first job was as a sub editor following an MA in online journalism. In his cycling career Simon has mostly focused on time trialling with a national medal, a few open wins and his club's 30-mile record in his palmares. These days he spends most of his time testing road bikes, or on a tandem doing the school run with his younger son.