Triban RC500 Microshift Disc road bike review
A handsome and comfortable, entry-level bike that's ideal for newcomers to road cycling or those looking for a durable weekday commuter hack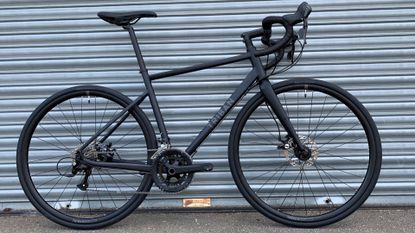 (Image credit: Future)
Whether you're looking for a relatively inexpensive way to get into road cycling, want a tough bike that will take the rough with the smooth en route to work, or an unfussy N+1 for winter, the versatile Triban RC500 is well-worth considering. The 100% use of in-house components may be a deal-breaker for some but this approach keeps the price stupendously low and allows it to punch well above its weight.
Reasons to buy
+

Great value for money

+

Comfortable on long rides

+

Will inspire confidence for newcomers to road bikes

+

All-round potential for different needs and uses

+

Mechanical disc brakes are smoothly efficient

+

Lifetime guarantee on frame, handlebars and stem
Reasons to avoid
-

Less mechanically adept or experienced customers will need help building and setting the bike up

-

Limited support network for in-person advice, spares and servicing

-

Only one color option
You can trust Cycling Weekly. Our team of experts put in hard miles testing cycling tech and will always share honest, unbiased advice to help you choose. Find out more about how we test.
Decathlon's renowned Triban range (formerly known as B'twin) has long offered decent quality bikes without the higher prices more commonly associated with, and expected of, 'sexier' brands.
However, what some leading manufacturers term as 'entry-level' is probably still beyond the financial wherewithal of a significant section of their potential customer base. Especially in a cost-of-living crisis. Roll forward then the latest iteration of the highly-rated Triban RC500, which retails at just £649.99 (or $1,199.00 in the US with Shimano's reliable Sora groupset specced instead) - we take a look at how this latest model stacks up against the best cheap road bikes.
Both bikes feature aluminium frames and a carbon fork, with geometry designed to give a comfortable ride as well as the reassurance of disc brakes and a reliable drivetrain.
Triban RC500 Microshift Disc: construction
Intriguingly, the Decathlon website doesn't mention 'entry level' in conjunction with the RC500, rather it is pitched at 'regular rides' and 'cycling further'. This will strike a chord with many CW readers, as the Triban makes an ideal all-rounder - albeit gravel enthusiasts may want to upgrade the tires before venturing out. The Triban RC500 can accommodate tires as wide as 40mm, should you prefer riding more off-road than on.
The Triban's versatility is further enhanced by having mudguard and pannier mounts on both the frame and carbon fork, making it a cracking choice for the daily commute or weekend adventuring.
The Decathlon website simply describes the bike's frame as '100% aluminium'. What it doesn't add is that it is also semi-compact with dropped seat stays and the aforementioned carbon fork, with an aluminium steerer. Other manufacturers don't all follow suit with the alu' frame/carbon fork combo, so these two factors are further plus points in the RC500's favour. CW's test ride came in a matte carbon grey matt finish, which allied with the black wheels and groupset gave it a very stealthy appearance.
The frame's relaxed geometry makes it ideal for longer training rides or tackling sportives. The comfort aspect of the bike is also aided by the shape of the handlebars, as the tops on either side of the stem are slightly flared back and flatter, allowing for a more relaxed grip when taking it easy. The brake hoods are twisted in, which effectively guide the hands into the ideal position when pushing on, with the index finger almost compelled to rest on the front of the brake levers or the side of the gear shifters.
The Triban-branded saddle is fairly soft, with a shallow pressure-relieving groove. It will do much to reassure newcomers, who may look at other examples with a pained expression.
There are essentially four different models in the Triban range; the RC100, RC120, RC500 and RC520. The RC100 and RC120 are pitched specifically at beginners, while the RC520 features Shimano 105 components. The RC500 sits in the middle of the range, and the version of the RC500 that we have on test is supplied with a 9-speed microSHIFT groupset (costing £649.99). This model isn't available in the US, but the sister model of the RC500 is, which features Shimano's tried, tested and trusted Sora groupset that's is also 9-speed. It comes in at $1,999.00 / £649.99.
The less familiar microSHIFT system worked perfectly well. For readers more familiar with Campagnolo or Shimano shifters, the microSHIFT system uses two levers mounted behind the brake levers. This took a little amount of time to get used to, so is worth knowing about beforehand.
The own-brand wheels and tires have also been designed to deliver comfort. The Triban Protect 700x28 rubber is tough with a light tread pattern that allows a decent speed in the dry and grips when the roads are wet. Again, it is worth bearing in mind that they are ostensibly intended for road use. The wheels are tubeless-ready, which adds another option should you want a different tyre choice at some point.
Triban RC500 Microshift Disc: the ride
A key considerations before buying this bike should be how mechanically adept are you at building and setting up a bike. The RC500 was delivered to my door in a box and required some simple self-assembly. You'll need to supply your own pedals of course, also lights and bottle cages, but that's pretty much it.
On my maiden ride, I sensibly took an Allen key set with me, as I spent the first couple of miles repeatedly stopping and adjusting the saddle height until everything felt correct. Once satisfied, I didn't stop for another three hours. Which is a mark of how well the RC500 performs.
Although this is not the sort of bike best suited to smashing Strava segments, when given a nudge the RC500 moves along nicely. When I did pick up the speed, it held its pace well - but nowhere near that of my regular, carbon road bike. On a Sunday spin – moving from urban traffic to rural roads – the riding position was a delight. Because you're not hunkered down over the bars, the body is in a less stressed position, for which my lower back, neck and shoulders were very grateful.
The Triban is generous in its gearing which meant that hills were never a struggle - I was always able to keep my legs spinning. That said, the 'Cols' of Essex don't really provide too stern a test. Equally, on descents the RC500 felt assured, stable and planted. With its shallow section frame and wheels, the Triban handled crosswinds very well, with no twitchiness, which will further inspire confidence for newcomers to road cycling.
While some may sniff at the mechanical discs, I found them smooth, consistent and nicely progressive. There was plenty of feel and none of the fierce snatching that their hydraulic counterparts can deliver when hurridly grabbing a handleful.
Experienced riders will know just how subjective and, indeed, important, a bike's saddle is. After my first hour on the Triban's own-brand perch, which has a shallow pressure-relieving groove, I was quite contented and rarely found myself shuffling up and down like Goldilocks, trying to find the ideal seating position.
A decal on the seat tube proudly bears the lion of Flanders, along with text informing you that the bike has been tested in Belgium and France. I have no reason to doubt this. Quite whether I'd want to attempt the cobbles of the Koppenberg, Arenberg, or even Swiss Hill in leafy Cheshire, I'm not so sure. However, if you are so inclined, you'll be delighted to know that the frame, stem and handlebars are guaranteed for life.
Triban RC500 Microshift Disc: value and conclusion
Ultimately, the Triban RC500 Microshift Disc left me feeling somewhat conflicted. In terms of the price and the overall riding experience, it's great. Aesthetically, it is very comely and I always think that if a bike looks good to you, you'll want to ride it. Commutes? Check. Winter bike? Check. Training hack? Check. Sportives? Check? First road bike? Check. Weekend adventure? Check. Nipping to the shops. Check. The RC500 really can do it all (within reason). But…
In such a fiercely-contested marketplace and with heritage brands offering similarly-specced bikes at comparable prices - such as Trek's AL2 Disc (from $1,129.99 / £828.75), the Specialized Allez ($1,200 / £1,100) and Cannondale Synapse 3 ($1,300 / £1,100), the Triban's appeal looks less assured. Importantly, too, the big manufacturers have excellent supply chains and more often than not, a network of local retailers, who in turn offer the back-up of expert servicing and spares - usually when you need them and in close proximity to your home or office.
Still, the fact remains that the Triban RC500 Microshift Disc is a good-looking, highly-versatile, comfortable and well-kitted out machine for less than £650 (or under $700 in the US with Shimano Sora).
Thank you for reading 20 articles this month* Join now for unlimited access
Enjoy your first month for just £1 / $1 / €1
*Read 5 free articles per month without a subscription
Join now for unlimited access
Try first month for just £1 / $1 / €1