After drop bars and skinny tyres but don't know where to start? We're here to help you buy your first road bike
With such a variety of bike out there, once you know what features you need, you'll almost certainly be able to find the perfect match!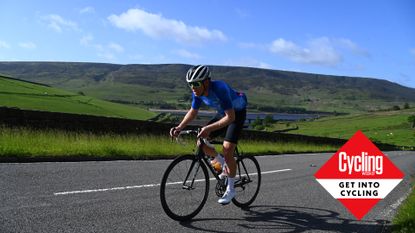 (Image credit: Future)
Buying your first road bike is a pivotal moment in any rider's cycling life.
Once you're hunkered down in the drop handlebars, the experience of speed - particularly compared to a hybrid or mountain bike - will be everything you dreamed. And with the increase in efficiency that the best road bikes provide, you'll be able to explore much further than ever before.
The price range between models can be huge, the cheapest can be picked up in the low to mid hundreds; the most expensive cost more than a perfectly decent car.
We'll guide you through the features you typically get on bikes of different price points, so you can make an informed decision on what's best for you. As with most things in life, the law of diminishing returns applies here too - the best value bikes cluster towards the cheaper end of the spectrum, so that's what we'll be largely be focusing on.
What is a road bike and what types of road bike are there?
First, a 'road bike' is very much an umbrella term describing a machine designed for riding on tarmac. These bikes have narrower tyres compared to hybrids and mountain bikes, a frame that aims to keep the weight low, and (in the vast majority of cases) drop handlebars to allow for multiple hand positions.
Riders who choose to spend their time cycling on the tarmac are, of course, varied, and with many different motivations. Some use their road bikes to commute, others enjoy long drawn out days exploring the countryside, whilst some want to push the boundaries of their bodies to travel as fast as they can. Then there are those who want to do a little bit of everything, for as little money as possible.
As a result, there are many styles of road bike. Key differences are found in the geometry - the dimensions of various elements of the frame which position the rider in a way that runs on a scale of 'relaxed' to 'head down/flat back', as well as the components.
Here's a look at some of the key road bike genres to help you narrow down your search when buying your first road bike:
Entry level road bikes
You can pick up one of the best cheap road bikes at an entry level price of just under $500 / £300, but you'll get one that will keep you smiling for longer at the $1,500 / £1,000 price point.
Most entry-level road bikes share a geometry similar to endurance bikes, that means they'll be more comfortable to ride over long days in the saddle, though this is always on a sliding scale - there are models designed to be more aggressive which can see you through to your first races. Test riding a few bikes, and comparing geometry tables, can help you determine where your ideal machine sits on the scale.
At $1,000 / £1000 or less, most road bikes will have aluminium frames.
In our $1,500 / £1,000 grouptest back in 2021, we compared four bikes - three had cable-actuated disc brakes, and one had rim brakes. The rim brake bike was significantly lighter (mostly by the rare merit of having a carbon frame), and the stopping power turned out to be quicker than that of the cable-actuated disc brake bikes.
For that reason, at present we would suggest opting for a disc brake bike if it's coming with hydraulic brakes, for most budgets under $1,500 / £1,000, we would advise sticking with rim brakes. Rim brakes are being fazed out of road bike technology, so this is a stance we may revisit in the coming years - and decreasing wheel upgrade availability is something you'll need to bear in mind alongside your purchase.
Endurance/sportive road bikes
Endurance bikes are comfortable road bikes designed for all-day riding, with a slacker geometry which puts the rider in a more upright position, often with wider tyres and disc brakes which work better in the wet, examples include the Trek Domane and Giant Defy.
Aero road bikes
Designed to slice through the air, the best aero bikes are stiff and efficient race machines which offer limited comfort. Expect an aggressive geometry, putting the rider in a long and low position, with a high level of integration, including an integrated stem, hidden brakes and internal cable routing.
Road race and lightweight road bikes
Bikes designed for all-round road racing will have an aggressive geometry, like an aero bike, but will often be lighter and able to provide greater compliance. Quick handling is a must-have, too - these bikes are the GC riders of the bike world, examples include the Specialized Tarmac or the Cannondale SuperSix.
Gravel and adventure road bikes
A lightweight frame and road handlebars combined with knobbly tyres, disc brakes and mud clearance mean the best gravel bikes are ideal for mixed terrain riding, on and off-road.
Flat bar road bikes
Some popular road bike models are available with flat handlebars, like a hybrid bike, for those who don't feel confident with or don't feel they require a drop handlebar.
Women's road bikes
All of the above are available as women's road bikes or featuring women's specific geometry and components. Not all female riders need or want women's specific geometry - which typically means a shorter top tube and taller head tube - it's best to test ride a few bikes to make your own mind up.
One often underappreciated benefit of women's specific bikes is that they'll come with narrower handlebars, and a women's saddle, which means female riders are far less likely to need to make expensive swaps from the get-go in order to get the best experience from their new bike.
How to choose your road bike frame material
The frame material used has a dramatic influence on the overall ride quality of a bike. The four most common options are carbon, aluminium, steel and titanium.
Quality carbon is by far the lightest, and most compliant (comfortable) material. Carbon can also be moulded into any shape - so it's the most popular when it comes to aero bikes. The weakness of carbon is that crash damage can be harder to spot and repair, and other tweaks (such as having the frame faced to increase longevity of parts) can be more expensive, too.
Carbon bikes are more likely to come with proprietary components, which may not be replaceable for quite as long as standard parts. In short, carbon bikes are usually lighter and faster, but are less likely to be your 'bike for life'.
Aluminium is usually mixed with another metal (such as silicon or magnesium) - to form an alloy. The combination of metals varies between alloy frames, and will be altered depending upon the level of comfort and stiffness required. Lighter frames will be butted - ideally triple butted - which means the material is thinner where it can be, to save weight, and stronger where it needs to be stiff.
Good aluminium can be lighter than bad carbon - but in most cases it's heavier. However, it is generally stronger so a popular option amongst racers who want to rely upon their bike after a crash - the Specialized Allez Sprint is an example of an alloy crit racing steed.
Most alloy bikes will come with a carbon fork and seatpost, which will drop the weight of the bike and offer greater compliance - dampening out the bumps along the way.
Steel is a more traditional option. It's generally heavier, but famous for its springy ride quality, and it's pretty fail-safe in terms of longevity. Titanium, by contrast, is a hard-wearing metal that's much lighter than steel.
What to look for in road bike components
So you know you want a comfortable endurance bike constructed with an aluminium frame, or an aero road bike with a carbon frame. Eventually (after some furious googling and hopefully a test ride or two) you'll select a brand and a model family.
Most bike models are available at a variety of different price points. Generally, the frame and fork remains largely the same, and the differences between the rungs on the price ladder relate to the road bike groupset. Other components to take note of are the tyres, wheels, saddle, seatpost and handlebars.
Groupset
A groupset is made up of the shifters, crankset, cassette, brakes, chain and deraillieurs.
The vast majority of built bikes come sporting Shimano groupsets, though we are seeing more SRAM these days too, especially at the more expensive end with SRAM Rival AXS making electronic shifting more accessible.
More expensive groupset components will be lighter, and more responsive. It's often said that they will be more durable, however, heavier components can be comprised of more material so arguably are more durable; the argument still stands that spending more reduces your chance of wanting to upgrade early on in the life of the bike.
Disc brakes are becoming more and more common. They offer more effective braking, especially in the wet when compared to rim brakes. Mechanical disc brakes are cheaper and still use a steel cable to move the pistons, whilst the more expensive hydraulic discs are even more reliable and use a sealed, fluid filled system.
Most built road bikes come with entry level wheelsets, and these are a very common early upgrade that can make a big difference to your ride.
Tyres and wheels
Most first road bikes come with aluminium wheels with plenty of spokes. These will be durable, but anyone seeking a competitive edge will often upgrade them for carbon at a later date. It's often said that upgrading a wheelset is where you'll get the most bang for your buck.
The road bike tyres fitted also impact the ride. Traditionally, 23mm tyres were the most popular, but wider tyres are much more popular these days - with 25mm, 28mm, 30mm and even 32mm rubber featuring on road bikes.
The move to disc brakes has made wider tyres much more accessible, and these offer a greater contact patch and therefore confidence in the corners and improved comfort. You'll get more comfort from an extra 3mm on your tyres than via most fancy "compliance" aids, the exception being at the seatpost where comfort aiding styles can lend a hand.
You can expect a greater volume - from 35mm+ - on gravel and 'mixed terrain' bikes.
Finishing kit
This includes the seatpost, handlebars, stem, and saddle. On an entry level road bike, aluminium is common for the first three and perfectly sufficient, though some more expensive bikes will come with a carbon seatpost which will smooth out some of the bumps on the road.
Saddles are personal, and it is very common to swap the stock saddle early on for a perch that better suits your body - we've got a round up of men's saddles and women's saddles plus advice on how to choose a saddle to help you out.
Top tips for choosing your first road bike
You're making a pretty big investment, and the bike you choose could be your companion for several years - so ensure you make the right selection.
Test ride
You can get some really great deals with direct only sellers, but you can rarely test ride these as they're not often available in bricks and mortar bike shops. However, frame geometry, material and construction make a huge difference to a bike's ride quality. Wherever possible, get down to a store where you can test ride a bike or look for a 'demo-day' near you.
Leave some in the bank
The wheels on most built bikes are perfectly adequate for training and general riding, but racers will want to upgrade - so if performance is your target then you might want to factor an upgrade into your spending plan. Most bikes come without pedals, so you can choose your own option. Other commonly swapped components are the saddle, stem and handlebars.
Buy a bike that fits
It doesn't matter how good the deal, don't buy a bike that's too big or too small because it's reduced. Ideally, buy your bike at a store where they can size you up and help you to change any components (stem/handlebars/saddle) required for a comfortable ride.
Check out the second hand market
There are some very good second hand bikes around, and if you buy the right one, you can enjoy a huge saving. Just make sure to check out our tips for buying a second hand bike, to make sure you're getting a good deal.
Get The Leadout Newsletter
The latest race content, interviews, features, reviews and expert buying guides, direct to your inbox!
Michelle Arthurs-Brennan the Editor of Cycling Weekly website. An NCTJ qualified traditional journalist by trade, Michelle began her career working for local newspapers. She's worked within the cycling industry since 2012, and joined the Cycling Weekly team in 2017, having previously been Editor at Total Women's Cycling. Prior to welcoming her daughter in 2022, Michelle raced on the road, track, and in time trials, and still rides as much as she can - albeit a fair proportion indoors, for now.