Vitus Venon VR Disc - First Ride review
Retailing at £1799.99 the Vitus Venon VR Disc packs a lot of bike into a very competitively priced package. We travelled to Calpe with Chain Reaction Cycles to try out the new bike with cycling legend Sean Kelly.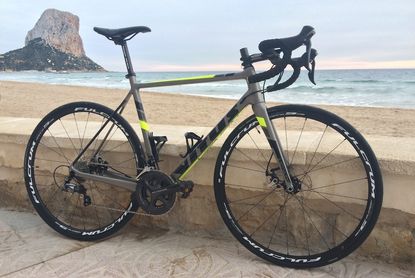 This is an bike ideal for those wanting a bike that combines practicality, simple maintenance, great comfort and a more aggressive geometry than most other 'sportive' frames.
Reasons to buy
+

Intelligently specced

+

Cable brakes preferable over hydraulic at this price point

+

Very good geometry

+

Fun to ride

+

Excellent value

+

Comfortable
Those newer to road cycling might not be aware, but Vitus is a brand with huge pedigree in the bike world having produced the frames that Sean Kelly and others rode to countless victories in Grand Tours and one day Classics during the 70's and 80's.
Cast a quick glance over the specification and most people would instantly question why the Vitus Venon VR Disc is so well priced. The short answer is that Vitus is owned by and sold through the retailer Chain Reaction Cycles. This makes it a direct sales company, cutting out the middle man costs associated with traditional bike brand business models.
>>> Review of the Vitus Vitesse Evo Team
This is similar to Canyon, however Chain Reaction is keen to stress one big difference – if you place an online order with them you will have your new bike in 48 hours. At the time of writing, this is something that Canyon is currently struggling to do.
>>>Canyon responds to order delays.
Frame
The frame is high-modulus T700 unidirectional carbon with a tapered steerer with a size 54cm reportedly weighing 8.49kg. Although marketed as a sportive bike, the geometry is pretty aggressive – a size 56, such as the one I was riding has a stack and reach of 557.6mm and 394.5mm respectively. Most sportive bikes in this size would have a stack of around 580mm.
At 1000cm the wheelbase of the Vitus Venon VR Disc is longer than the Vitesse Evo and comparatively sized race bikes from other brands. However, it is shorter than that found on out and out sportive machines such as the Specialized Roubaix.
>>> Buyer's guide to road bike wheels (video)
I like this. A couple of centimetres on the wheel base and head tube might not sound like much, but they have a profound impact on how a bike feels. Other 'sportive' bikes with longer wheel bases and taller head tubes can often feel like you are riding a chopper.
>>> Cycling Weekly Endurance bike of the year (Video)
What you have here is bike that is designed to offer great comfort (more than most out and out race machines) but with a geometry that provides a little bit more stability, while still possessing the excitement and race feel of a low front end and short head tube.
Watch: My toughest day on the bike with Sean Kelly
Specification
You are getting a lot of bike here, and the Vitus Venon VR Disc has been intelligently kitted out with considered choices made on the components. The shifters, derailleurs and bottom bracket are Shimano Ultegra 6800. The brakes are cable actuated TRP Spyre, while the finishing kit is mainly proprietary Vitus, including a carbon seat post.
>>> Buyer's guide to road bike groupsets
This bike is a complete package that is ready to go. The Fulcrum wheels are well matched and although you would probably upgrade them down the line, they wouldn't leave you disappointed in the short term. The wide flange on the disc side front is good for meeting the stresses placed on the wheel under braking.
They also possess a wide internal rim width, allowing the tyres to sit wider. This translates into more grip, more air volume and a wider contact patch. When you consider that stopping power is not limited by the brakes, but the contact patch of the tyre, this is a good feature that complements the brakes.
>>> Are wider tyres faster? Click here to find out
The TRP calipers are cable actuated. Hydraulic discs offer slightly better modulation, but these discs are still far better than a standard rim brake and the lack of hydraulics should not put you off.
Vitus could have equipped the bike with the entry level Shimano hydraulic shifters at this price point but I am glad it didn't. Those shifters are massive and incredibly long – they are ergonomically and aesthetically challenged.
Roadies are also currently transitioning into hydraulic brakes, with few of us confident of adjusting or bleeding them. Cable actuated calipers offer much more simple maintenance, easing the transition to discs. There is also an even more affordable 105 model with an RRP of £1349.99, but retailing at £1214.99 on Chain Reaction Cycles.
First Ride Impressions
I took the Vitus Venon VR Disc out for a spin with Sean Kelly around Calpe and the surrounding roads. Kelly serves as a consultant to the brand and works closely with Vitus and the An Post CRC team. The bike was very enjoyable to ride, climbing well and feeling very stable on the descents, which tended to include several hairpin bends.
>>> 6 Giant Alpecin riders hit by car on the wrong side of the road near Calpe
This is a bike suited for long days in the saddle. During my test ride, I found the frame to be very plush, offering good levels of comfort with its beautifully slender seat stays. However, it must be said the roads around Calpe are significantly better than the pothole spattered pseudo pavé I often ride in the UK. Further testing on those roads will give a better idea, but first impressions are very good.
>>> Sean Kelly shows us his scars (Video)
Despite the added weight of the disc brakes, I was really impressed with the responsiveness and acceleration of the Venon VR. Other sportive disc bikes I have ridden can feel comparatively sluggish and dead.
For more information, head over to Vitus.
Thank you for reading 10 articles this month* Join now for unlimited access
Enjoy your first month for just £1 / $1 / €1
*Read 5 free articles per month without a subscription
Join now for unlimited access
Try first month for just £1 / $1 / €1
Oliver Bridgewood - no, Doctor Oliver Bridgewood - is a PhD Chemist who discovered a love of cycling. He enjoys racing time trials, hill climbs, road races and criteriums. During his time at Cycling Weekly, he worked predominantly within the tech team, also utilising his science background to produce insightful fitness articles, before moving to an entirely video-focused role heading up the Cycling Weekly YouTube channel, where his feature-length documentary 'Project 49' was his crowning glory.