Cobb Plus saddle review
One of the ugliest saddles I have ever seen, but also one of the most comfortable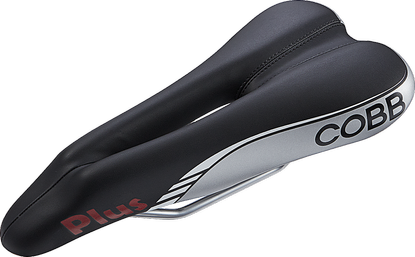 I'm not sure I've ever seen an uglier saddle than the Cobb Plus saddle, but at the same time its comfort is great and could beat many of the well known brands.
Reasons to buy
+

Super comfortable

+

Fits well on time trial and road bikes

+
You can trust Cycling Weekly. Our team of experts put in hard miles testing cycling tech and will always share honest, unbiased advice to help you choose. Find out more about how we test.
It's probably the ugliest saddle on the market, but after a bike fit and some very reliable suggestions, I decided to give the Cobb Plus a go. The other thing that was keeping me away from the saddle from the company founded by "Mr Wind Tunnel" (as John Cobb is known within the industry) was the £140 pricetag.
>>> Buyer's guide to road bike saddles (video)
However, it took me really five seconds to say "yes" to my bike fitter when he asked me if it felt good. The very first impression I have got was of a relief and comfort I have never tried on a saddle before. And even though I was on a time trial bike, the Cobb Plus is also suitable to aggressive road racers who spent a lot of times on the drops.
When I looked at my saddle while on the fitting bike, I noticed that when I sat down, the nose of the saddle widened, while when I was standing on the pedals it went back to its normal position. I tried a couple of times and it kept doing it, and the feeling of having that extra surface while pedalling in the saddle was really great. As said, something I never experienced before.
On a long ride, my opinion of the Cobb Plus saddle didn't change. Of course, after hours spent in the saddle (four in this case, and in a quite forward position) some soreness is inevitable, but in general I found it very comfortable.
The Cobb Plus saddle is specifically designed to eliminate the numbness in the perineum and its cut nose which is lower than the rest of the saddle is designed to dissipate heat and moisture. Its 40mm width is not as extreme as other time trial saddles on the market because Cobb believes that too wide saddles cause inner leg chafing. I was also impressed by the foam padding and the relief channel down the middle.
>>> 10 best way to make your bike more comfortable
"We know we don't look like the cutest kid in the classroom," said Alex Bok, from the company's International Sales and Marketing, "but most bike fitters when asked about Cobb Cycling will refer to us as us real problem solvers."
"We are working our artwork," Bok adds. "While the designs remain pretty important for us as with the technologies we use, we're one of the very few brands that truly can offer comfort to a wide range of riders. Our motto therefore is Comfort = Speed."
If you're not happy to spend £169 for a bad-looking saddle (particularly if you ride a nice bike with delicate finishings), the different colours available could make it look less ugly. Unfortuately the black saddle I had is probably the ugliest, followed by the white one and the pink.
>>> Is your saddle harming you?
If you're in London and keen to test different Cobb saddles (with a £100 deposit you can give a proper ride), you can find them at the Department of Endurance. Alternatively, you'll find more information on Cobb website.
Thank you for reading 10 articles this month* Join now for unlimited access
Enjoy your first month for just £1 / $1 / €1
*Read 5 free articles per month without a subscription
Join now for unlimited access
Try first month for just £1 / $1 / €1
Nick Busca is a freelance cycling and triathlon journalist. He is also a certified triathlon coach and personal trainer.