Sportful Fiandre NoRain W bib short review
Huzzah! Finally the Fiandre shorts are now available in a fit specifically for women. With the similar men's version hitting the 10/10 bell, we're super excited to get our hands on the Sportful Fiandre NoRain W bib short to see if they live up to expectations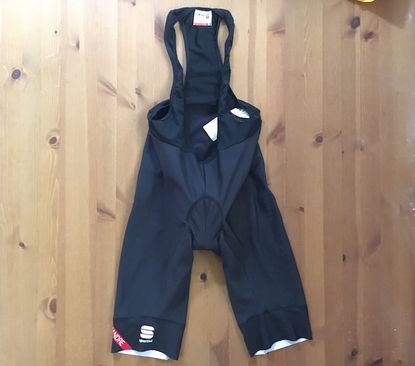 The water resistant and thermal Sportful Fiandre NoRain W bib short are a fantastic buy for £80. They are long in the leg, so won't work for all riders, but if they do you have autumnal and spring riding sorted, and a nearly perfect pair of winter women's specific race bib shorts.
Reasons to buy
+

Water resistant

+

Thermal

+

Women's specific fit

+

Raw cut leg band

+

Infinity chamios

+

Reflective detailing

+

Value
Reasons to avoid
-

Will be too long legged for some

-
-
Why you can trust Cycling Weekly Our expert reviewers spend hours testing and comparing products and services so you can choose the best for you. Find out more about how we test.
Water resistant shorts, well the apparent lack of, for women have been a real bone of contention for me in recent years (especially since moving to the rainy city of Manchester). If I hear one more time about the virtues of water resistant thermal shorts I shall scream as up till now, a women's specific version hasn't been an option, so hats off to the Sportful Fiandre NoRain W bib short, as I can finally get to see what all the fuss is about.
The men's Fiandre NoRain shorts have been around for a couple of years now and its still one of Cycling Weekly's favourite pairs of shorts, delivering a whole package of goodness, not just in the form of the water resistance properties, but also in the chamois performance and overall comfort and fit. This means that the Sportful Fiandre NoRain W bib short have a lot to live up to.
>>> Best Women's shorts 2017: Waist and bib shorts
Construction
Made from NoRain thermal fabric, the outside of the Sportful Fiandre NoRain W bib short is treated with a nanotechnology water repellent coating, where the material fibres are coated with millions of tiny hydrophobic silicone filaments, making water just bead off the material.
The benefit of this treatment is that it allows the Sportful Thermodrytex Plus, a Nylon/ elastane mix fabric, to not only provide a thermal fleecy soft inside, but also, according to Sportful, is extremely breathable and has a minimal moisture absorption - in theory keeping you dry inside and out.
Measuring approximately 30cm on the inside leg, the Sportful Fiandre NoRain W bib short has been designed to be an extra long short, finishing just above the knee. The extra wide eight centimeter raw cut leg gripper is backed with grippy silicone dots.
Underneath sits the Sportful Infinity chamois. It's the same insert as the Sportful Bodyfit Pro W bib short, with what Sportful call a bioceramic top cloth, which claims to be super soft, while variable densities of the padding promise to offer just the right amount of thickness for long distance riding.
Up top on the Sportful Fiandre NoRain W bib short sits a nylon mesh bib, which Sportful say adds to the breathability element of the shorts.
The Ride
Pulling the Sportful Fiandre NoRain W bib short on and the extra length is immediately apparent, with the shorts finishing only just above my knee. At 5ft7", I can generally fit in to 'regular' length trousers, so any one on the more petite scale are likely to find these falling on, if not over, the knee cap itself.
In an ideal world it would be a try before you tear the labels off to ensure they fit.
The perk of extra long shorts, however, is that even more of your leg is wrapped up in the incredibly soft and warm fabric, almost inciting me to venture out on a damp ride, as apposed to me normally adopting my usual ride avoidance strategies.
It's worth noting however that due to their length, the shorts finished on the posterior knee ligaments, so that when I pedalled I did feel the fabric touching. It didn't cause any skin irritation, but it was slightly uncomfortable and I did have to pull the shorts up to overcome the sensation.
Notwithstanding the extra long legs, the pro's of the shorts do far outweigh the one potential con, with my immediate preference of the thermal and water resistant Sportful Fiandre NoRain W bib short over tights in certain circumstances.
For me they are perfect for wet, or even just chilly spring/ autumn/ winter racing when, for some reason, tights seem to carry a mental speed block and even leg warmers feel too constricting (and their thermal properties don't extend to the all important glutes).
Value
As with the similar men's version of the Sportful Fiandre NoRain W bib short, it's their price thats, quite literally, the selling point for me. With so many shorts on the market for the £80 mark, to have a pair with so many attributes makes them impressive value for money. If they were two centimetres shorter they would be perfect.
Thank you for reading 10 articles this month* Join now for unlimited access
Enjoy your first month for just £1 / $1 / €1
*Read 5 free articles per month without a subscription
Join now for unlimited access
Try first month for just £1 / $1 / €1