Castelli Gregge 15 socks review
A low-profile merino sock to keep you warm when the weather is cool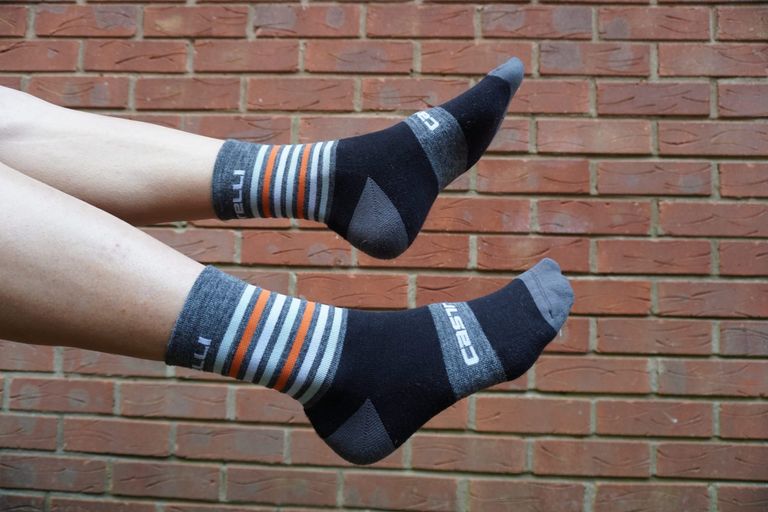 The low volume and thermal properties of the Castelli Gregge 15 socks make them perfect for pairing with summer shoes on cooler days. They're cosy and comfortable to put on and remain so even on longer rides. They are a little expensive for a sock, but they do justify this by their performance.
For
+

Warm

+

Comfortable

+

Low-profile
Against
-

Merino content lower than some competitors
The Castelli Gregge 15, with its middle-of-the-road 15cm cuff and 50 per cent merino content, is a more versatile sock, intended for a broader range of conditions and riding styles than a dedicated winter item. If it's maxed-out warmth you're after, you'd be better off with Castelli's Primaloft socks.
The qualities of merino wool make it ideally suited for cycling socks in colder climes. In being naturally antibacterial, your feet stand to be fresher after a ride, while the thermal properties – which remain to a surprising degree, even when wet – promise to keep your toes toasty.
>>> Best cycling socks: buyer's guide (opens in new tab)
Castelli Gregge 15 socks: construction
There are some brands that talk up the wonderful qualities of merino wool, but then include so little in the fabric that it's hard to believe any of the benefits are being conferred at all. Some blending of materials is still needed to make the sock stretchy and hard wearing enough, so there's no need to look for 100 per cent merino socks.
With that out of the way, the 50 per cent merino content, combined with 25 per cent elastane and 25 per cent polyamide, looks to be a reasonable balance. Although, lower than what you would get in the dhb sock or the Endura sock , at 65 and 74 per cent, respectively.
The Gregge 15 socks have a significantly lower profile than some of their competitors, which makes them easy to fit into summer shoes. That said, these are still intended for cooler rides, they're not a summer merino sock.
The ride
Pairing them with a set of summer shoes for dry rides at around 12°C, my feet didn't feel any pangs of cold. And thanks to the low bulk of the socks, the feel inside my shoes was much the same as with a more summery item – a stark contrast to cumbersome winter warmers. On longer riders they remained comfortable, with no seams causing any hotspots or pains.
Five degrees colder and in heavy rain, although slightly damp, my feet remained quite warm. Admittedly, I was wearing overshoes when out in these conditions, but these socks don't claim to be miracle workers – I'd have paired a set of overshoes with any sock in that weather.
Value
The Castelli Gregge 15 socks are cheaper than the £22 Cadence DNC Merino Wool socks (opens in new tab), which offer a similar combination of low-profile and warmth. Although dhb's Aeron Mid Weight Merino Sock does undercut Castelli, coming in at £12, the dhb socks are noticeably bulkier – the difference in price is matched by a difference in performance.
In all, the Castelli Gregge 15 socks are pricier than your standard sock but are actually pretty good value for their low-profile merino construction.
Thank you for reading 5 articles this month* Join now for unlimited access
Enjoy your first month for just £1 / $1 / €1
*Read 5 free articles per month without a subscription
Join now for unlimited access
Try first month for just £1 / $1 / €1
Starting off riding mountain bikes on the South Downs way, he soon made the switch the road cycling. Now, he's come full circle and is back out on the trails, although the flat bars have been swapped for the curly ones of a gravel bike.
Always looking for the next challenge, he's Everested in under 12 hours (opens in new tab) and ridden the South Downs Double in sub 20 (opens in new tab). Although dabbling in racing off-road, on-road and virtually (opens in new tab), to date his only significant achievement has been winning the National Single-Speed Cross-Country Mountain Bike Championships in 2019.
Height: 177cm
Weight: 67–69kg