Tacx Neo Bike Plus Trainer review - excellent, but expensive
The Tacx Neo Bike Plus brings a raft of incremental improvements along with its substantial increase in price. It is very, very good, but also now further out of reach for many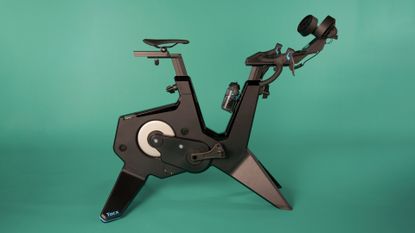 (Image credit: Future)
A very high end – but very high spec – smart bike. It performs perfectly whatever is thrown at it, with the resistance application and changes being class leading. The only 'nit-picking' criticisms I can come up with are that the fans are not powerful enough for me and that the bike doesn't tilt to better simulate the virtual gradients. But the first can be solved with a floor fan - as is the case with most off smart bikes - and the second is still more of a novelty than necessity. And aside from those aspects, the Tacx Neo Bike Plus performed perfectly. It is expensive, but if you have the money to consider buying one, you are unlikely to be disappointed.
Reasons to buy
+

Very stable

+

Incredibly smooth

+

New shifters are perfect

+

Tablet mount and fans included

+

Superb adjustability
Reasons to avoid
-

Very expensive

-

Fans not quite powerful enough

-

Thigh still hits the seatpost in some positions

-

Heavy - two people preferable for set-up
You can trust Cycling Weekly. Our team of experts put in hard miles testing cycling tech and will always share honest, unbiased advice to help you choose. Find out more about how we test.
Tacx, now owned by US tech giant Garmin, is a Dutch company that has a long history of producing indoor training devices, from entry-level wheel-on trainers and rollers to the highly advanced Tacx Neo and Neo bikes.
Tacx smart trainers have repeatedly ranked amongst the best and are a common site at many world tour races for warm ups or cool downs, with the likes of Canyon-SRAM, SD Worx, Quick Step Alpha-Vinyl, Jumbo Visma, and Ineos all using the full complement of Tacx products.
Tacx Neo Bike Plus: construction
The new Neo Plus Bike comes very nicely packaged up in a 60kg box - which did require two people lifting it around the house! But once it's in its (approximately) correct location, everything fits together pretty straightforwardly as a one person job. All the necessary tools were supplied, along with a towel, bottle, bottle cage and sweat cover.
The first part of the job was fitting the feet. With the main body of the bike flipped upside down, getting those on was easy. Then, once flipped back the right way up, the rest of the build was even more straightforward - with the bike solidly standing in place. The saddle rail, handlebars, fan, tablet holder were all easy to fit along with the fasteners for the seatpost, saddle and handlebars.
Choosing your crank length is very easy with a different hole for the pedal corresponding to a different length, in 2.5mm increments from 165mm to 175mm (inclusive). This remedies a big downside of the previous Neo Bike, which was quite fiddly to adjust and only offered three length options compared to the current five.
The fit of the rest of the bike is also a lot easier now that millimetre measurements have been added. On the last Neo Bike it was in centimetres. A narrower seatpost also makes life easier, with less chance of thigh rub.
The bike itself can be used with or without an external power supply. Pretty much everything except the fans, the charging ports, road vibration and downhill simulation will work without a power source. That might sound like you're missing out on quite a bit when listed out like that, but in actual use, you don't really miss those aspects and it works very well.
A data screen is very useful for seeing which gear you are in when pedalling, and it also displays RPM, speed and 3s power average. You can also change the gradient and the level of the fans using the inner buttons on the shifters upfront. The fans themselves have three settings, which feel reasonably powerful, however when warm and doing hard efforts for me, personally, they didn't cool enough. That said, I do run quite warm.
Resistance is produced via 32 neodymium magnets in the virtual flywheel offering mass inertia of up to 125kg. The flywheel also lights up along with a light projecting on the floor and changes from blue to red as effort level increases. It's a bit gimmicky, but I love it!
Maximum power/resistance is set to 2200 watts, which is more than most will need save for the strongest track sprinters. Gradient simulation is also in-line with the industry best at 25 per cent. Accuracy is also ±1% and testing would suggest that this is genuine.
Connectivity to a phone, tablet, third party software and bike computers is all done via ANT+ or BLE and connection is quick, seamless and superbly easy.
Tacx Neo Bike Plus: the ride
I set the bike up with the standard bars and saddle that came with the bike, as they were fairly comfortable and were about the right width for me. That said, it would be very easy to change the bars and saddle to suit your personal preferences as they attach just the same as on an ordinary bike.
Another quick thing I liked is that you don't have to swing your leg over a top-tube. This is fine for me being lanky, but for shorter users, having a top tube could make getting onto the bike difficult. It also means the bottle is very easy access.
For testing the ride, I set up the shifters as Shimano shifting and I decided to do a mix of Zwift free rides, structured workouts, and races. Across all of these, the Neo Bike Plus performed brilliantly.
For free rides, I always ride with 100% trainer settings, so the gradients are simulated exactly and full use of gearing is required. Going across lumpy terrain, the resistance changes for uphills and downhills are instant with no delay in application – I found myself dropping into the 'virtual' inner ring regularly, as I initially set the bike up with 53/39t chainrings and an 11-25t cassette.
Another nice little feature is when going into the big ring there is a slight delay and grind simulated that you would get when switching into the big ring in real life. But another real life feature which thankfully isn't replicated are any issues with cross-chaining, so being in the largest sprocket and largest chainring is totally doable and all gears are useable.
I would like to add that the data screen upfront showing what gear you're in is very useful to have as, during a couple of rides, I hadn't realised I was in the biggest sprocket I could get into and a quick look at the dashboard showed me I needed to drop down at the front and go up a sprocket. The shifting always being flawless meant this was easy with no possibility of chain drop.
When doing structured workouts I decided to use ERG mode to control resistance and save the need to change gears. I made a session which had a mix of different sorts of efforts to test how well the resistance changed. There was a progressive warm up, followed by 30/30s, some under/overs, and a MAP block.
During the 30/30, resistance changes were instant for the start and the end of the efforts with no delay. I also tested what would happen if I stopped pedalling before the effort so that resistance would increase. Fortunately, the bike let off the resistance to allow me to get up to speed. No ERG spiral of death!
When it came to the under/overs cycling workout, again the resistance was smooth and I was able to change my cycling cadence without needing to change gear, simply ease a little or push a little extra and RPM could go down or up with the power only fluctuating by 10-15 watts either way. The only time there was a slight issue was during the shorter efforts – where sometimes I would end up having to spin up to 120 RPM to hit the power target, as the resistance wouldn't increase to the right amount. However for the MAP work, it was easy to keep the RPM at the level that I wanted it to be.
I also did a couple of Zwift races and this is where the Neo Bike Plus' stability really shone through. It's easy to sprint fluidly during training sessions, however doing them at the end of a race when you've been on the limit is a bit messier and all over the place. The stability of the bike when sprinting was very much appreciated as there were no issues of ever feeling as if the bike might tip over, and I do sprint with my arms too much and love throwing the bike around!
For those doing e-races, they'll be glad to hear that the Neo Bike Plus reads well and very accurately when it comes to power. When comparing them with some Wahoo Powrlink Zero dual-sided power meter pedals, the Neo and the pedals were consistently around 1% of each other across the board on power figures. We've test the Powrlink pedals before and found them to be very accurate, and I've tested them against the Wahoo KICKR 5 and found the two to be within 1-2% of each other. This supports Tacx's claims of being within ±1% accurate.
As for the additional features, I wasn't too fussed about the rough road simulation as it felt a little unnerving having the flywheel vibrate underneath me. For those looking for that extra realism, it might be a feature that really adds to the experience for you. The same goes for the descent simulation when you stop pedalling and the flywheel doesn't lose momentum. Potentially this is useful during e-races when you are on a descent and want to stop pedalling – but don't want to be stuck in too big a gear once when you start up pedalling again.
I also wasn't sure about the pedal stroke analysis, as to really make the most of it you need to be using either the Tacx training app, or be using a Garmin (owner of Tacx) bike computer. I'm sure the feature is useful and a great way to assess pedal stroke efficiency improvements over time, but it is frustrating that it is limited to own-brand devices and software.
For hardware features, the fans are fairly useful and should be powerful enough in most scenarios. However for me personally, when doing maximal efforts or longer rides where heat builds up a lot in a room, I found it to not offer quite enough cooling. The fact they face at your head makes them more effective, but a bit more additional power would be useful for me personally.
The use of USB 3.0 chargers was a lifesaver on many occasions! I always forget to charge my tablet, so with 10 per cent left and an hour of Zwifting to do, normally I'd have to postpone and charge. However the Neo was able to charge the tablet up as the ride went on.
Regarding the tablet holder itself, this was very useful and effective, holding my devices in place simply and securely, as well as having a large degree of adjustability. However, the holder can move a bit as you put down the power. This, coupled with the fact that your head stays still while the tablet moves, can be a little disorientating and almost gave me a car sickness, initially.
Finally, the little sweatproof holder up front is perfect for placing your phone, headphones, and any snacks needed. It's a very useful feature and meant that my trusty music stand for holding my tablet and other devices was never needed – making the whole indoor setup a lot neater and sleeker.
Tacx Neo Bike Plus: value
Tacx has increased the price of the Neo Bike Plus, going from $3,199.00 / £2,299.99 for the last generation up to $3,999 / £3,499.99 for this one. It's expensive, but it is also more in line with competitors such as the Wahoo Kickr Bike V2 ($3,999.99 / £3,499.99), and the Stages SB20 ($3,149.99 / £2,799.00). The Wattbike Atom slots in between in US but is a fair bit cheaper in the UK at $3,399.00 / £2,399.00 with a tablet mount, however it lacks quite the same level of adjustment or fit compatibility with crank lengths. All these bikes offer the same 2000+ watts resistance, ~25% gradient simulation and ±1% accuracy levels (Stages ±1.5%) as well as being above 40kg.
The Stages SB20 does offer the same tablet holder which is very useful, as well as four crank lengths (not the 167.5mm option) but there are no fans included. While the Wahoo lacks the computer mount and inbuilt fans but does have a gradient simulator inbuilt. The Stages can charge items with x2 USB ports, but is limited to 10 watts of power so newer, larger tablets will not charge. The Wahoo has a single USB with undisclosed charge wattage and the Tacx charges at 12w for one port and 10w for the other.
Value really comes down to what you want and fit. The Wattbike is cheapest but most limited in fit. The Stages is good value but lacks charging for newer devices or fans. The Wahoo lacks a tablet mount but does have a gradient simulator. The Tacx is expensive but covers pretty much all bases you could think of (minus gradient simulation).
My thought would be that whichever you went for (as long as you can get the fit right), you will be happy with any of them. Having ridden the Kickr bike and the Neo Bike, the two perform at the pinnacle of what smart trainers can do. They are smooth, they are responsive. The Neo Bike probably has the most complete package with fans, tablet holder, great charging for external devices, works without AC power and has a great fit range. I do love the gradient simulation of the Kickr bike, but you then need to buy a fan and a tablet mount. So if gradient simulation isn't the be all and end all, the Neo Bike Plus is really excellent.
Another alternative is, of course, a smart trainer and a road bike. For the price of the Neo Bike Plus you could buy a Tacx Neo 2T trainer – which, functionality-wise, works the same as the bike – a fan, a stand for your tablet, a portable charger, and a bike that can be ridden indoors and outdoors.
Admittedly, the smart bike option does have several benefits such as being more planted, having no chain wear and being quieter without any grinding gears from cross chaining. But, overall, the bike X smart trainer combo will offer better value.
That said, a smart bike like this isn't about value, it's about uncompromised performance. And, at the end of the day, this performs better than any bike X smart trainer combo I have used.
Tacx Neo Bike Plus: conclusion
Smart bikes such as the Tacx Neo Bike Plus are never going to be cheap, but for those who do a lot of indoor training, they really do offer the smoothest, most practical, and best training experience possible. At $3,999.00 / £3,499.99, the Neo Bike Plus is at the higher end of smart bike prices, however it also does pretty much everything that you could ask of a smart trainer.
Some of the functionality – such as rough road simulation – are for me a bit of a gimmick, but for others present a more immersive realism that will be appreciated. Plus it can always be turned off if you don't like it. I also love the flashy lights, which are arguably even more of a gimmick.
Performance wise, the Tacx Neo Bike Plus performs perfectly. There hasn't been a moment when it hasn't done what I've wanted it to do. The resistance is smooth, the changes are instant, and it just works flawlessly.
The tablet mount is brilliant, the charges have been lifesavers on multiple occasions, the fact it works without mains power means even a power cut won't stop you training, and the phone/headphones/snack holder is great. The fans could be a bit more powerful, and I do like gradient simulation, but aside from that the Tacx Neo Bike Plus is perfect.
Thank you for reading 20 articles this month* Join now for unlimited access
Enjoy your first month for just £1 / $1 / €1
*Read 5 free articles per month without a subscription
Join now for unlimited access
Try first month for just £1 / $1 / €1