Tenways CGO600 Pro e-bike review - comfy commuter with easy maintenance
More of a cruiser bike than superbike, the Tenways CGO600 Pro is perfect for a daily commute and impresses with its 50+-mile range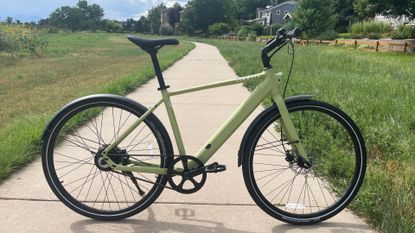 (Image credit: Future)
A commuter cruiser bike designed with comfort, style, and affordability in mind. While heavier than other commuter e-bikes, the CGO600 Pro checks off all the necessities of a good cruiser bike investment: sturdy wheels and tires, a 50+-mile range, four assist modes, and a no-fuss chainless drivetrain.
Reasons to buy
+

Battery is detachable

+

Chainless, greaseless drivetrain

+

Strong motor

+

50+-mile range
Reasons to avoid
-

Heavier than similar e-bikes

-

Takes 30+ minutes to set up
You can trust Cycling Weekly. Our team of experts put in hard miles testing cycling tech and will always share honest, unbiased advice to help you choose. Find out more about how we test.
Get The Leadout Newsletter
The latest race content, interviews, features, reviews and expert buying guides, direct to your inbox!
Thank you for signing up to The Pick. You will receive a verification email shortly.
There was a problem. Please refresh the page and try again.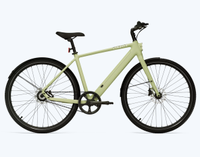 TENWAYS CGO600 Pro
Was: $1,899
Now: $1,699
E-bikes have exploded in popularity in recent years and cyclists now have plenty of options when it comes to choosing the best e-bike for their needs, with options for everything from e-bike mountain bikes to e-bike cruiser bikes.
Tenways is headquartered in the Netherlands and rolled out its first bike in 2021 after a successful crowdfunding campaign. According to Tenways, their goal is to "make daily commuting effortless, speedy, eco-friendly, and fun."
As alluded to by its mission statement, Tenways bikes are focused on the cruiser and commuter and are not performance bikes to take into the mountains or on extreme off-road adventures.
The Tenways CGO600 Pro is part of their "City Commuter" Collection, along with two other bikes: the CGO600 and the CGO800S. The City Commuter line is designed for just that - to assist cyclists in enjoying an assisted commute on local, paved roads.
The CGO600 Pro and the CGO800S are quite similar, but the CGO600 Pro looks the most like a conventional cruiser bike and is nearly ten pounds lighter than the 800S.
Tenways also has a "City Explorer" Collection, which features the AGO X and AGO T models. The City Explorer line is advertised as being able to handle both local commutes and head into more varied terrain such as dirt roads and bigger hills.
Tenways has made commuter bikes stylish, practical, and affordable for those looking to add a bike commute to their daily regimen.
Tenways CGO600 Pro: construction
The CGO600 Pro we had on test arrives in a standard cardboard bike box with the rear wheel and drive train fully assembled but the front wheel, handlebars, pedals, mudguards, and battery uninstalled.
If you have experience in assembling bikes, it takes about 30 minutes total to get everything secured correctly and Tenways provides a clear manual with detailed photos to guide you through the process as well as clearly marked tools in a neatly packed box.
Should you not have experience putting together a bike, it might take a bit longer. For example, securing the handlebars was a bit tricky as was adjusting the front hydraulic disc brake. You could always work with a local bike shop to have the e-bike assembled for a fee if you didn't want to fuss with assembly at all.
The small screen that shows which assist mode the bike is in (of which there are four) took a bit longer to learn, and the manual was much-needed here.
Ultimately, the screen can be toggled to show different layouts that share trip distance, battery charge, remaining range given the battery charge, speed, Bluetooth connection, and total distance the bike has traveled in its lifetime. The rider even has an option to set a passcode to protect their data if they choose.
Finally, while not required for use of the bike, Tenways has an app that cyclists can use to log their rides, see how fast they are going, and register their bike with Tenways.
The frame
The CGO600 Pro has a traditional bike frame complete with a top-tube and its frame and fork are made entirely of aluminum. In all, the frame looks like a classic cruiser bike, with the only giveaway about its e-bike nature being the battery that locks into the downtube, but even that would require a close look to see.
There is a small screen on the left of the handlebars that serves as the rider's way of switching between assist modes and checking their ride and bike data. Buttons that require only the use of a thumb or single finger to toggle between screens are easily located for use when riding, but the screen is quite small and hard to read, especially if you're trying to glance at any info while also keeping an eye on the road ahead.
The bottom bracket is fully-sealed, which means that it will be well-protected and can, in most cases, go for many years without needing to be serviced or cleaned.
The cable routing for the CGO600 is internal, with some bulky brake lines making an appearance near the stem and front of the handlebars, but no matter - they don't get in the way of safety or steering.
The bike comes with a single-speed drivetrain, Gates CDN carbon belt, and a Gates CDX crankset. The CGO600 Pro does not use a chain, and instead opts for the carbon belt. According to Tenways, the belt should net a rider nearly 19,000 miles before the greaseless belt needs to be serviced - a much greater range than a standard bike chain (approximately 3,000 miles). The front "chainring" has 60 teeth and the rear cassette has 22 teeth.
The frame weighs in at 37 pounds (41 when completely built up with the battery), which is a good number heavier than some other options, such as the Islabikes eJanis cruiser bike, which weighs in at just below 30 pounds. The CGO600 Pro does have a "walk" assist mode, should you want to walk next to the bike, but this mode is dependent on having battery power (as are all of the modes). The bike would be quite heavy and cumbersome to lift or walk with if the battery died mid-ride.
Components
As with nearly all e-bikes, the CGO600 Pro comes with hydraulic disc brakes, and the ones on the Tenway are manufactured by TEKTRO. Not as notable as SRAM or Shimano, but a quick internet search shows that TEKTRO has been in the "braking industry" since 1986 and is well-versed in creating hydraulic disc brakes that work.
The bike comes standard with 700c wheels and tires that are made by CST tires and supposedly puncture-proof, but we all know that no tire is truly exempt from the errant shard of glass or metal. The tires were surprisingly grippy and have deep treads to help on slick roads or a short bit of gravel or compressed dirt here and there.
A mini hand-pump is included in the bike's toolkit which could be handy to carry on a commute, but would undoubtedly be difficult to use to fully inflate a 700c tire. Carrying a CO2 and CO2 adapter would be a better choice if possible.
The wheels are secured with a quick release skewer in both the back and the front and also come with front and rear mudguards. Each wheel has a whopping 36 spokes, as well.
The CGO600 Pro comes with an integrated front white light which is controllable by using the buttons on the small screen attached to the handlebars.
Unfortunately, the bike does not come with a seat-tube or down-tube water bottle mount, so a rider would need to get creative with some zip ties if they wanted to mount a bottle cage on either of those sections (while being mindful that the battery takes up nearly the entire downtube).
Battery and motor
The CGO600 Pro has a Mivice M080 350W rear hub motor with a 36V, 10Ah Lithium-ion battery with LG cells powering the bike to its 53-mile range.
The 350W motor and 53-mile-range battery make the CGO600 Pro more than suitable for daily commutes or local romps that include a few hills or strenuous sections - up to 15-degree hills, according to Tenways.
The battery is removable with one of the included battery keys, which means that the bike can stay stored elsewhere while the battery is brought into a garage or indoor setting to charge. The battery takes approximately 4.5 hours to achieve a full charge from a drained state. A battery sign in the upper section of the integrated computer screen gives riders an on-demand look at the bike's battery levels, ranging from no bars (less than 5% battery) to five bars (75% charged or more).
Tenways' batteries are not yet UL-certified, but according to the company, they currently have two UL certifications in progress: UL2271 for the battery and UL2849 for the entire e-bike. Tenways bikes do have EN15194 certification, which according to the brand, is the "European version" of the UL2849 certification. The brand is hoping to receive UL2271 certification by the end of 2023 and UL2849 certification in 2024.
Tenways includes a Mivice S200 torque sensor on the CGO600 Pro, which is one of the bike's selling points, according to the brand. The sensor should make the conversion of your torque on the pedals to the assistance output of the bike feel seamless.
Tenways claims that the CGO600 Pro is mostly waterproof, meaning it can survive a commute in the rain or snow, but that it should not be left outside on a regular basis.
Tenways CGO600 Pro: the ride
I took the CGO600 Pro on my local bike path which connects with some quiet neighborhood roads, a route similar to what some might experience in a daily bike commute. As someone who bike commuted 15-20 miles a day for two years, I was eager to see if the CGO600 Pro was an upgrade from the 10-speed roadie I used to bomb around on.
The overall comfort on the bike is solid; some may want to swap out the wide, recreational riding-style bike seat for a less bulky one, but overall, the geometry of the bike fit me well (I rode a size medium frame and am 5'11) and I thought the top tube length and handlebar length were especially nice for a taller rider like me.
The bike's torque sensor worked like a charm and oscillated between levels one, two, and three perfectly and had no noticeable gap in taking the power from my pedal strokes and complementing them with the appropriate assistance from the motor. This made cornering and ascending rolling hills a dream; you almost forget you are riding an e-bike thanks to its seamless torque sensor and application of "boost" from the motor.
The greaseless, chainless drivetrain was incredibly quiet, and it was nice to know I could mount and dismount the bike without worrying about getting nasty grease on my clothes; a critical component if you are commuting to work and have an important presentation to show up for!
Where the CGO600 Pro struggled a bit was maintaining speed - while understandably the motor is only boosting you when you apply torque on the pedals, the bike very quickly slowed down if you stopped pedaling to coast for a bit. This is a good incentive to pedal for your entire cruise, but can be annoying as the deceleration is noticeable fairly immediately and would make pausing your pedal strokes a frustrating experience.
This is a small ding, but the rubber grippers on the flat handlebar were a bit uncomfortable on bare hands. The grippers have many very small lugs of rubber to prevent slipping off the handles, but the lugs dig into the palms the longer you ride; I recommend riding with gel-infused cycling gloves to mitigate this.
Lastly, the brakes are not in the most ergonomic position. The rider must pull their fingers straight up and then out over the brake levers in order to reach them, which is fine if you're on a traffic-free path or road, but makes reaching for the brakes feel awkward and difficult should you need to come to a sudden stop.
Tenways CGO600 Pro: value and conclusion
The CGO600 Pro is priced at $1,699 (on sale at the time of publication from $1,899) and featured a special deal at the time of publication which included two free mudguards and a free kickstand with the purchase of the bike. This puts the CGO600 Pro right on the market standard for what many quality commuter e-bikes are currently priced at.
According to Tenways' shipping policy, all shipping is currently free, but currently Tenways only ships to the 48 contiguous states in the United States, and does not ship to Alaska, Hawaii, Puerto Rico, or anywhere else outside of the United States.
Tenways offers a 14-day free trial on all of their bikes. You can return any of their e-bikes for any reason within 14-days of purchase for a full refund. There are a smattering of stores nationwide where you can test ride Tenways bikes, as well.
The CGO600 Pro is very reasonably priced when compared to other commuter-style e-bikes, many of which fall in the $1400-2,000 range. The fact that its battery is removable, has a 53-mile range and 350W motor, and can handle reasonable hills make the steed very difficult to argue with.
Its drawbacks are that it is heavier than some other commuter-style e-bikes on the market, takes a smidge longer than other bikes to assemble (especially if you have limited knowledge of bike parts), and has a difficult-to-read integrated bike computer and a limited app.
All that being said, the CGO600 Pro is an elevated commuter and cruiser bike that makes a strong case to eliminate the use of a car to get from Point A to Point B daily. The bike is comfortable, easy to use once set up, and has an ideal mileage range and limited maintenance needs for the average bike commuter, all for a reasonable price.
Specs
Frame: 6061 aluminum
Fork: 6061 aluminum
Motor system: Mivice M080 350W Rear Hub Motor, Mivice S200 Torque Sensor, Mivice C201 Controller, 36V 10Ah Lithium-ion battery with LG Cells
Drivetrain: Single-speed drivetrain with Gates carbon belt
Bottom bracket: Fully-concealed internal bottom bracket
Pedals: Tenways flat pedals
Chainring: Front chainring: 60t, rear cassette: 22t
Crankset: Gates CDX crankset
Brakes: TEKTRO hydraulic disc brakes
Brake levers: TEKTRO
Wheels: 700c aluminum rims - quick release style
Tires: CST puncture-proof 700c tires
Handlebar: Aluminum flat handlebar
Handlebar grips: textured rubber
Saddle: Tenways saddle
Accessories: Mudguards, kickstand, e-bike charger, Tenways app, integrated light, integrated bike computer, handlebar bell
Weight: 37 pounds (frame), 41 pounds (full bike)
Max sound: 70dB
Frame sizes: M-XL (60.5cm top tube - 63cm top tube)
Colors: Avocado Green, Midnight Black, Sky Blue, Pebble Grey
Thank you for reading 20 articles this month* Join now for unlimited access
Enjoy your first month for just £1 / $1 / €1
*Read 5 free articles per month without a subscription
Join now for unlimited access
Try first month for just £1 / $1 / €1