Pedro's ICM multi-tool review
Pedro's don't do nonsense equipment, so this multi-tool was well received by us because it has everything one might need for a ride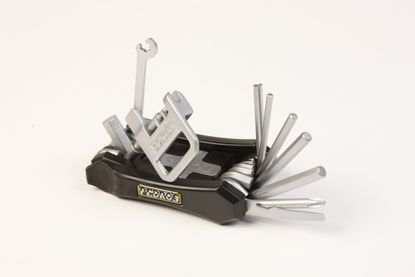 (Image credit: mike prior)
Why you can trust Cycling Weekly Our expert reviewers spend hours testing and comparing products and services so you can choose the best for you. Find out more about how we test.
This Pedro's ICM multi-tool is on the larger side in comparison to some slimline models available. The main reason for this is that it has nearly every tool you could want for general day-to-day riding and shed fettling.
As well as the standard range of allen key sizes, there's a torq head, flat and phillips screwdrivers, a chain tool and some spoke tensioners. Added in for a bonus treat, a couple of tough tyre levers that didn't break despite the tough tyre challenges we threw at it.
In the hand it does feel quite basic, the materials used and general finish are slightly below what we would prefer after spending £25. It's not the most luxurious of tools, but that isn't a top concern for most cyclists, we wouldn't have thought.
Polished tools don't stay very shiny for long if they're bouncing around in the back of a saddle bag anyway. So despite our initial preferences, we were very happy with what the £25 price tag actually buys you, and that's a great tool.
In use, where a multi-tool shows its worth, the Pedro's ICM was quick to offer up a selected tool, easy to operate and very comfortable in the hand. I do like a small, compact multi-tool, which this definitely isn't, but what I like more is a tool that has everything I might need, and is painless to use. That's what makes a winner, and the Pedro's ICM is certainly that.
Thank you for reading 10 articles this month* Join now for unlimited access
Enjoy your first month for just £1 / $1 / €1
*Read 5 free articles per month without a subscription
Join now for unlimited access
Try first month for just £1 / $1 / €1