Zefal AFA 8 Plus bottle cage tool holder review - a surefire way of never forgetting your multi-tool
The Zefal AFA 8 Plus is a good accessory to add to your gravel bike before your next adventure, just try and keep it behind a full bidon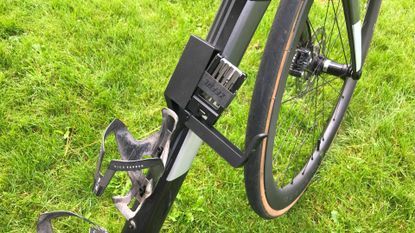 (Image credit: Jack Elton-Walters)
A well made tool that is a great solution to carrying a multi-tool that will ensure you'll always have one to hand. It would be a great addition to a gravel bike, especially with a metal frame, but I don't think I'll keep it attached to my carbon road bike.
Reasons to buy
+

A surefire way of ensuring you've always got a multi-tool with you

+

Negligible additional weight to your bike

+

Well made tool in sleek holder

+

Longer bolts included so it fits with a bottle cage, as intended
Reasons to avoid
-

Some movement when attached to the bike
You can trust Cycling Weekly. Our team of experts put in hard miles testing cycling tech and will always share honest, unbiased advice to help you choose. Find out more about how we test.
From minor adjustments to more major roadside repairs like relinking a snapped chain, the best bike multi-tools can be the difference between a completed ride and the defeat of a lift home. Small and lightweight, you'll rarely realize you're carrying one. Which can also be a problem.
It's easy to forget something so small and rarely needed that when you find your multi-tool isn't in your pocket or bike saddlebag as expected, annoyance will ensue.
Stored in a sleek carrier attached behind your bottle cage, on-bike accessories such as the Zefal AFA 8 Plus ensure that there's always a multi-tool on your bike.
Zefal Afa 8 Plus: construction
The tool holder handily attaches behind a bottle cage – I would suggest only on the down tube and not the seat tube, due to its width – and sits against the frame.
The back to the tool holder is a rubber pad that acts as a cushion between it and the bike's paintwork. This is an essential part of the product as there was some movement, more on that later.
The Zefal AFA 8 Plus comes with two longer bolts to cover the additional distance it causes between the bottle cage and the frame. Attachment is simple and the bolt holes in the product itself are long to allow for a range of positioning, meaning it can be used on a wide range of frames and with different bottle cages.
The multi-tool is loaded into the side of the holder, which clips shut to keep it secure. I once had a bottle cage from a big bike manufacturer that held a multi-tool below where the bidon sits, but the multi-tool couldn't be removed from the bottle cage while it was bolted to the bike because the bolt head got in the way. So you needed a multi-tool to remove the bolt, to gain access to your mult-itool. A self-defeating circuit of irritation.
But there's none of that nonsense here. The side-loading design means the tool can be accessed easily. A Zefal-branded rubber band sits over the tool to stop any of the bits dropping out of line and getting in the way when it's loaded, which weirdly (for my one at least) had to have the writing upside down to be the right way up for the holder and fit best.
The holder closes with an assured click so you know it'll stay closed when you're riding along.
The AFA 8 Plus comes with: 2, 2.5, 3, 4, 5, 6mm hex keys, a T25 Torx, a flathead screwdriver, an 8/9/10/11/12 speed compatible chain tool and the bonus of a bottle opener.
This should cover the tasks you might need to do at the road or trailside, then you can open a bottle of beer when you reach your destination.
Zefal Afa 8 Plus: the ride
When the bottle cage is empty, there is some movement at the long stem where the bolts are inserted, allowing the body of the holder - where the tool is stored - to move away and towards the bike's frame.
Much of this is countered by the aforementioned rubber pad, but it can still be heard and might eventually leave its mark on the paintwork. A full bottle did keep it flush to the bike, but a bottle is likely to be drained throughout a ride and so the movement can start up again.
To solve this, I would suggest that either the rubber pad needs to be thickened and/or the stem part of the holder needs strengthening (which might have a weight penalty).
Zefal Afa 8 Plus: Value and conclusion
The Zefal AFA 8 Plus behind-bottle cage multi-tool and holder is a well made accessory that will ensure you're never caught without a multi-tool again. The tool itself has the bits you'll need for most roadside adjustments and quick fixes.
Some movement in the holder means I'd be happier with attaching the AFA 8 Plus to a metal frame than carbon, but a gravel adventure bike is more of its target location than a carbon road bike anyway. At $63.99 / £43.99 it seems reasonable for its versatility and usefulness, the quality is there to justify what seems like a fair price.
Swipe to scroll horizontally
Zefal Afa 8 Plus

| | |
| --- | --- |
| Tools included | 2, 2.5, 3, 4, 5, 6mm hex keys, T25 Torx, flathead screwdriver, 8/9/10/11/12 speed compatible chain tool, bottle opener |
| Price | €44.95 / £43.99 |
| Weight | 173g |
| Material | Steel and aluminium tools, fibre reinforced polypropylene holder |
| Read more and buy | https://www.zefal.com/en/repair/639-afa-8-plus.html |
Thank you for reading 20 articles this month* Join now for unlimited access
Enjoy your first month for just £1 / $1 / €1
*Read 5 free articles per month without a subscription
Join now for unlimited access
Try first month for just £1 / $1 / €1