Eclipse Endurance inner tube review – 35g light and (so far) reliable
A very light inner tube that would complement your dream-build bike, if you're willing to pay for it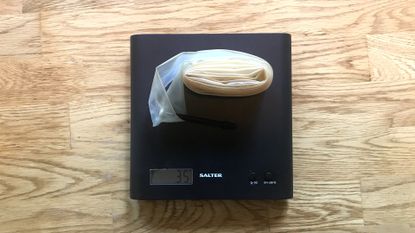 (Image credit: Jack Elton-Walters)
If you've got the money and you want to save a few more grams off the weight of your best bike, these tubes will do the job. They're hard-wearing and ride well.
Reasons to buy
+

Very light

+

Retain their shape well when inserted in a tire, so should mean less chance of pinching

+

Eclipse offers peel and stick patches if you get a puncture
Reasons to avoid
-

Some loss of pressure when bike is left for a while, more so than 'normal' tubes

-

Whatever the benefits, that's a fair bit of money for an inner tube
You can trust Cycling Weekly. Our team of experts put in hard miles testing cycling tech and will always share honest, unbiased advice to help you choose. Find out more about how we test.
It's difficult to subscribe too closely to weight saving on every element of a bike when you could reduce overall weight by losing more off yourself than any carbon seatpost or – in this case – mega-light bike inner tube could ever save on a bike-and-rider's combined weight. A heavier, regularly ridden bike will always make a better rider than a never touched dream build.
Even so, we as cyclists are suckers for the latest fad, and here are some very light inner tubes. They're so light, in fact, that they showed a lower weight on my scales than advertised by the brand: 35g vs 44g (but interestingly, 44g including the box). This way round rarely happens, most products I review are at least a little bit heavier than the manufacturer claims.
These aren't even the lightest available: that accolade goes to the Road Ultra 20/25mm, with 40mm alloy valves at 19.5g or 70mm alloy valves at 21g.
There are seven headline products across road, gravel, MTB and other (Brompton) and within those seven there are valve choices of brass or alloy. On review here are the Eclipse Endurance 700x28-35 inner tubes with 70mm alloy valves and removable cores.
Eclipse Endurance inner tube: Set up
Upon first taking the tubes out of their boxes, I was sceptical about them as they seemed delicate to the touch. As such, I was cautious when loading them into a tire and seating the tire around them.
I needn't have worried, however, as the tubes have proved to be hard-wearing and they inflated inside the tire without damage. They were slightly awkward to put in the tire at first as they needed more air than a normal tube to hold their shape and sit in the rim bed, then some of that pressure had to be released to push the last part of the tire on – but it was a minor change of technique and worked out fine.
Eclipse Endurance inner tube: The ride
Unless an inner tube has a massive bulge in it that makes it feel like you're riding square wheels or deflates easily, then it's going to be difficult to really draw out any observations for how it differs to others. The Hutchinson Challenger tires that I used with these tubes inflated the same and rode the same as they had done previously when carrying 'normal' Hutchinson-branded rubber inner tubes.
Which is to say they inflated as expected and rode well. I didn't have any punctures while using the tubes over the last few months, but I also hadn't had any punctures for the months before that, so much of the credit might go to the tires.
If you do get a puncture, Eclipse sells a peel-and-stick patch to reseal the tube.
After returning to my road bike after a couple of weeks of not touching it, the tires were slightly doughy having lost a bit of pressure since the last ride. This is not something I'd noticed over the same sort of duration with the previous pairing of Hutchinson rubber tubes and tires.
It was no big deal, any tube can lose pressure over time and I just pumped the tires up before setting off, but it was a noticeable if minor difference to what I had experienced from the inner tubes immediately preceding these ones.
When removing the tires and tubes from the Fulcrum Speed 42 wheels, as the wheels were due back, I noticed some discolouration on the tubes. At first I thought it was as a result of the tan colour of the tires but on closer inspection appears to be the part of the tube that would have been under the black part of the tyre, which comes into contact with the road.
This really doesn't matter as once they're back in use no one will be able to see what colour they are, unless the discolouring is a precursor for wear – but I don't think that's the case here.
Eclipse Endurance inner tube: Value and conclusions
The big thing when considering the value of these tubes, as always, is the actual retail price. The Eclipse Endurance 700x28-35 inner tubes with 70mm alloy valves and removable cores will set you back $28.82 / £26.00. You could save a quid by going for the 40mm brass valves.
I asked Mark Noble, Marketing Manager at distributor Upgrade, about this fairly eye-catching price:
"Some people might think '25 quid for an inner tube!' but once you've invested over two grand on a set of superlight carbon wheels for your best bike Eclipse tubes make total sense – why negate the lightweight advantage by using old-school standard rubber tubes?"
From that, I'm concluding that if you've got the money and the suitably expensive wheels to put the tubes in, you might find them to be very good value. If not, you can get a standard rubber tube from your local bike shop (use them or lose them) for about a fiver. You've probably gone tubeless anyway.
Swipe to scroll horizontally
Eclipse Endurance inner tube

| | |
| --- | --- |
| Price | £26 (as reviewed) but varies by type and valve |
| Weight | 35g (as measured) |
| Row 2 - Cell 0 | Row 2 - Cell 1 |
Thank you for reading 20 articles this month* Join now for unlimited access
Enjoy your first month for just £1 / $1 / €1
*Read 5 free articles per month without a subscription
Join now for unlimited access
Try first month for just £1 / $1 / €1