Panaracer Race A Evo 3 tyres review
The Panaracer Race A Evo 3 is intended to be a versatile road tyre for all weather conditions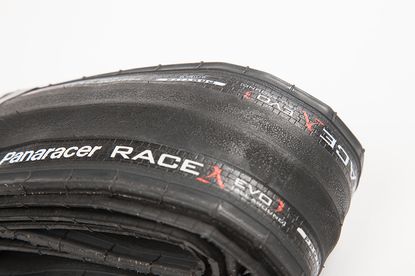 I've had a positive experience with the Panaracer Race A Evo 3 tyres and certainly recommend you give them a try if you are looking for something that can give more protection than a dedicated summer tyre, but that still retains a nice feel and good grip.
Reasons to buy
+

Rolls well for an all-weather tyre

+

Great grip in the corners

+

Good puncture protection
Developed and engineered in Japan, Panaracer has over 50 years of experience making high performance tyres. The Panaracer Race A Evo 3 is a tyre intended for all-weather use, with a good degree of puncture protection while still offering good rolling resistance, good grip and a supple feel.
An update on the previous Evo 2 version, the Race A sits in between the Race D, which has increased sidewall puncture protection and is slightly heavier, and the Race L. Should you want a lighter faster, more performance-orientated tyre, the Race L Evo 3 model is Panaracer's suggestion and weighs just 180g. All three models retail at £39.99.
Dedicated winter tyres often have increased puncture protection at the expense of higher rolling resistance and a harder compound that diminishes ride feel and reduces grip, especially in the wet. By contrast the Panaracer Race A Evo 3 rolls well and has great grip and in this respect is a similar tyre to Continental GP Four Season, but with a retail price that is £15 lower.
>>> Buyer's guide to Road Bike tyres
Also within the range is the Race A Evo 3 tubeless, which we recently tested to destruction after filling it with Orange Seal sealant. It is important to note that although the name is very similar, the Panaracer Race A Evo 3 we have here is not tubeless.
Video - Watch the Panaracer Race A Evo 3 Tubeless tested to destruction
I had no issue mounting these tyres on both Mavic and DT Swiss rims and when measured with calipers, the tyres came up at 25mm as advertised (at 90 psi).
I have been riding the Race A Evo 3 throughout February, covering roughly 1,000km, and have taken them through the clogged-up, filthy lanes of Cotswolds most weekends. At this time of year these lanes are a minefield of puncture hazards, yet the Panaracer Race A Evo 3 tyres have performed brilliantly and without sustaining flats or large cuts.
I have also ridden them in the Lake District in lanes littered with flints and potholes, yet suffered no punctures there either. Punctures can be a lottery and Sod's law dictates that if I sing the praises of a tyre then someone will buy it and have four punctures on their first ride. That said, these tyres offer greater protection than a dedicated summer tyre without doubt.
>>> What tyre pressure should you use?
When riding up steep gradients (as much as 25 per cent) I was really impressed with how well the tyres gripped. I encountered no rear wheel slip, even in the wet, and they also impressed me in the corners, especially on descents.
Thank you for reading 10 articles this month* Join now for unlimited access
Enjoy your first month for just £1 / $1 / €1
*Read 5 free articles per month without a subscription
Join now for unlimited access
Try first month for just £1 / $1 / €1
Oliver Bridgewood - no, Doctor Oliver Bridgewood - is a PhD Chemist who discovered a love of cycling. He enjoys racing time trials, hill climbs, road races and criteriums. During his time at Cycling Weekly, he worked predominantly within the tech team, also utilising his science background to produce insightful fitness articles, before moving to an entirely video-focused role heading up the Cycling Weekly YouTube channel, where his feature-length documentary 'Project 49' was his crowning glory.