Borg 50 C carbon clincher wheels review
Malcolm Borg hand-builds his wheels in Suffolk, not only adding the human touch but also creating a good-quality product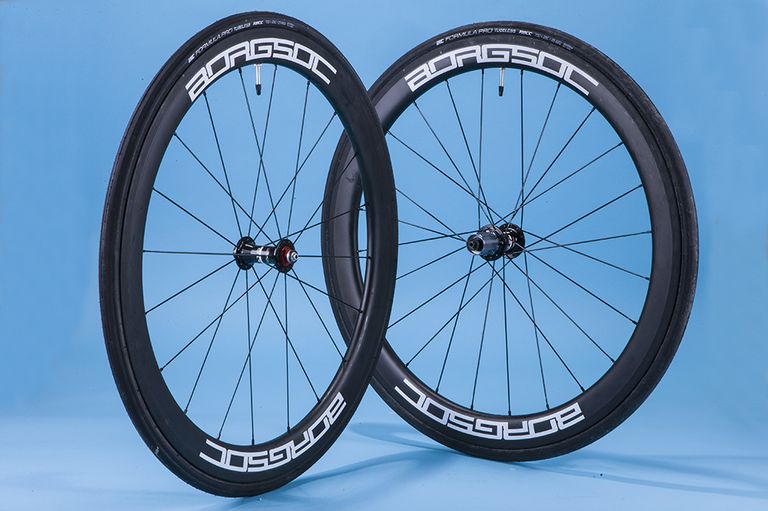 (Image credit: Cycling Studio)
Cycling Weekly Verdict
For £800 you get a very good set of carbon wheels from Borg, which will be an amazing upgrade over the Mavic Aksium or unbranded wheelsets that typically come with stock bikes.
Reasons to buy
+

Modern wide rim

+

Good braking surface

+

Price
Reasons to avoid
-

Little choppy in windy conditions
Malcolm Borg hand-builds his wheels in Suffolk – though obviously the rims come from the Far East – because he has firm beliefs about what makes a good wheel: one of these is that the spokes must last as long as the rim. So he warranties spoke failure against the life of the rims.
Borg feels that the wheels on offer to us by the market are not good enough, not only in terms of performance, but durability too.
The Borg 50 C wheels, the brand's deepest with a 50mm rim depth (and 26.2mm external width), are built on a pair of Miche Primato hubs and laced with market-leading Sapim CX-Ray aero spokes. You have the option to upgrade to a Carbon Ti hub, which'll save you 200g in weight over the Miche hubset but as expected will cost a bit more: £415 extra.
I rode the Borgs on the Cervélo S2 and they were a big upgrade over the wheels supplied with that bike, which were Shimano RS 010 clinchers. I did a race on them, commuted to work and threw them around on a few fast-paced club runs and the Borg 50 C wheels handled it all admirably.
Braking is decent when used with both the supplied carbon pads and SwissStop yellows. I even evaded a coming together (no one actually crashed) at a Hillingdon E/1/2 on a Tuesday night when a few guys ahead grabbed a fistful of brakes. You get a good amount of stopping power instantly and the high-Tg resin rim does a good job of trying to keep heat to a minimum. In damp conditions braking was as OK as can be expected of carbon rims.
Borg claims good crosswind properties, but I did experience some buffeting from the front wheel. The Cervélo S2 has sharp handling so that wouldn't have helped, but I've certainly tested more stable wheels in crosswind situations from Cero and Hunt.
The ride of the Borg 50 C wheels is good. They are assured in fast corners and I could feel that lateral stiffness around the only bend at Hillingdon that you need to think about. Getting out of the saddle and following the moves was easy enough too and didn't put the wheel into any difficulty whatsoever.
At a little over 1,600g a pair, the Borg 50 C carbon wheels aren't the lightest at this price point – the Hunt 50 Carbon Aero Wides are 100g lighter for example – but the ride quality and feel far outweighs this and they don't exactly feel that much heavier, though admittedly my riding hasn't taken me anywhere really hilly of late.
Borg has a very good guarantee on the wheels, too. Rim failure around the spokes will be covered by Borg, as well as any spoke breaks that buckle the wheel over 0.5mm. On top of that, Borg will fix crash damaged wheels at cost of parts without including labour. And just a side note, Borg say they haven't had any warranty issues up until this point, which good to hear!
All in all, a decent set of wheels from Borg.