Edco Roches wheels review
Edco Roches are designed to be a solid do it all wheel for everyday use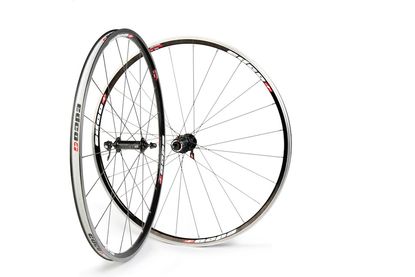 Solid wheels that are an ideal upgrade to most of the stock rims sold on bikes. The ride is a little harsh, but the freehub body and tubeless compatability offers excellent flexibility.
Reasons to buy
+

Robust hubs- 8 year warrantee

+

Freehub body

+

Tubeless

+

Wide internal rim width

+
With a retail price of £549.99, the Edco Roches sit firmly in the upgrade wheel bracket along side the Mavic Ksyrium Elites. These wheels are do it all hoops and if your bike cost less than £2000, wheels in this price range are likely to represent a significant upgrade.
The Edco Roches are certainly 'built to last' and stood up well to weeks of abuse on a mixture of roads. Even after ploughing into several large potholes on our excellent road network, the tubeless ready hoops shrugged off the worst of it without fault.
>>> Buyer's guide to road bike wheels (videos)
The hubs are Edco SuperGs, which have an oversized centre section and flanges designed for radial spoke lacing. Fitted with cartridge bearings, the hubs come with an impressive eight-year warranty, suggesting Edco has confidence in the durability of its product.
Worth noting is the clever MultiSys freehub body too, which is designed to accept both Shimano/SRAM and Campagnolo cassettes thanks to a clever design. This versatility gets a big thumbs up and means you don't have to worry about swapping freehub bodies.
>>> Seven essential things to look for when buying new wheels
The Edco Roches are supplied with Continental Grand Sport tyres, which are an ideal choice for this type of wheel. Price including tyres is £549.99, which is very competitive and at 1,655g it's in the right ballpark when it comes to weight, too. The Continental GrandSport tyres aren't tubeless though, so for the purposes of the tubeless-ready test I fitted the 25mm Schwalbe One Tubeless tyres.
Watch: Jargon busting: explaining the different parts of a wheel and what to look for
Although we found it relatively easy to get tyres on the rim, a fully tight seal was hard to achieve. However, it may be the case that Schwalbe and Edco's interface isn't as compatible as other rim tyre combinations. After considerable playing around, I did achieve a sealed system, but with some further testing I suspect other tyres may be better suited to these rims.
From the off I felt that the 22mm deep Edcos rolled nicely, punched out of corners effectively and performed admirably across different terrains. When running the Edco Roches tubeless you feel noticeably quicker too. The lower rolling resistance from a tubeless system feels great at speeds above 40kph and the wide internal rim width allows 25mm tyres to sit nicely, with no mushrooming.
>>> Can a tubeless tyre survive a nail? (Video)
The downside? They are very harsh — even running them as low as 70psi on a fairly heavy steel-framed bike I could still feel pretty much every dimple in the road.
For more details visit the Edco website.
Thank you for reading 10 articles this month* Join now for unlimited access
Enjoy your first month for just £1 / $1 / €1
*Read 5 free articles per month without a subscription
Join now for unlimited access
Try first month for just £1 / $1 / €1
Oliver Bridgewood - no, Doctor Oliver Bridgewood - is a PhD Chemist who discovered a love of cycling. He enjoys racing time trials, hill climbs, road races and criteriums. During his time at Cycling Weekly, he worked predominantly within the tech team, also utilising his science background to produce insightful fitness articles, before moving to an entirely video-focused role heading up the Cycling Weekly YouTube channel, where his feature-length documentary 'Project 49' was his crowning glory.