Miche Revox RC 38 carbon wheels review
The Miche Revox RC 38 carbon wheels are an entry level affordable full carbon wheelset at just under £1000 which Miche indicate are suitable for both racing and endurance riding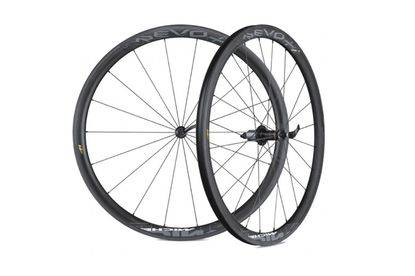 The Miche Revox RC 38 wheels are a great punchy wheelset with a great balanced feel, along with a nice stealthy look and a decent build quality, but the price tag and weight of the wheels leave them overshadowed by other brands in the same market.
Reasons to buy
+

A great punchy ride feel

+

Good balanced stealthy looks

+

Great build quality
Reasons to avoid
-

Expensive for spec

-

Heavier than other wheels for this price

-

Flex laterally too much when out of the saddled
You can trust Cycling Weekly. Our team of experts put in hard miles testing cycling tech and will always share honest, unbiased advice to help you choose. Find out more about how we test.
The Miche Revox RC 38 carbon wheels are an entry level affordable full carbon wheelset at just under £1000 which Miche indicate are suitable for both racing and endurance riding.
At a first glance the wheels certainly look like an upgrade, with their stealthy unidirectional carbon fibre with UTG resin blending almost seamlessly into the braking surface, along with the subtle dark grey decals complimenting the overall look of the wheels.
The rims are keeping up to date in places with a wider 17mm inner width, better suited to the modern preferred 25c tyres. Though disappointingly there isn't anything which indicates they'd be suitable for the ever increasing popularity of running a tubeless set up.
In 2018 we are spoilt for choice with wheelsets more than ever, particularly with carbon wheels around the £1000 mark, with a variety of large and independent manufacturers offering great wheelsets. In comparison to others, spec wise the Miche Revox RC 38's are perhaps a bit underwhelming, particularly with a weight of 1656g for a 38mm deep rim, as listed by Miche. Take a look at Cero RC45 Evo's for example over 200g lighter for a similar price.
Though that being said, when it came to riding the Miche Revox RC 38 wheels, I was pleasantly surprised at how punchy they felt both on the flats and on the climbs, the wheels really added a kick to my pedal stroke.
On the contrary to how they feel, the RCs have a lot of lateral flex in the rim, you can even pull the rim to each side of the brake pads with your hands, something not uncommon with carbon wheels and in this case not surprising with such aesthetically neat small hub flanges and straight pull spokes.
I didn't see or notice any rim to brake pad rub whilst riding at a pace out of the saddle up the climbs, but it's more than likely brake rub would be the case when the wheels are really under stress in a sprint and accelerating hard out of corners.
The braking control on the rims was not exceptional or unsatisfactory, a skid could be pulled and a stoppie when intended with average modulation.

I did enjoy riding the Miche Revox RC 38 wheels, but I feel in such a crowded market place they start to lose their way a little, especially when comparing performance and price. I really liked how they look, the understated decals with the unidirectional carbon fibre looked great on my bike. The wheels, in my opinion, ride better than how they spec, but they would not be my first choice for racing, particularly in a crit or circuit due to their flex and weight.
I would happily use the wheels whilst out on long rides though, as they're smooth and well built, but I feel I could gain the same qualities in a much more affordable alloy rim for example.

I'm impressed with how the Miche Revox RC 38 wheels felt whilst riding them out in the lanes and on general rides, but as £1000 entry level offering of the Revox RCs, I would overlook them for a pair of Spin Industry or Hunt carbon wheels to name a few, which are lighter and a bit cheaper too (if you search around).
Thank you for reading 20 articles this month* Join now for unlimited access
Enjoy your first month for just £1 / $1 / €1
*Read 5 free articles per month without a subscription
Join now for unlimited access
Try first month for just £1 / $1 / €1