Zipp 454 NSW Carbon Clincher wheels review
Taking design cues from nature, the Zipp 454 NSW Carbon Clincher wheel's engineers claim they have the brand's fastest rim shape to date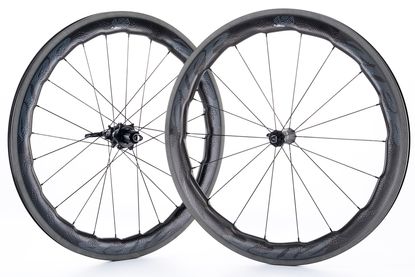 The Zipp 454 NSW Carbon Clincher wheels are what bike riding dreams are made of. A do-it-all pair of wheels that are not just for the rouleur, delivering on everything the tarmac and elements can throw at them, condensing your whole wheel wish list into a single set.
Reasons to buy
+

Excellent all-rounders

+

Fast rolling

+

Stable

+

Strong

+

Braking ability
Reasons to avoid
-

Braking noise under heat

-

Price
You can trust Cycling Weekly. Our team of experts put in hard miles testing cycling tech and will always share honest, unbiased advice to help you choose. Find out more about how we test.
When the Zipp 454 NSW Carbon Clincher wheels were launched at the tail end of 2016, it was with much eyebrow raising and rubbing of chins: at the forefront of the marketing spiel was that humpback whales inspired their design.
>>> Do you need deep section wheels?
Construction
As a self-confessed geek, I admit now to have spent far too long in the Zipp wheel catalogue archive while writing this, which made me realise two things. First, I am a lot older than I realise: like who didn't covet a pair of the original Zipp Z series wheels? Which I now realise was 20 years ago. Second, design and engineering never stands still. Over the 30 years that Zipp has been making wheels, there's been constant development in its, and the wider world's, understanding of how rim shapes impact on the wheel aerodynamics. From flat and V-shaped rims to the polar opposite position Zipp finds itself in today with the bulging, undulating profile of the Zipp 454 NSW Carbon Clincher wheels.
http://www.youtube.com/watch?v=VHsLMCTkFso
While you can read the full design concept at our launch piece, Zipp's study of nature led it to natural solutions to solve the age-old problem of going fast while remaining as stable as possible. The outcome is the striking 'sawtooth' rim profile.
Varying between 53 and 58mm deep, the sawtooth design is made up of two elements: the obvious rim profile, and what Zipp call its new HexFin, the ABLC (Aerodynamic Boundary Layer Control) dimples. Effectively the golfball look has been replaced by hexagons that work in partnership with the fin-shaped hyperfoil nodes that run around the inner diameter of the rim. Zipp claims these all work together to deliver greater stability and greater control, saving you energy.
It's not just rim profiles that Zipp has developed over the years – its carbon layup systems have altered too. Zipp is known for its carbon composite wheel technology, as one of the founders with the original CG700R disc in 1988 – although it took over a decade to release full-carbon clincher wheels, with the 1080, 808, 404 and 303 all making their appearances in 2010.
Over the years it's flip-flopped between woven and unidirectional carbon, with the Zipp 454 NSW Carbon Clincher wheels using a combination of the two, both of which bring claimed benefits to different elements of the wheels.
Moving away from the rim, the Zipp 454 NSW Carbon Clincher wheels use Zipp's latest NSW Cognition hubset with Axial Clutch which, along with other benefits, has been designed by Zipp to reduce drag by disengaging the ratchet mechanism while coasting, allowing you to roll faster for longer.
The ride
As background, I'm a relatively lightweight rider. I'm a way off my fighting weight, but still at under 10st I struggle to hold my line on blustery days. I'm blown around in anything above a gentle breeze, with Mavic Ksyriums being one of the worst offenders for me with their bladed spokes. It's an issue that has had a big influence on my wheel-buying decisions throughout my bike-riding lifetime, with deep sections generally being used solely for crit racing or time trialling for that very reason.
Out of the blocks these wheels felt fast. I've been toiling round the hills of the Peak District and it's been a good test of all claimed attributes: there are straight lines, crosswinds, changes of direction and climbing. Zipp says the 454 NSW Carbon Clincher wheels deliver in all of these areas and the stats don't lie. On one ride alone I chalked up 19 PRs on Strava. I honestly wasn't even trying, it was a bitter, blustery day out on the bike and I felt that most of the time I was riding in to a block headwind, or at least a bike-tugging swirl.
The swiftness of the wheel pick-up when pedalling and rolling speed when freewheeling was exceptional. Yes, tyre choice will have an impact, but shod in a pair of 25/28c Specialized Roubaix Pro tyres proves that Zipp really has developed something special with the Cognition hubset and rim profile. It's not exactly hidden-motor levels of power but even on the climbs, which up here can take the best part of 20 minutes to climb, max out at 25 per cent, and make you wish you'd left many a deep-section wheel in the garage, the Zipp 454 NSW Carbon Clincher wheels were an asset.
They're not even crazy lightweight, tipping the scales at 1,578g for the pair, but they're still only a handful of grams heavier than the Mavic Cosmic Pro Carbon SL UST (1,490g) with up to 18mm more rim depth, and lighter than the Zipp 404 Firestrike wheelset (1,750g), so it's not to be sniffed at.
But the USP of the Zipp 454 NSW Carbon Clincher wheels is that varying rim depth, and its seeming ability to shake off the wind. I'm no owner of a bike-based meteorological wind data recorder, but I can tell you that when it gets blowy in the Peaks, you know about it.
The geography of the place means that you can have mile after mile of block headwind on the open moors, which can then turn into swirly gales that attack you from all angles. While you're not exactly able to sit up and drink a cup of tea in even the most aggressive angles of yaw, you're not totally at the mercy of stone walls, farm gates and gaps in hedges, if you catch my drift (no pun intended).
Don't get me wrong, I was still pretty hot at covering the brakes, especially when coming down the infamous Cat and Fiddle on the way into Buxton, where the wind swirling between the hills can easily send you across the road, but it was more of a continuous predicable buffering than the big build-up of resistance and sudden dump of wind that deep-section wheels are known for. I certainly wasn't worried about doing a Geraint Thomas anytime soon.
Talking of descending, those 20-minute climbs I mentioned earlier are also a good braking surface test, especially when you've lost radio communication with your fingers due to the cold. My binary approach to slowing the bike down had no real ill effects on the 454 NSW Carbon Clincher, with the Zipp Showstopper abrasive and silicon carbide-impregnated brake track doing a good job of stopping me. They weren't physically harder to slow or stop than a regular aluminium rim wheel, and I was still pretty confident that they would stop in the wet.
The majority of the time, the wheels just fed back the reassuring shushing that most carbon rims make under braking, but given a bit of heat or a mountain descent they will squeal like a wailing banshee, to which much of the town of Whaley Bridge (at the bottom of the longest downhill) will attest, and that's with the Zipp-supplied Platinum Pro Evo brake pad.
Value
Spending £3.5k on anything is by no means a light undertaking, so purchasing a set of Zipp 454 NSW Carbon Clincher wheels is going to require a strong argument to get them through the home accounts. Thing is, quality like this doesn't come cheap and you really do get what you pay for. There are cheaper options out there, but having ridden these I can't help but think I've been compromising: the 454 NSWs are the pinnacle of deep-section wheels, capable of doing everything well – even a spot of off roading! If I had the money, I'd buy them in a heartbeat. If I didn't, I'd ask if I could purchase them over a cheque spread – but now I'm showing my age again.
Thank you for reading 20 articles this month* Join now for unlimited access
Enjoy your first month for just £1 / $1 / €1
*Read 5 free articles per month without a subscription
Join now for unlimited access
Try first month for just £1 / $1 / €1