The Maratona dles Dolomites — an idiot's guide
CW's Stephen Shrubsall takes on one of the world's toughest gran fondos... but may have bitten off more than he bargained for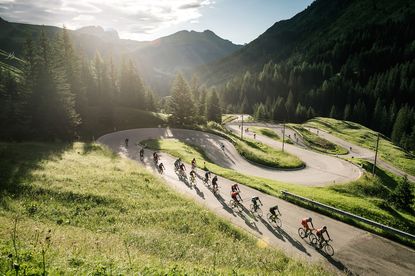 (Image credit: Molography)
In early June this year I was sitting at my computer quietly going about my own business, when I was fortuitous enough (I think… I'm still a little confused actually) to receive an email inviting me along to ride the Maratona dles Dolomites.
Clicking the provided link, a collage of amazing visuals now festooned my monitor; yes, of course I'd heard of the Dolomites before and had admired them from afar courtesy of fragmented Giro d'Italia coverage — but this was the first time I'd really looked at the region.
>>> Can you blag your way around La Marmotte?
It's amazing how selective one's senses can be; whilst once this was just another mountain range, it now quickly morphed into, quite possibly, the most delightful place on the face of the planet - perhaps even more so than the Wetherspoons in Ilfracombe, and that takes some serious doing.
Yes. A thousand times, yes. My reply to the mail was not an ambiguous one, and before long tickets had been booked, hotel rooms had been reserved and a place on the long 138km route of this, one of Europe's, nay, the world's foremost Gran Fondos, had been secured.
Of course, completing the longest course was by no means an obligatory part of the trip; you even had the option, "...and please let us know which route you'd like to ride" came the email sign off.
Three distance options were available, starting from the short Sella Ronda at 55km with a not insignificant 1,780m of ascent; followed by the Medio, specced at 106km with a hefty 3,130m of climbing; and finally the longest, simply known as The Maratona — at 138km in length with a ridiculous 4,230m of climbing woven perversely into the parcours, this was far too beastly to be awarded a playful sobriquet.
However, I did the mathematics, and quickly concluded that the long Maratona route would be a walk in the park. 138km? That's barely 80 miles.
I did that for fun last Saturday. Although it was in Hampshire. And was punctuated with about 15 Cornish Pasty and caffè latte stops. And had it been any flatter I probably wouldn't have had to use my pedals. But let's not get bogged down in the details here.
Even upon a mandatory trip to my GP ("without a medical certificate you will not be allowed to ride") who had the unenviable task of deciding whether or not I would retain the status of being alive after the event, my confidence could and would not be curtailed, even if she did do a disconcerting amount of umming and ahhing during the consultation.
I'd do one training ride — as well as continuing my daily commute - and be done with it. I customised this preparatory outing in order to best replicate the Maratona course in the English Home Counties; Box Hill in Surrey, as well as being a slope of sorts, also contains at least two real life hairpin bends, and tagging on a traverse of Leith Hill as well as labouring up the spitefully precipitous Barhatch Lane, I surmised that my legs had been sufficiently primed, and hey, I might even get a podium place here; I mean, surely no one could be as fit as me.
The day of the trip dawned bright and balmy in the UK so I jammed an assortment of sunny cycling attire into a sports holdall and made haste to Stanstead Airport where I acquainted myself with the Italian alcoholic beverage industry, whetting my whistle with a foursome of pre-flight Peronis and half a Moretti for luck.
Alighting at Treviso airport, a few clicks up the road from Venice, I basked in the north Italian heat for a few all-too-brief moments before we (there were other journalists present) were bundled in a car and driven in the direction of the mountains.
Popping ears soon became flavour of the day as we rose and rose, and, before long, found ourselves ensconced intermittently in thick cloud many hundred of metres above sea level.
Watch: How to ride long climbs
The views, as expected, were magical. The jagged, snow-capped peaks, so emblematic of the Dolomites, now enveloped us, and we drove — a little motorised spec, negotiating a humble path through this truly incredible terrain.
Arriving at our hotel my first sensation upon stepping from the vehicle was how absolutely and totally freezing it was. There I was in shorts and a t-shirt while others clumped around the place in skiing clobber. I was an idiot. A cold, semi-drunk idiot.
Four AM the following morning and the alarm goes off.
I open the balcony door and quickly shut it. It is bitter out there.
Rifling through my sports holdall, the warmest item of attire I manage to unearth is a gilet. I have no arm-warmers, no gloves, no skull-cap, no brain? I'm an idiot.
A cold, semi-hungover idiot. Convening in the breakfast hall with my acquaintances and a heavy smattering of other riders, we exchange stories of restless slumbers and thermostat tweaking before riding down to the start line from the hotel, which is based halfway up — or rather halfway down — one of the climbs we will be descending, the Passo Gardena.
The start line is bristling with riders — 9,000 of them to put an exact figure on it.
And although smiling for selfies and group photos is taking place en masse, an earnest aura radiates amid the chill of this early July morning.
These people know what's ahead. For many, this will be their first time riding the Maratona, for others, an opportunity to better their time from previous years.
We are a diverse peloton of many different ages and many different nationalities - but, yes, we have one thing in common; a day of prolonged pain and suffering awaits us all.
But some of us would be suffering less than others. Some of us had Box Hill in our legs.
I don't know if you've ever looked at the profile of the Maratona dles Dolomites course before, but to find any flat in it would require an extremely powerful microscope. It is literally all ups and downs.
So when pulling out of the starting pen to be immediately greeted by the slopes of the Passo Campolongo, the route's 'easiest' climb, the grinding, it appeared, was to commence from the outset.
Other than the fleeting and, quite frankly, terrifying descents, this was more or less constant and unrelenting exertion.
I thought back to my trip to the GP and her incessant clucks of concern as I toiled up the Passo Pordoi. A climb regularly used in the Giro d'Italia, the Pordoi, although boasting views of ethereal proportions, managed to sap a huge amount of happy from my heart, and by the time I'd reached the summit of this 9.2km beast of a climb, I finally mused that I may, just may, have come here under-prepared. I was an idiot. A cold, tired, desperately under-trained idiot.
I weighed up my options, teeth chatting beyond control as I descended the Pordoi. Would I still be able to manage the full 138km course? Yes, but I would probably meet God en route.
How about just completing the 55km Sella Ronda? Hmm, seems a bit of a cop out to come all this way and ride 30 miles — albeit a very, very difficult and iconic 30 miles.
What about the Medio then? At this juncture, that probably sounds like the best course of action. I congratulated myself on still being able to muster lucid thought, and continued up an over the Passo Sella, (5.5km, 7.9%) followed by the Passo Gardena, (5.8km, 4.3%), then through the starting/finishing village of Corvara, and up and over the over the Passo Campolongo (5.8km, 6.1%) again.
Approaching the point where one was bound to choose between the Medio and Maratona route distances, I decided to have a stern word with myself.
This is a once in a lifetime experience, I told myself. This is the kind of ride that really separates the men from the boys; this is one for the grandchildren, the time you took the on Italian Dolomites and ground, ground, ground them in submission. You must bring this ride to the conclusion it deserves; riding the Medio route would serve it no justice at all…
Yet, it appeared that, while bearing left and therefore eschewing the slopes of the legendary Passo Giau (9.9km, 9.3%), I decided to ignore my own advice and subconsciously made the decision to complete the Medio route.
And toiling up the tarmac of the Passo Falzarego (11.8km, 6.7%), just about turning the lowest gear throughout the entire 12kms, wincing with pain as I rode, I'm pretty certain that this was the correct choice.
The mountains are a wonderful place to turn a wheel. But events like this require respect, and I came home with an enormous amount for the Italian Dolomites, as well as the beginnings of a robust sniffle and a shattered pair of thighs.
I was an idiot. But a slightly wiser one than I had been a few days ago.
Cycling, eh. It's just one big learning curve.
But on the plus side…
We were fortunate enough to eat a meal at the Boe Alpine Lounge which is mainly accessible by cable car (and a rough steep gravel track) and affords diners incredible far-reaching views of the Dolomites.
Post-Maratona dinner was partaken of at Ciasa Salares, a michelin-starred restaurant deep in the heart of the Dolomites.
The chef prepared an exquisite six course meal which was partaken of in the wine cellar. Perhaps the restaurant's piece de resistance though was a chocolate room which Willy Wonka himself would've been proud of. We are literally talking cascading chocolate fountains here!
Thank you for reading 20 articles this month* Join now for unlimited access
Enjoy your first month for just £1 / $1 / €1
*Read 5 free articles per month without a subscription
Join now for unlimited access
Try first month for just £1 / $1 / €1