Can you blag your way around La Marmotte?
The challenge of lining up at the start of a foreign sportive or Gran Fondo such as the La Marmotte or Maratona dles Dolomites are extremely popular with amateur riders. But is it possible to blag your way around one of these monumental rides whilst severely lacking in training?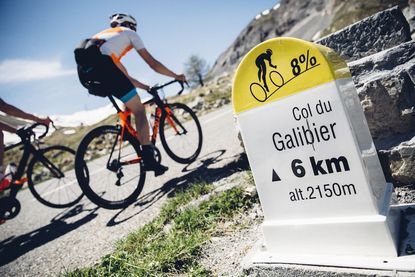 Despite knowing full well what the challenge was that lay ahead of me was, I naively signed up for La Marmotte fully aware that I wouldn't have a full winter and spring of cycling training in my legs.
Firstly this wasn't exactly the traditional way I would build up to a sporting challenge and not a case of me spending January to June sitting on the sofa counting down the days, but my lack of on-bike training was mainly down to the fact that I was in marathon training mode until April.
>>> Which is best – cycling or running?
This did help ensure that my winter weight didn't spiral out of control during the early months of 2016, it did only leave me 11 weeks to muster up some sort of training plan to ride 174km over some of France's most iconic climbs. In other words – not enough time!
Having ridden and completed a few 100-mile sportives on British soil and treated myself to a few cycling holidays in the Alps in previous years, I wasn't completely unaccustomed to riding long distances or climbing mammoth cols on overseas territory.
>>>How to prepare for an overseas cycling event
However, the thought of a long day in the saddle cycling over three colossal climbs (effectively four if you split the Telegraphe - Galibier double whammy in two) back to back to back was a little intimidating to say the least.
Especially when training consisted of tackling the somewhat smaller hills of the South Downs that might as well be considered pan flat in comparison to the massive cols that lie in wait.
>>>How to ride faster up short, steep hills
So with under 1,000km logged for the year of 2016 and with the majority of these clocked in those final 11 weeks, culminating with a longest ride of 135km, I headed to La Marmotte a little anxious of what race day had in store for me.
What was the worst that could happen?
The week of the Marmotte
My first piece of advice from my Marmotte weekend comes having not even left the UK. If you can possibly avoid it, don't get the train to the airport with a bike box.
This is especially important if your journey involves multiple changes onto the London Underground at Victoria station where a lift down to the platform is nowhere to be seen.
Giving yourself a metaphorical hernia before stepping on to the plane is never ideal.
>>> Should you hire a bike or take your own when you go abroad?
Once I had landed in Geneva, reclaimed my bike box, picked up the hire car and made the three-hour drive to Alpe d'Huez I was delighted to see dinner had already been made by my VIP Ski chalet host.
Booking with a travel company or host really does take the hassle out of important things such as food preparation, so you can just focus on your ride and relax.
In terms of La Marmotte it is likely that you will be looking for accommodation in Alpe d'Huez or Bourg d'Oisans, VIP Ski have a selection of chalets in Alpe d'Huez just beyond on the Tour de France finish line at the top of the resort.
>>>What to pack for every sportive
Registration the following day was busy but pretty hassle free. A number of foreign sportives require you to get a doctors note signed beforehand; my doctor was a little confused in what he actually had to test me for, but being a fit and healthy non-smoking 72kg 25-year old he didn't have too many qualms signing it.
From looking around online it seems that this can be a bit of an issue for some riders, so make sure you don't leave this until the last minute before you depart.
I decided to loosen my legs out with a quick spin up to the Col de Sarenne. Famously known for being the escape road off Alpe d'Huez during its double ascent in the 2013 Tour de France.
Despite having a somewhat bumpy road surface, it's a nice little there-and-back hour ride and comes with the bonus of a stunning view at the summit.
Top tips for first timers
Make sure your nutrition strategy is spot on. This really helped me on the day, knowing exactly how my body would react to certain foods and products. Staving off bonking due to a lack of energy was crucial knowing that my body was almost guaranteed to suffer.
Adapt your bike for the conditions. Make sure you put a compact chainset on your bike, it isn't macho riding a standard, especially when your legs turn to jelly and you find yourself unable to maintain 40rpm.
Make sure you are clued up when it comes to mechanicals. Other than fixing punctures my knowledge was very limited and I would have been in a lot of trouble had my chain had snapped at the foot of the Glandon. This was the fate that occurred to one of the guys staying in my chalet, whereas he had the know how to get going again quite quickly, I would have been waiting a while for roadside assistance.
Lastly, make sure you train. It may be possible to blag it, but I can only imagine it being more enjoyable, less painful and more satisfying if I was a little more prepared.
Race day
Setting a 4am alarm was not only unbelievably unpleasant, but ramped my nerves up even more as I tried to shovel down some porridge in spite of the ungodly hour.
Descending from the top of Alpe d'Huez down to Bourg d'Oisans for the start, I managed to avoid any mechanicals unlike a number of unfortunate riders with overturned bikes on every hairpin.
Upon reaching the holding pens I soon realised I was starting with the first and fastest riders. The perfect location for someone just looking to survive the day...
>>>Five pre-ride breakfasts for cyclists
After standing around for another 20 minutes, with undoubtedly the hairiest legs within a kilometre radius, we set off at lightning speed along the valley floor.
I had set a pre-ride objective of finishing without making a fool out of myself and missing the time cut that came into force at the bottom of Alpe d'Huez at 6:30pm.
So I decided to fight the urge to latch on to the faster trains and gently eased my way to base of the Glandon.
Apparently this wasn't as gentle as I thought as I still averaged over 40km/h without so much of an aggressive pedal stroke for the first 20km.
Glandon
The previous time I rode the Glandon was in far different conditions, on almost derelict roads in early May with only a handful of other cyclists but in unseasonal warm temperatures.
Thankfully the weather gods had granted us a cool morning as the sun began to rise, with the unrelenting mass flow of the fast pen riders. I managed to lock in to a manageable pace and rhythm up the climb and was passing just as many riders as were passing me.
>>> How to deal with a setback in your cycling
This put me slightly on edge as I was meant to be taking it easy at this point, but I felt riding any slower would probably be detrimental as it wasn't as though my training consisted of many long and slow miles which I could fall back on later in the day.
Plodding on regardless, the inevitable sunrise and increase in temperature came just as I reached the top of the Glandon, the first real milestone of La Marmotte.
In spite of the neutralised descent down the Glandon, some nutters still decide to push themselves as hard as they can down into the Maurienne valley.
One particular gentleman clad head to toe in pink kit with an accompanying bike was one of these daredevils bombing past me, before finding his way into a ditch after a sweeping bend moments later.
Telegraphe
The valley road that steadily drags its way up to the base of the Telegraphe really shows who is attempting to smash out a blistering time and those of who just have the finish line as the ultimate target.
I was one of the latter, latching on to groups as and when, but being burnt off the back quite quickly – this was probably due to my false placing in the fast pen at the start combined with a half decent ascent of the Glandon.
>>> Are you addicted to cycling?
This wasn't good for my mental state either, as it constantly felt I was going backwards over the hour long ride alongside the A43 valley road, continually being passed by 20 man team time trials.
Once on the Col du Telegraphe itself, the sun started to burn through the morning cloud, but nowhere near the extremes that summer in the South of France can bring.
Where we had been spoilt with cooling cloud all morning, it felt like a heat wave had been sprung upon us in an instant.
>>> How they used to train: Eddy Merckx's pre-1969 Tour de France week
Halfway up the Telegraph was the moment that I started to crack physically, despite maintaining a respectable cadence and staying on the wheels of other riders.
It was starting to dawn on me how truly underprepared I was and how the constant switch backs and change of directions had completely thrown off my sense of direction to my whereabouts on the climb.
The sight of the Valloire sign was grateful respite to the constant churning of the pedals. However the word Galibier immediately underneath made me well aware of what was to come.
Galibier
The short descent into the town of Valloire from the top of the Telegraphe isn't exactly enjoyable. Yes it's nice to raise your speed above 15km/h for the first time in a while, but you know you will have to make up those descending metres and more over the next couple of hours as you grind your way up the Galibier.
Getting back on the bike after filling both my stomach and pockets at the feed station about a kilometre outside of Valloire at the start of the climb, is where my body really begun to break down, the lack of training was starting to shine through with full gusto.
>>> Is cycling the toughest sport
Despite riding 'just' 100km over five and half hours, my legs really don't want to play ball. Perhaps it was also the mental challenge as well, climbing up to 2,635m having struggled to the top of the Telegraphe, wasn't exactly the ideal remedy for my obviously fatiguing muscles.
I was about as far away from an Alberto Contador all out attack as possible, constantly finding myself stopping to admire the scenery… (and try to shake off the aches, pains and cramping which were all starting to set in).
I reached the infamous turn where numerous colleagues, friends and online sources had told me an inevitable head wind greets you with full force.
>>> Lose weight through cycling: Lighter and faster in four weeks
I wish I could say this was the reason for my pace slowing even further, but in fact for some reason today we were treated to an almost unrecognisable change in wind resistance.
The only thing slowing me on my eight-kilometre drag to the top was my dwindling core strength and exhausted legs, making each pedal revolution a challenge in itself.
Constantly seeing the steady stream of riders above me snaking their way further up the climb was gut-wrenching.
Hoping the road was going to ease off a touch and that all the road maps, guides and online reviews have it wrong does not to come to fruition, as I start to find myself stopping even more regularly every few kilometres trying to compose myself for one last effort to get to the top, before momentarily submitting once again further up the road.
There was an unexpected and slight reprieve for my body, tinged with a bit of disappointment as the snake of riders disappear before the summit.
The night before, a landslide had blocked the road to the top of the Galibier, forcing us to ride through the tunnel and cutting the final climb about 800m short, if you have ridden/walked all this way you want to make it to the top.
However it was also at this point the kind weather we had experienced all day reared its ugly head.
>>>How to dress for wet weather cycling
Tearing off two pieces of cardboard from a box containing food at the summit, I stuffed them inside my rain jacket to help reduce the wind chill factor on the descent as well as the rain, which was now thundering down.
It was more than likely that far better trained riders were looking down their noses at me when ascending the Galibier, but when it came to the descent these few crucial additions made it somewhat more bearable as I hesitantly overtook a number of riders down the descent, some of whom were dressed just in waterproof gilets and no jerseys (!).
It felt like I was back riding in depths of winter on home soil, rather than the middle of summer in the Alps.
Alpe d'Huez
Back where it all begun about nine hours before, the relief of knowing that I 'only' had 14km to go was surprisingly refreshing.
Even though these kilometres were all uphill and that the pasta box I was scoffing down was mainly carbohydrates rather than performance enhancing drugs.
>>> Alpe d'Huez: Classic cycling climbs
Having had ridden Alpe d'Huez on numerous occasions before, it didn't fill me with as much dread psychologically as perhaps the Telegraphe or Galibier.
My mood was also lifted once I rode through the time cut off point with almost two hours to spare sending a shot of relief that the finish line would come no matter what.
This may well have turned out to be a negative impact on my riding as I no longer had a target time to aim for except for the finish line itself, elongating the challenge ahead.
As anyone who has ridden the Alpe will know, the first few hairpins are the worst. Climbing to La Garde was even more treacherous than normal as my core collapsed over the handlebars in an attempt to maintain my ever slowing cadence.
>>>Improve your core with these cycling specific sequences
Counting down the 21 bends was also a much slower protocol than on any of my previous attempts. I swear numbers were being added to each corner rather than taken away.
I rolled across the finish line making an extremely half hearted fist pump, knowing I have by no means done myself justice but just thankful to have finished given the circumstances.
Entry for the 2017 edition of La Marmotte opens on November 7, if you want to double up with another of Grand Trophee's sportives, or entry for just La Marmotte opens a week later on November 14.
For more information and entry go to www.marmotte.sportcommunication.info
Reflection
So is it actually possible to blag your way around La Marmotte? As I've shown yes you can to a degree, if you just want to finish and nothing else and have some sort of moderate fitness levels before.
As mentioned throughout it is perhaps not the most enjoyable way to ride one of these events and I was certainly helped along the way by my low weight and decent fitness levels that had been achieved from other types of training throughout the year.
>>> 16 ways to stay motivated through autumn and winter
But if I was to do it again, I would make sure I prepared properly with a structured training programme based around the event.
I'm sure there were other people in a similar situation to myself who didn't make it round or laboured their way to the finish line just like me.
The following day, despite aching all over it was nice to stay in the Alps and appreciate the beauty and the cycling pleasures that were perhaps taken for granted the day before.
Staying on a few extra nights around the valley at Peak Adventures Chalet Saskia in Vaujany. Which itself is an ideal alternative accommodation spot if you are struggling for accommodation for La Marmotte in Alpe d'Huez or Bourg d'Oisans.
>>> What's the next big thing in training?
The Alps doesn't exactly need to be sold as a cycling destination, with its iconic climbs, ideal cycling terrain and ease to get to from the UK.
However it's the hidden and undiscovered roads that are perhaps the most enjoyable aspect of the Alps.
Old goat tracks that don't get the recognition of professional races give just as stunning views and experiences as the epic mountains.
Thank you for reading 20 articles this month* Join now for unlimited access
Enjoy your first month for just £1 / $1 / €1
*Read 5 free articles per month without a subscription
Join now for unlimited access
Try first month for just £1 / $1 / €1