Is cycling the toughest sport?
Anyone who's raced a bike knows that cycling can be cruelly hard, but how does it stack up against other gruelling sports? Do we have a valid claim to be competing in the toughest of them all? Dave Nash tests the contention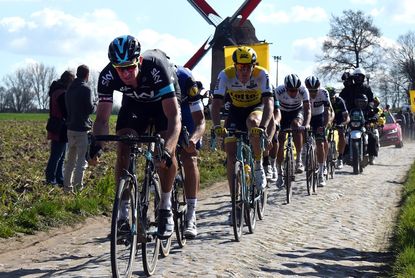 (Image credit: Watson)
It's an argument that has vexed sports fans practically since our prehistoric ancestors first took it upon themselves to test their hunting and fighting skills against one another: which sport is the toughest?
There are many physically and mentally demanding sports that have strong claims to the throne: rugby, ice hockey, boxing and long-distance running are just some that spring to mind. Can road cycling offer a convincing argument to be a contender to the title?
>>> Cycling and heart health: should you worry about pushing your heart too hard?
If ever a sport has defined itself by its epic nature, it is road cycling. It routinely claims a monopoly on heroic suffering to which no other sport can aspire.
Rapha has based its whole marketing campaign on this aspect of the sport, and similarly many riders unquestioningly comply to 'The Rules' of the Velominati, e.g. "Harden the f**k up".
Cyclists know how to suffer. I've seen cycling mates looking so dazed and traumatised after a 60-mile club run that you would think they had just collapsed in the Roubaix velodrome.
So where, exactly, does cycling sit in the toughness stakes, and do the claims stand up to scrutiny? There's no denying that professional cyclists are a gutsy bunch, and I would go as far as to suggest that some occasionally appear a little unhinged in their readiness to shed blood for the cause — often quite literally.
Some sports take a purely physical toll, some test mental strength, and many expose weaknesses in both, but as Professor Greg Whyte OBE, one of the UK's leading sports scientists, is quick to point out, it's impossible to quantify which sport makes the hardest demands on its participants.
A former Olympic pentathlete, Whyte is now performance director at the Centre for Human Health and Performance, where he has worked with many elite athletes from different sports.
He is also the man credited with preparing comedians David Walliams and Eddie Izzard for their Comic Relief endurance challenges.
"Performance is governed by a complex mixture of bio-psycho-social factors, which must come together in a perfect storm to create the ultimate athlete. Each area, physiological or psychological, has a number of determinants, unique to each discipline. For example, Grand Tour riding requires an outstanding aerobic capacity — greater than many other sports."
This is Whyte's diplomatic way of saying that elite athletes are highly tuned biological freaks. Some have exceptional muscular strength, coupled with speed and agility, while others require huge cardiovascular endurance to eclipse their rivals.
Elite sportspeople have been dealt a genetic hand that allows them to excel in their respective sports at the very highest level.
>>> How to deal with a setback in your cycling
Though each has a slightly different combination of physiological attributes, there is one thing that separates the also-rans from those who excel: mental robustness. There is no room for psychological fragility in cycling.
What makes a Grand Tour so tough?
-5ºC to 40ºC temperature range
21.4km distance of the Tour de France's toughest climb, Mont Ventoux (average gradient 7.6 per cent)
3,500km average total distance
6W/kg climbing power needed to be in contention for the GC
2,802m highest mountain pass — Col de la Bonette
8,000kcal energy needed every day
5,200m most climbing in a single stage — stage 11, Vuelta a España 2014
1L/hr peak rate of fluid loss when riding in heat in the mountains
Inner fight
"It's not the mountain we conquer, but ourselves," remarked Sir Edmund Hillary, the first man to climb Mount Everest. Those words resonate with cyclists.
Perhaps there are revealing comparisons to be drawn between those who conquer the highest cols on bikes and those who do so with their bare hands.
Take the exploits of Tommy Caldwell and Kevin Jorgeson, who scaled the sheer face of El Capitan in the Yosemite National Park last year.
Their sustained endurance, perseverance and physical suffering — while hanging 800m above terra firma for 19 days — was staggering.
But what if a rival team had appeared beneath them and the weather had taken a turn for the worse? Would it have taken its toll on their teamwork, decision-making and resilience? Perhaps there is a case to be made that, of all the super-tough sports, cycling requires the most dynamic, moment-to-moment adaptability.
"What makes cycling uniquely difficult on a psychological level are the uncontrollable conditions which most other sports don't have," says sports psychologist Dr Josephine Perry.
"The majority of sports are played out in more controlled and routine environments, but cyclists have to contend with weather, spectators, crashes, mechanicals and the constant threat of attacks or missing a potentially race-winning move by another team or rider."
Cycling's ultimate climb?
The terrain can be equally unforgiving, be it icy mountain cols or treacherous cobbles.
Road cyclists competing at the highest level, Perry continues, have to be incredibly resilient — and not only when competing: "Keeping mentally alert over the duration of a race or stage makes a huge demand on the psychological resolve of the pro cyclist, and then there is the added pressure of being a member of a team alongside their own personal aspirations — ensuring they renew their contract being just one of them."
What about rowing — is it cycling's closest rival for the 'toughest' mantle? There are many physiological similarities between rowers and road cyclists, which explains why Rebecca Romario and Paralympian David Smith both successfully made the switch from oars to wheels.
>>> Can you buy your way to a fitter you?
It isn't always an easy transition. Australian Cameron Wurf rowed for Australia in the Beijing Olympics and then made the switch to road cycling, quickly gaining a pro contract with Liquigas.
He found it difficult to adjust to the frenetic nature of road cycling, in which, unlike in rowing, there are distractions; a rider cannot focus solely on technique and breathing. Wurf now competes in Ironman, a discipline that he thinks has more in common with rowing.
Despite being a gifted young athlete, Wurf found he lacked the necessary experience to convert seamlessly to cycling: "As I hadn't grown up through the grass roots, I missed a lot of things and made a lot of mistakes… against guys who really make you pay for it. When you're racing Chris Froome, Alejandro Valverde, Cadel Evans and Richie Porte and you don't know what you are doing, they'll certainly show you that."
Experience and maturity carry a lot of weight in road cycling. It's rare for a cyclist to announce himself on the scene at a young age — with a few exceptions, such as Eddy Merckx and Fausto Coppi, who exploded on to the scene and, in recent times, Marianne Vos and Peter Sagan, who have seemed not far off the finished article since their careers began.
Ripe old age
In many sports, precocious teenagers can succeed at the highest level, but it can take years for a road cyclist to truly master his or her craft.
Take Geraint Thomas: though only recently touted as potential Grand Tour contender, his Tour de France debut dates all the way back to 2007.
Sir Bradley Wiggins won the Tour de France at the ripe old age of 32, and what about Mathew Hayman in Paris-Roubaix in 2016 — just shy of his 38th birthday?
Mental resilience and tactical acumen are two key components for road cycling, but what about the pure physiology?
Mikey Mottram is another rower who has made the transition to road cycling, and if his experiences are anything to go by, there are other inherent differences between the two sports.
Mottram, 25, rides for HR Owen Maserati RT (in National B races) but was formerly a member of the British Rowing squad, narrowly missing out on a berth in the London Olympics in 2012.
Multi-faceted
"There is a far greater pool of talent in cycling, simply because there are more elite cyclists than rowers and we all have a similar physiology," Mottram says.
This makes the pursuit of success even harder, but for Mottram it's an incentive to train and prepare with greater intensity.
Even so, winning in cycling isn't determined solely by fitness, he points out: "In a rowing race, the best rower in that race will win. In cycling, the rider who has peaked perfectly for a specific race could come last."
A similar point was made by Michael Woods, an elite runner turned Cannondale pro, in a previous interview with Cycling Weekly, in which he described having earned a deep respect for the multi-faceted, multi-skilled nature of cycling — that is, compared to distance running, in which, aside from fitness and determination, not much else matters.
There are many variables at play in cycling which don't have any bearing in other sports: climate, terrain and, of course, the ever-present threat of misfortune.
Thank you for reading 20 articles this month* Join now for unlimited access
Enjoy your first month for just £1 / $1 / €1
*Read 5 free articles per month without a subscription
Join now for unlimited access
Try first month for just £1 / $1 / €1