Who's quicker? Experience vs talent in the CW time trial challenge
Ollie goes up against Alec in the race of truth as part of CW's time trial special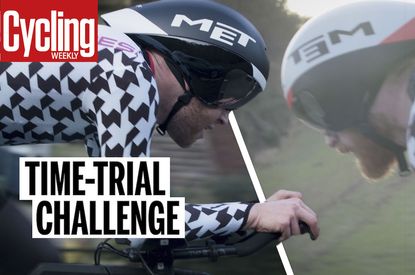 Promotional feature with Scott, Canyon, Met and Assos

I'm physiologically unremarkable! I will never race professionally but what I lack in talent I like to think I somehow make up for in enthusiasm. I'm also experienced in time trials having ridden lots of them and also doing the Project 49 feature last year.
Alec on the other hand is a sponsored athlete, who professionally races Red Hook Crits. Depressingly I could spend four times the time training as Alec and still never match his power numbers. He's one of those annoying people that's 'talented.'
However, Alec has never ridden a time trial, so we were intrigued to see how experience could match up against talent in this highly non scientific, but hopefully entertaining challenge.
This was an excellent chance to ride some top notch current TT bikes and kit, so I opted for the Canyon Speedmax CF, while Alec hopped aboard the slippery Scott Plasma RC.
We were also able to use the Met Drone TT helmet and Assos Chrono Speed Suit.
The course was a 19km loop just north of Henley. It's a sporting course meaning that it has a good mixture of hills in it and isn't just flat. At 19km long it finishes with an ascent of Pishill. Which is 9km at 2 per cent gradient with a nasty sting in the tail.
To see how we got on, watch the video.
Thank you for reading 10 articles this month* Join now for unlimited access
Enjoy your first month for just £1 / $1 / €1
*Read 5 free articles per month without a subscription
Join now for unlimited access
Try first month for just £1 / $1 / €1
Oliver Bridgewood - no, Doctor Oliver Bridgewood - is a PhD Chemist who discovered a love of cycling. He enjoys racing time trials, hill climbs, road races and criteriums. During his time at Cycling Weekly, he worked predominantly within the tech team, also utilising his science background to produce insightful fitness articles, before moving to an entirely video-focused role heading up the Cycling Weekly YouTube channel, where his feature-length documentary 'Project 49' was his crowning glory.