Cannondale Synapse Carbon Disc Women's Ultegra
As part of our women's special, we take a look at the new Cannondale Synapse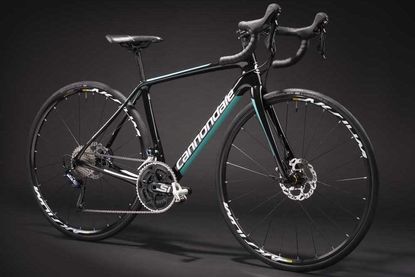 (Image credit: Cycling Studio)
Promotional feature with Cannondale
Completely redesigned for 2018, the Cannondale Synapse Carbon Disc Women's Ultegra saves over 200g on the previous award-winning model, making it one of the lightest disc brake endurance bikes on the market.
At the heart of the Synapse is the BallisTec carbon frame. BallisTec is Cannondale's proprietary method of creating a high-strength, high-stiffness carbon. It's composed of ultra-strong fibres, akin to military ballistic armouring — hence the name — and allows Cannondale to engineer stiffness where it's most needed.
However, Cannondale knows stiffness alone doesn't create a great endurance race bike. In order to create a smooth ride on rough road surfaces the Synapse incorporates a design feature called SAVE (Synapse Active Vibration Elimination), acting like a micro-suspension system in areas of the frame and fork.
The frameset revamp also sees geometry sharpened up to make the bike feel more racier than the previous model, without sacrificing the comfort that long days in the saddle require, while increased tyre clearance now allows for up to 32mm tyres, or 28mm if taking advantage of the hidden mudguard mounts.
In fact, it's this extra tyre space that makes the bike incredibly versatile, allowing you to pop on a pair of gravel tyres, or even a set of knobblies and hit the trails.
The Synapse is a 12mm bolt-thru disc-specific range, featuring radical asymmetry in the frame and forks to cope with the loads of disc brakes on the non-driveside, with the fork leg and chainstays oversized to cope with disc-brake forces.
Equipped with the new R8000 series Shimano Ultegra Hydraulic disc brakes, matched with the much-respected Cannondale Si cranks with compact FSA chainrings, and, on this model, bombproof Mavic Aksium wheels, there's a lot to like on this racy endurance bike.
Price: £2,699.99
Frame: Synapse Disc Women's BallisTec Carbon
Fork: Synapse Disc Women's BallisTec Carbon
Size range: 51cm
Weight: 8.66kg
Groupset: Shimano Ultegra 8000 Hydro/Cannondale Si/FSA
Gear ratios: 50/34, 11-32t 11-speed
Wheels: Mavic Aksium Disc
Tyres: Schwalbe Lugano 28c
Brakes: Shimano Ultegra R8020 Hydro Disc
Bar: Cannondale C3 Women's Compact Wing 6061 Alloy
Stem: Cannondale C3 6061 Alloy
Seatpost: Cannondale C3 6061 Alloy
Saddle: Selle Royal Seta S1 Women's
Distributor: www.cannondale.com
Thank you for reading 20 articles this month* Join now for unlimited access
Enjoy your first month for just £1 / $1 / €1
*Read 5 free articles per month without a subscription
Join now for unlimited access
Try first month for just £1 / $1 / €1