Watch: The difference between budget and premium clothing explained
We explain the ins and outs of the dhb Aeron line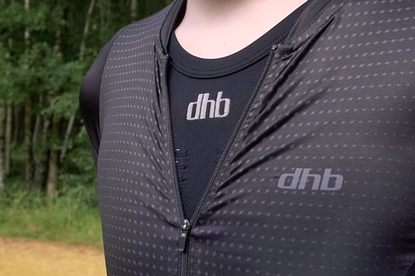 In partnership with dhb
What differentiates a low end piece of kit from a high end garment? We've partnered with dhb to help explain the ins and outs of its clothing line.
dhb jerseys – what are the differences?
dhbs lowest priced cycling jersey starts at £25, and has some basic technical features like a half zip and pockets across the rear. It also has a slightly looser cut than more premium clothing, making it more comfortable to wear for long periods of time.
In comparison to this, at the top end of dhb's line is the dhb Aeron Lab kit, one step below that is the dhb Aeron Speed kit and then at the entry level is the dhb Aeron jersey and shorts.
In short, the key differences between the three tiers of kit is fit, fabric, features and the price tag. At the entry level, you get a smaller price tag £49.99 for the jersey, a slightly looser cut for additional comfort and comes with features like technical fabric and tighter fitting cuffs.
For £65, the Aeron Speed jersey is tighter still from the Aeron version and comes with different fabrics to help wick away sweat from key areas.
Lastly, the Aeron Lab jersey costs £110 and uses two different types of materials to help the jersey move through the air in the most efficient way possible. The fit is far tighter and shorter on the front to pull you into an aerodynamic tuck, and it doesn't have a collar and the sleeves are longer.
dhb shorts – what are the differences?
Moving onto shorts, the Aeron entry level garment is very impressive. For £75, it has a comfortable pad, that's quite wide and bulky whilst also having soft bib straps and comfortable leg ends.
The Aeron Speed shorts sit in the middle of the range costing £80 while at the top end, the Aeron Lab shorts cost £130 are far more compressive and have the same material as the jersey to make them aerodynamic.
When it comes to the chamois in each short, there are key differences. At the entry level the pad is thicker and the padding is weighted to the rear of the chamois, as dhb know that riders in these shorts are more likely to sit further back.
Meanwhile, at the top end, the Aeron Lab shorts are far more aggressive and chamois has much less padding and its more focussed at the front, knowing that rider's are more likely to sit in an aggressive position.
Thank you for reading 20 articles this month* Join now for unlimited access
Enjoy your first month for just £1 / $1 / €1
*Read 5 free articles per month without a subscription
Join now for unlimited access
Try first month for just £1 / $1 / €1