How to get the most out of bad weather riding
We give you some top tips on making the most of the bad weather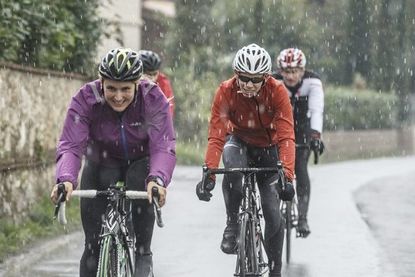 (Image credit: Jesse Wild/Cycling Weekly)
Get The Leadout Newsletter
The latest race content, interviews, features, reviews and expert buying guides, direct to your inbox!
Thank you for signing up to The Pick. You will receive a verification email shortly.
There was a problem. Please refresh the page and try again.
Promotional content with Cycle Surgery
If you are a keen cyclist and you aren't fortunate enough to live in the South of France, it is an inevitability you will find yourself riding in bad weather at some point. You may have a big event that you have been targeting all year, only for it to fall on bad weather.
You might just be sick of the turbo and keen to ride outside.
Well fear not. Here are our tips to maximise your bad weather rides and make them more enjoyable.
1. Don't suffer on your own. When the weather turns nasty Riding with others is great way to stay motivated and help the time pass quicker.
2. When waiting for your mates to arrive to group ride, keep warm by practising skills like track standing and wheelies.
3. Punctures are more common on dirty wet roads. If one of your group gets a puncture, if you are not helping change it then keep moving. As you can quickly get cold if just standing around. Also use a co2 inflater for speed, though we would always recommend bringing a pump.
4. Pick a route with bail out options if the weather could turn bad. This can mean doing a loop close to home, so you can peel off at any point, or picking a route with strategically located cafes and train stations.
5. If there is a cold snap, consider setting off an hour later, as this can lower the chances of random ice patches in small lanes.
6. Finally be sure to use social media to make sure everyone knows how hardcore you are for riding in bad weather. However, if the weather is really bad, either take a tactical rest day, or do an indoor ride.
This list isn't exhaustive though, so if you have your own ideas or tips, then feel free to share them in the comments.
Thank you for reading 20 articles this month* Join now for unlimited access
Enjoy your first month for just £1 / $1 / €1
*Read 5 free articles per month without a subscription
Join now for unlimited access
Try first month for just £1 / $1 / €1
Get The Leadout Newsletter
The latest race content, interviews, features, reviews and expert buying guides, direct to your inbox!
Oliver Bridgewood - no, Doctor Oliver Bridgewood - is a PhD Chemist who discovered a love of cycling. He enjoys racing time trials, hill climbs, road races and criteriums. During his time at Cycling Weekly, he worked predominantly within the tech team, also utilising his science background to produce insightful fitness articles, before moving to an entirely video-focused role heading up the Cycling Weekly YouTube channel, where his feature-length documentary 'Project 49' was his crowning glory.