Watch: Why having an off-road adventure is easier than you think
Shake things up with an off-road adventure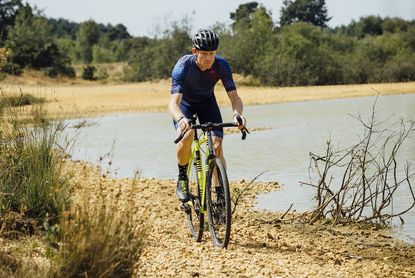 (Image credit: chris catchpole)
In association with Canyon Bikes (opens in new tab), Kinesis Bikes (opens in new tab) Orro Bikes (opens in new tab) and Aussie Grit (opens in new tab).
When people think of adventures they often think they need to go big. But here at Cycling Weekly, we're firm believers that adventures can also be small, and anything can qualify as long as you do something new or think outside the box.
To demonstrate this, we thought we'd ride from our office in Farnborough all the way to London. We discovered that you can actually do it all off-road via canal paths never having to ride on any main roads.
To do this we needed three capable gravel bikes, and we opted for the Canyon Grail, Kinesis Tripster A/T and the Orro Terra C Adventure. We decked these out with enough bike bags to get our stuff home and set out the path less travelled.
Never ones to shy away from adventure, on our route home we discovered the great wonders of Woking, bravely fought off the angry advances of geese and became fully fledged members of the canal path appreciation society.
Joking aside, though, we did discover mountain bike trails, dirt jumps and even had a hill race just to push these bikes to the limit.
Ultimately, the aim of this video is to inspire and hopefully help others think outside the box.
Thank you for reading 10 articles this month* Join now for unlimited access
Enjoy your first month for just £1 / $1 / €1
*Read 5 free articles per month without a subscription
Join now for unlimited access
Try first month for just £1 / $1 / €1